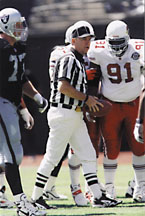 The play was about to begin when
Ron Phares
(civil engineering '65) heard a voice behind him say, "You've got to give us a little help here, old Hokie." Those words came from
Bruce Smith
(arts and sciences '85), a defensive end for the Buffalo Bills. Buffalo was on offense, needing a good play, and Phares, an NFL official, was standing in front of the Buffalo bench. Of course, Smith did not expect any favoritism, even from an old Hokie, but it was fun to make the connection.
Phares is in his 15th season as an NFL official, and fellow alumnus Scott Dawson (civil engineering '68) is in his fifth season. Phares wears number 10 and works on the sidelines as a line judge. Dawson is an umpire, number 70, standing near the linebackers before the beginning of each play. They work on the same crew during the regular season.
Stepping up to football on the level of the NFL after working for years in Division 1 was quite an adjustment for both officials. "The level of concentration is the most I've ever had to have," says Phares. "We're in front of the camera 100 percent of the time. It's the most scrutinized I've ever been."
The NFL chooses officials through rigorous tests of skill and judgment, an exhaustive background check, and a psychological profile. The league wants people who can stand up to the pressure of calling games in front of a quarter-billion people, as super bowls can draw that many viewers worldwide. Phares worked Super Bowls XXVII (Dallas vs. Buffalo) and XXIX (San Francisco vs. San Diego). Both men worked playoff games last year. Back to Contents