NEWS
---

Tech ranked among best values -|- This year's Kiplinger 100: Best Values in Public Colleges, issued by Kiplinger's Personal Finance magazine, ranks Virginia Tech 20th among 100 colleges where students can receive "a stellar education without graduating with a mountain of debt." Selected from more than 500 public four-year institutions, the top 100 schools were ranked according to academic quality, cost, and financial aid opportunities. Beginning in the 2006-07 academic year, Virginia Tech, already the lowest-cost public university in the state, will offer an innovative financial aid program, "Funds for the Future," that will protect undergraduate students from low- to moderate-income families from tuition and mandatory fee increases during their four years at the university.
| | |
| --- | --- |
| Freeze frame -|- A Virginia Tech television ad that ran last fall included an inside reference for Hokies. Do you recognize the glowing elements on the student's lab coat? That's the chemical formula for the mineral dolomite. Hokie Stone that is currently being mined contians calcite limestone and dolostone, along with portions of other materials -- including dolomite. | |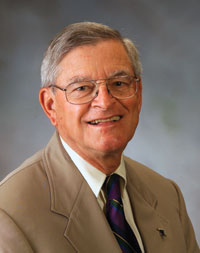 Professor receives lifetime achievement award -|- James K. Mitchell, University Distinguished Professor Emeritus and Emeritus Via Professor of Civil and Environmental Engineering in the College of Engineering, received the 2006 Outstanding Projects and Leaders Lifetime Achievement Award in Education from the American Society of Civil Engineers. A member of the National Academy of Sciences and the National Academy of Engineering, Mitchell joined the Tech faculty in 1994 as the first Charles E. Via Jr. Professor of Civil Engineering and was named a University Distinguished Professor in 1996. His career in geotechnical engineering spans more than 50 years and includes more than 300 research publications.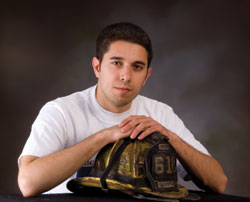 Tech junior named to All-USA College Academic Team -|- A University Honors student pursuing degrees in philosophy and political science with a minor in Africana Studies, junior Greg Sagstetter, was among the 20 students named to USA Today's 2006 All-USA College Academic Second Team. Chosen from a national field of more than 600 students nominated for their outstanding scholarship and leadership, Sagstetter is a committee chair in the Office of Judicial Affairs, an associate justice for the Undergraduate Honor System, and a volunteer at the Women's Center. A certified firefighter/EMT, he has logged more than 3,000 hours with the Sterling, Va., Volunteer Fire Department, which received the Response to Pentagon Award for Sept. 11. Sagstetter is the son of Janet Poole of Sterling, Va., and Frank Sagstetter of Reston, Va.
Giovanni's book a Times' Best-Seller -|- University Distinguished Professor of English Nikki Giovanni's book, Rosa, about civil rights heroine Rosa Parks, climbed as high as number three on The New York Times Best-Seller Children's Book List. Well-received for its vivid depiction, Rosa received a Coretta Scott King Award and a Caldecott Honor for the book's illustrator, Bryan Collier. Giovanni, who personally knew Parks, "wanted to show that [Parks] was an ordinary woman who did an extraordinary thing. Who would have thought that a seamstress from Montgomery, Ala., would be the first woman in the United States to lie in state." To view The New York Times Best-Seller Lists, go www.nytimes.com/pages/books/bestseller/index.html.
| | |
| --- | --- |
| | Professor of Psychology Russell Jones, an expert on the psychological effects of trauma and natural disasters on children, was called upon by the White House to help prepare First Lady Laura Bush to meet children who were displaced by Hurricane Katrina last fall. Jones was part of a small group of professionals who discussed conditions and needs of children affected by Katrina and accompanied Bush on her public visit. |

Applications reach a Hokie high -|- Undergraduate applications to Virginia Tech have reached a new high. This year, the Office of Undergraduate Admissions received 18,969 freshman applications, a 7.5 percent increase over last year and slightly more than the previous record of 18,838, set in 2001. Of note are the 1,252 applications from African-American students and 675 applications from Hispanic students, compared to 1,037 and 639 last year, despite the national increase in prospective students identifying their race as "other" on college applications. For example, 20.9 percent of the students applying to Tech this year identified their race as "other," compared to 4.3 percent five years ago.
Students give back to the community -|- On April 1, more than 2,300 Virginia Tech students completed some 225 jobs in the New River Valley, including painting fences, washing windows, and cleaning yards, for this year's Big Event, a day of service to thank the surrounding community. Administered by the Student Government Association, the Big Event was initiated five years ago at Tech when students learned of a similar program at Texas A&M. Last year, the Big Event gathered more than 1,500 volunteers who undertook nearly 200 service tasks.


Chang named dean of College of Science -|- When the College of Science was created in 2003, Professor of Physics Lay Nam Chang was appointed as its dean for a three-year term. In March, following an extensive review and selection process, Provost Mark McNamee reappointed Chang as dean. Chang joined the Tech faculty in 1978. "Lay Nam's vision for the college; his success in establishing a strong foundation for the college; his extraordinary success in fundraising and development; his ability to forge collaborative partnerships with other colleges and programs; and his commitment to quality, diversity, innovation, and progress contributed to my decision to recommend his appointment," said McNamee.

XX

Update: Memorial magnet project -|- Last year, the Virginia Tech Corps of Cadets began the Memorial Magnet Project to help fund memorial scholarships honoring U.S. Army lieutenants Jeffrey Kaylor (information systems '01) and Timothy Price (forestry '01), who were killed in combat during the war in Iraq. As of late February, the project had reached 37 percent of its goal to sell 10,000 magnets. To support the magnet project and help the corps meet its goal, go to http://vt.universitysportwear.com.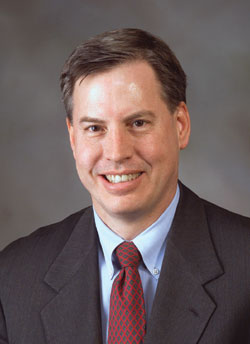 New executive vice president for intellectual properties named -|- Mark Coburn, associate provost and director of the University of Rochester Office of Technology Transfer, was named executive vice president of Virginia Tech Intellectual Properties Inc., the university's nonprofit affiliate. At Rochester, Coburn was responsible for planning, directing, and coordinating technology transfer activities for the non-medical center campuses; providing leadership in the licensing and commercialization of intellectual property; fostering corporate collaborations; and facilitating the creation of start-up companies. "I hope to implement the latest best practices to bring new ideas to market," Coburn said. "The faculty and staff members and students who come up with innovations need to know that there is someone close by who understands them and the research process."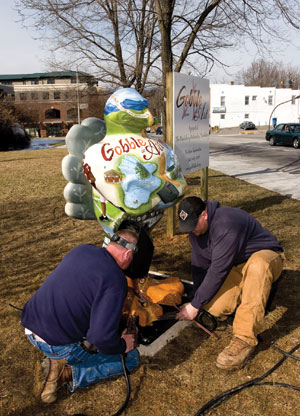 Thar she gobbles! The Gobble de Art project will festoon the town of Blacksburg with 75 5-foot-tall fiberglass HokieBirds--to be decorated by regional artists and Virginia Tech art alumni--from July to October. Visitors to the town's Municipal Building currently are greeted by the HokieBird shown above, called "Strollin' Around Hokie Town," a prototype 2-foot-tall model designed by Sarah Meadows (fine arts '04). Similar community projects that previously gained notoriety include Chicago's Cows on Parade and We Let the Dogs Out in Athens, Ga. For more on the project, go to www.gobbledeart.org.
---

RESEARCH
Tech team builds bone tissue -|- Although oral and pharyngeal cancers account for only about 3 percent of all cancers in the United States, they rank among the most prevalent worldwide and usually are not detected until they reach advanced stages, when combinations of surgery and radiation are required. The most recent studies show the five-year survival rate of 53 percent has not changed in the past 30 years. However, if Virginia Tech researchers are able to successfully construct a tissue engineered composite material for oral reconstructions, these dismal statistics might yield a better outcome.
The repair to the diseased tissues that is required often necessitates reconstruction of the bone. It is this process that Brian Love, professor of materials science and engineering in the College of Engineering and principal investigator on a National Institutes for Health (NIH) grant, seeks to improve. Love notes that "substantially better clinical outcomes for all oral constructions could result if a more viable scaffold material were used that was capable of faster and higher quality bone formation."
Love and his team--who are collaborating with the American Dental Association--are looking at amorphous calcium phosphates (ACPs) as inorganic host materials in the rebuilding of tissue. In the presence of cells that make bone (called osteoblasts), ACPs are believed to "more readily" provide host material for new bone formation than other choices, Love explains. Tissue-engineered composites containing ACPs, living osteoblasts, and donor materials could result in more lasting bone formation.
A new process for creating biocompatible fibers -|- Scientists at Virginia Tech have developed a single-step process for creating nonwoven fibrous mats from a small organic molecule, resulting in a new nanoscale material with potential applications where biocompatible materials are required, such as scaffolds for tissue growth and drug delivery. The research was presented in the Jan. 20 issue of Science in the article, "Phospholipid nonwoven electrospun membranes," by Matthew G. McKee, a recent Ph.D. graduate in chemical engineering, current chemistry students John M. Layman and Matthew P. Cashion, and chemistry professor Timothy E. Long.
The researchers fabricated phospholipids--a major component of all biological membranes--into a sub micron fiber that is 100 times smaller than a human hair. It is the first demonstration that electrostatic spinning, or electrospinning, a polymer-processing technique can be used with a small molecule to produce a fiber. "Clothing fibers, such as polyesters and nylons, are composed of large molecules," Long explains. "Now, we are fabricating fibers from small molecules--ones with a low molecular weight." He says that the future opportunities are vast. "Our research group continues to fabricate molecules that self organize and can be electrospun. Potential applications include drug delivery, that is, a carrier and matrix to control the release of drugs."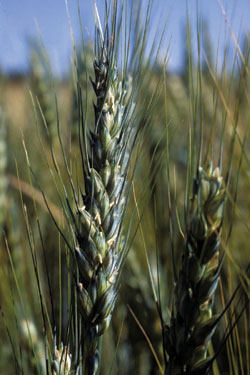 Breeding better, disease-resistant wheat -|- Researchers at the College of Agriculture and Life Sciences (CALS) are part of a consortium of public wheat breeders and scientists that received $5 million from the U.S. Department of Agriculture to implement modern breeding technologies enabling breeders to produce higher-quality, disease-resistant wheat. "For the past two decades, an intensive amount of molecular research has been conducted wherein chromosome-specific DNA sequences or markers have been used to identify genes controlling traits of economic importance in wheat varieties," says Carl Griffey, a CALS professor of crop and soil environmental sciences and consortium project coordinator for the mid-Atlantic region. "This integrated project will enable us to demonstrate that DNA markers associated with such traits can be used on a routine basis to develop superior wheat varieties. These technologies will accelerate development of U.S. varieties that are durable to plant diseases, more productive, and of better end-use quality, which are all essential for increasing competitiveness of U.S. wheat in global markets."
Griffey, along with other researchers from Virginia, Kentucky, Maryland, and North Carolina, will be specifically looking at wheat traits of critical importance in the mid-Atlantic, where diseases such as powdery mildew, leaf rust, stripe rust, and fusarium head blight result in significant losses in yield and quality each year. Researchers will be identifying and using DNA markers to select varieties possessing genes conferring durable resistance to powdery mildew, a chronic problem that causes annual crop loss of 10 to 30 percent in the region.