Virginia Tech Magazine's online feature, Hok-E-News, which is updated quarterly with Web-only content, gives Web-savvy readers more news and stories about some of the exciting things happening at the university today.
---
Architecture and Urban Studies programs rank high in the nation
by Heather Riley Chadwick


XX

The architecture, interior design, and landscape architecture programs in Virginia Tech's College of Architecture and Urban Studies are ranked among the very best in America.

In its 2006 report, DesignIntelligence, the only national college ranking survey focused exclusively on design, has ranked Virginia Tech's undergraduate architecture program seventh nation-wide and fourth in the East. DesignIntelligence also ranks the university's undergraduate landscape architecture eighth in the nation and second in the East, and graduate landscape architecture 14th in the nation. Virginia Tech's graduate interior design program is ranked ninth in the nation.

Virginia Tech is listed as one of the architecture schools with the most faculty awards in the nation. Edward Dorsa, associate professor of industrial design in the School of Architecture + Design, was named one of the most admired industrial design educators of 2006.

The rankings reflect the results of a survey asking professionals to assess which, of the more than 100 National Architectural Accrediting Board-accredited architecture programs, best prepared students for practice.

According to DesignIntelligence, the survey targets individuals in firms who have direct experience with the hiring and performance of graduates: design partners, managing principals, and human resource directors. To rank landscape architecture programs accredited by the Landscape Architectural Accreditation Board, DesignIntelligence surveys professionals in leading national landscape architecture firms as well as public sector practitioners. Foundation for Interior Design Education Research-accredited interior design programs are assessed by interior design firms and interior design departments within architecture firms.

For more information about the 2006 DesignIntelligence report, go to www.di.net.
Mellon Foundation awards $1.75 million to Institute for Cultural Policy and Practice
by Maureen Carruthers



The Andrew W. Mellon Foundation has awarded $1.75 million to Virginia Tech's Institute for Cultural Policy and Practice (ICPP) to fund the ongoing work of the Orchestra Forum. The forum, established in 1999, supports the organizational change efforts of 13 of the nation's most artistically vital and forward-thinking symphony orchestras.

The Institute for Cultural Policy and Practice facilitates the convening of musicians, trustees, and executives of these organizations in creatively addressing four primary themes: strengthening the work of artistic leadership, developing the artistic and institutional roles of musicians, building collaborative cultures within orchestra organizations, and expanding the relationship of orchestras to their communities.

X


Participants in The Orchestra Forum are the Baltimore Symphony Orchestra, Cleveland Orchestra, Louisiana Philharmonic Orchestra, New Jersey Symphony Orchestra, New Mexico Symphony Orchestra, Orchestra of St. Luke's (NYC), Philadelphia Orchestra, Pittsburgh Symphony Orchestra, Richmond Symphony, St. Louis Symphony Orchestra, St. Paul Chamber Orchestra, Seattle Symphony, and Toledo Symphony.

In addition to its groundbreaking work in support of the Orchestra Forum, the Institute for Cultural Policy and Practice conducts research and identifies exemplary practices within the arts and culture field and focuses on new approaches to training arts leaders and enhancing organizational performance. Through research (which includes data collection and interpretation, case studies, resource materials, and secondary analysis) and convening (introducing thinkers and strategists in other fields for a wider perspective), ICPP's goals are to achieve stronger leadership, greater organizational effectiveness, and enriched field-wide learning across the arts and culture sector nationwide.

The Andrew W. Mellon Foundation makes grants in higher education, museums and art conservation, performing arts, conservation and the environment, and public affairs. The Foundation seeks to strengthen institutions and their capacities rather than encourage them to take on ancillary activities, and seeks to stay with programs long enough to achieve meaningful results.

Graduate engineering program underway in Egypt

by Karen Gilbert
A new graduate engineering program from Virginia Tech's College of Engineering is now offered in Egypt, giving students from the Middle East and Northern Africa the opportunity to receive master's degrees and Ph.D.s in electrical engineering, computer engineering, and computer science.
Nine students participated in the program's first semester, and the number of students enrolled is expected to double this spring.
The Virginia Tech-Middle East and North Africa (VT-MENA) program is hosted by the Arab Academy for Science and Technology (AAST) at its Alexandria, Egypt, campus.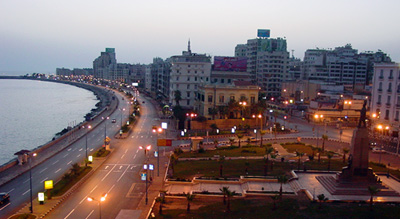 The program is also supported by the United States Agency for International Development (USAID) and endorsed by the United Nations Educational, Scientific and Cultural Organization (UNESCO).
The graduate engineering program is treated as an "extended campus," much like Virginia Tech's Northern Virginia campus. Classes are taught face-to-face in Egypt or using videoconference communication with faculty at Virginia Tech.
Sedki Riad is director of international programs for the College of Engineering and director of VT-MENA. He works closely with faculty and deans to strengthen the international curriculum and related extracurricular educational experiences. Riad is also a professor of electrical and computer engineering.
"This program offers a unique model for international outreach that will enhance Virginia Tech's outlook while providing us with a source of highly qualified Ph.D. students we may not have access to otherwise," said Riad.
For students in Egypt, participating in the program costs less than traveling to and residing in the United States. The program provides ready access to Virginia Tech's programs and affords new opportunities for women and working professionals in Egypt.
Three Academy for Science and Technology faculty, Mohamad Abou El-Nasr, Ibrahim Imam, and Mahamed Khedr, traveled to Virginia Tech on sabbatical last semester. Allen MacKenzie, assistant professor of electrical and computer engineering at Virginia Tech, traveled to Egypt this fall to teach for the six-week condensed semester. The other two instructors at AAST were Ayman Abdel-Hamid and Waleed Fakhr. Dennis Kafura, professor of computer science and department head, and Tim Pratt, professor of electrical and computer engineering, taught VT-MENA courses from Virginia Tech by videoconference.
Ayman Abdel-Hamid and Mohab Mangoud from the Academy for Science and Technology will be on sabbatical at Virginia Tech this spring, and Lynn Abbott, associate professor of electrical and computer engineering, will be teaching in Egypt for the spring semester. Bill Tranter, the Bradley Professor of Electrical Engineering, and Dennis Gracanin, assistant professor of computer science, will be teaching the VT-MENA videoconference courses this spring.
For more information about VT-MENA, go to http://tdl.ece.vt.edu/VT-MENA.
D2 wins 2006 Best Concept Award from Food Management Magazine
by Rachel DeLauder



Student Programs' Housing and Dining Services is pleased to announce that D2, Virginia Tech's international marketplace-style dining facility, has been awarded one of Food Management Magazine's 2006 Best Concept Awards for Best Renovation.

This annual award is designed to recognize recently renovated self- or contract-operated foodservice organizations that demonstrate innovative thinking and bottom-line results. The winners of this year's competition will be featured in the March issue of Food Management Magazine and highlighted at the 2006 Food Management Ideas Conference in Chicago, May 17-19. "We are very proud of the D2 concept," said Rick Johnson, director of Housing and Dining Services at Virginia Tech. "There are very few venues in the United States that serve authentic Brazilian churrascaria-grilled meats and crème brûlée in an all-you-care-to-eat environment."

Renovated between February and August 2004, D2 incorporates marketplace-style dining into an all-you-care-to-eat setting where food is prepared in front of the customer, rather than behind a kitchen wall. It offers eight international-themed food stations--Salsas, with Mexican fare; Pan Asia, with wok-prepared Asian selections; Gauchos, a Brazilian churrascaria with skewered meats; Mangia!, with pasta and brick oven pizzas; Eden's, with salads and vegetables; East Side Deli, with made-to-order deli sandwiches; Olives, featuring Mediterranean vegan and vegetarian selections; and La Pâtisserie, with decadent desserts.

XX





Virginia Tech's dining program is constantly striving to provide a better dining experience. After West End Market won the Food Management Best Concept Award for Best Renovation in 2000, D2 Housing and Dining Services tried to raise the bar even higher. Since the opening of D2 in fall of 2004, the renovation has had rave reviews among students.

"The best part was to see the wide-eyed expressions and smiles on the students' faces when we first opened and they could see how different it was from the cafeteria-style Depot," said Robert Coffey, senior associate director of dining services at Virginia Tech. "That really made us feel like all the hard work was worth it."

Housing and Dining Services manages the self-operated dining program at Virginia Tech, including 12 on-campus facilities ranging from small à la carte coffee shops to D2, which serves about 3,400 customers each day. Information on dining plans offered at Virginia Tech, daily menus, and dining center hours are available at www.studentprograms.vt.edu/dining/.
Virginia Tech researchers receive patents for energy, health inventions
by Susan Trulove



Fred C. Lee, director of the Center for Power
Electronic Systems, which received five patents.

XX

Virginia Tech faculty members, staff, and students received 17 patents during 2005. Inventions include seven technologies that use energy more efficiently and safeguard the electric grid and oil resources -- including two that received R&D 100 awards, as well as three developments to improve human health as potential treatments for cancer and depression and by making patients more comfortable.

"We know these patents will enhance Virginia Tech's reputation as a place that contributes to the creation of new knowledge and entrepreneurship and will provide recognition of Virginia Tech's significant role in economic development," said Mark Coburn, the new executive vice president of Virginia Tech Intellectual Properties (VTIP). "University patents also benefit scholarship by setting the stage for new innovations to follow."

VTIP, the not-for-profit organization that pursues patents and markets Virginia Tech discoveries, will recognize the patent recipients at a reception in April.

Patents were also awarded for three inventions that advance telecommunication, a new high-protein wheat variety and a delicious red raspberry, a means to control noise in many settings, and a highly controllable semiconductor lithography process.


Power electronics, fuel cells, and sensors for oil wells

The Center for Power Electronic Systems (CPES) received five patents. Fred C. Lee, director of CPES, electrical and computer engineering faculty member Jih-Sheng Lai, and former visiting scientist Lizhi Zhu, now with Ballard Power Systems, invented Accelerated Commutation for Passive Clamp Isolated Boost Converters (6,876,556). The invention is an efficient and cost-effective bidirectional DC/DC converter that reduces switch voltage stress. For example, it allows smooth conversion between two sources of direct current (DC) generating devices, such as between fuel cells and high voltage batteries, to provide appropriate current levels for driving an electric vehicle and for the electrical components on the vehicle, such as lights and sensors, regardless of voltage. The technology has been adopted by Ballard Power Systems, the largest fuel-cell company in the world.

Lee, research assistant professor Ming Xu, and Ph.D. graduate Jinghai Zhou received patents for a Multi-phase Interleaving Isolated DC/DC Converter (6,944,033), designed to provide more power, higher operating frequency, and much reduced switching losses to power the next generation of microprocessors, as well as other portable telecommunication and portable equipment; and a Bridge-Buck Converter with Self-Driven Synchronous Rectifiers (6,859,372), which provides a more power-efficient and low-cost solution for controlling the high-frequency voltage/current rectifier (synchronous rectifier) commonly used in low-voltage, high-current DC/DC converters, such as are in desktop and laptop computers, servers, and power supplies for telecommunication devices. This technology has been licensed by the Intellectual Property Protection Fund (IPPF), created by members of the CPES industry consortium, and applied to powering the microprocessor, which has demonstrated by far to be the most efficient voltage regulator solution.

Other inventions from CPES that received patents are an Emitter Turn-Off Thyristors (ETO) (6,933,541), invented by Alex Huang, formerly with CPES and now a professor at North Carolina State University; and a Solid State DC Circuit Breaker (6,952,335), invented by Huang and electrical engineering Ph.D. graduates Xigen Zhou and Zhenxue Xu. The ETO is a solid-state switch for use in high-frequency power converters that can provide fast and dynamic voltage support, fast switching speed, rugged turn-off capacity, and voltage control and protection. The invention earned a 2003 R&D 100 Award from R&D Magazine as one of the "100 most technologically significant products introduced into the marketplace over the past year." The circuit breaker is a high-speed, solid-state circuit breaker capable of interrupting high DC currents without generating an arc. It uses the ETO thyristor as the switch. The American Competitiveness Institute helped develop a manufacturing process for the ETO and Solitronics licensed the product from VTIP.

A Method and Apparatus for Packaging Optical Fiber Sensors for Harsh Environments (6,928,202) was invented by Gary Pickrell, assistant professor in materials science and engineering; Anbo Wang, director of the Center for Photonic Technologies; and Yuhong Duan, a former graduate student. A fiber optic sensor is protected by a deformable hermetic metal encapsulant, which can be easily applied in the field, so that it is able to be used in harsh environments, such as in an oil well. A suite of fiber optic sensor technologies including the method of hermetic packaging received an R&D 100 award in 2004 as one of the top 100 new products developed worldwide. The new fiber optic sensors are about the diameter of a human hair and can reach depths exceeding 10,000 feet. The tiny sensors can be hydraulically deployed through a small tube, which means they can be pumped into place and retrieved without pulling the wellhead and casing. The sensors require no down-hole electronics or electrical power and can provide long term measurement capability. The invention has been licensed by Tubel Technologies.

A patent for a Hydrogen-Selective Silica-Based Membrane (6,854,602) was obtained by chemical engineering Ph.D. graduate Doohwan Lee, former research associate Lixiong Zhang, and S. Ted Oyama, the Fred W. Bull Professor of Chemical Engineering. The membrane is inorganic and makes it possible to separate hydrogen selectively from other gases, such as carbon dioxide and methane. The hydrogen can be used as a reactant in fuel cells or can be transformed into commercially important chemicals. The invention has been licensed to ConocoPhillips.

Human health

Karen Brewer, professor of chemistry, and Shawn Swavey, former research scientist in Brewer's lab who is now an assistant professor at the University of Dayton, received a patent for "Supramolecular Complexes as Photoactivated DNA Cleavage Agents" (6,962,910). The complexes function when activated with low energy visible light with or without oxygen. An intended application is to deliver metallic complexes directly to cancer cells to avoid the side-effects of chemotherapy. The worldwide patent rights have been licensed to Theralase Technologies Inc. of Toronto, Canada, whose patented laser device will provide the low energy visible light to activate the metallic complexes.

Amine Compounds and Inhibiting Neurotransmitter Reuptake Divisional (6,914,080, a division of 6,700,018), developed by Paul Carlier, associate professor of chemistry. Chemicals called neurotransmitters mediate neuron-to-neuron communication in the brain. An imbalance in the amount of the neurotransmitters serotonin, norepinephrine, and dopamine can cause serious clinical manifestations such as depression and anxiety. Such an imbalance may occur when not enough neurotransmitter is made and released from presynaptic neurons, or if the reuptake of neurotransmitters by these presynaptic neurons is too rapid. The patent describes amine compounds that have the unusual property of potently inhibiting the reuptake of serotonin, norepinephrine, and dopamine. Current FDA-approved antidepressant drugs do not exhibit this wide-spectrum behavior; thus, the compounds described in the patent may be useful for treating classes of depression and anxiety that are resistant to existing medications. The patent is assigned to VTIP and the Mayo Foundation for Medical Education and Research.

A "Method and Overhead System for Performing a Plurality of Therapeutic Functions Within a Room" (6,870,673) was invented by Archie Cromer, former adjunct faculty member in the College of Architecture and Urban Studies, and Bonnie Johnson of Washington, D.C., who received an M.S. in industrial design in 1999, and was a research associate in the college. The system provides different kinds of light for comforting a person who is confined in a hospital. Also, for a patient's enjoyment or even non-drug therapy, the invention provides a system to display images on an overhead canopy. Cromer now operates Sustainable Environments for Health and Shelter Inc. of Harwood, Md.

Telecommunications

A Fourpoint Antenna (6,842,141), invented by electrical and computer engineering Ph.D. graduate Seong-Youp Suh, and Warren Stutzman, electrical engineering professor emeritus and former director of the Virginia Tech Antenna Group. The invention is an antenna with nearly constant impedance and pattern over a large frequency range, making it ideal as a base-station antenna for covering multiple frequency bands. In addition, the Fourpoint antenna is dual polarized, a desirable characteristic for base-station antennas with diversity reception. It is a low-profile antenna, smaller than conventional antennas that cover just one frequency band.

A Method and System for Overloaded Array Processing (6,868,133) was invented by former graduate students James Hicks and Saffet Bayram; Jeffrey Reed, professor of electrical engineering; and Robert Boyle, a former research faculty member in electrical engineering. The invention addresses the problem of signal overload of antenna arrays used for wireless communication. The invention reduces the computation time and energy required for processing signals by determining a hierarchy and pathways for processing signal sets. Hicks received his Ph.D. in electrical engineering and an M.S. in mathematics from Virginia Tech in 2003, and is now with Aerospace Corp. Bayram received an M.S. in electrical engineering in 2000, and is with Motorola.

Researchers from engineering, physics, and chemistry have invented a process for creating thin films that could be used to produce ever smaller telecommunication devices such as those that convert electrical signals from computers and telephones into optical signals that are the backbone of internet communication. Kevin Van Cott, former faculty member in chemical engineering; James Heflin, associate professor of physics; Richey Davis, associate professor of chemical engineering; and Harry Gibson, professor of chemistry, have received a patent for "Polar Ordering of Reactive Chromophores in Layer-By-Layer Nonlinear Optical Materials" (6,953,607). The process creates thin films with light-absorbing characteristics desirable in electro-optic modulators and frequency doubling devices that make high-speed communication possible. "We believe this process will be the basis for new materials that will readily surpass state-of-the-art materials currently used in electro-optic modulators," says Davis.

Agriculture

A raspberry plant named "Jaclyn" (PP15,647), created by the late Herbert Stiles, a small fruit researcher at Virginia Tech's Southern Piedmont Agricultural Research and Extension Center in Blackstone. He and colleagues at the University of Maryland and University of Wisconsin developed a number of raspberry plants with different attributes for different parts of the country which they named for their wives and daughters, "Anne," "Caroline," and "Josephine." The latest, Jaclyn, is a new and distinct primocane fruiting red raspberry capable of producing fruit much earlier than standard cultivars. It has consistently large, dark, long conic and very symmetrical fruit. Fruit aroma is very full and fruit quality is excellent through even high temperatures. Jaclyn got its start in University of Maryland's greenhouses. It was developed by Harry Swartz, associate professor of natural resource science, and Joseph Fiola, Senior Agent and Regional Extension Specialist, Viticulture & Small Fruit, of Maryland, Stiles, and Brian R. Smith, small fruit breeder at the University of Wisconsin at River Falls. The patent is assigned to the University of Maryland at Riverdale, University of Wisconsin, and VTIP.

A new variety of soft red winter wheat, Renwood 3260 (200,400,286), was developed by the Virginia Tech Small Grains Breeding and Genetics Program. Carl Griffey, professor of crop and soil environmental sciences, said, "Renwood 3260 has higher protein content and more gluten strength, compared to traditional soft wheat varieties. Its flour can be used in blends for making cracker and bread products." Renwood Farms Inc. of Charles City, Va., is marketing it.

Vibration, noise control

An Active-Passive Distributed Absorber for Vibration and Sound Radiation Control (6,958,567), by professor Chris Fuller of mechanical engineering and Pierre Cambou of Lyon, France, who received a Virginia Tech master's degree in mechanical engineering in 1998. In addition to passive sound dampening of noise and vibration, the invention senses vibrations and has a mechanism for feedback control of the vibration absorber using a control signal. It is suitable for use in aircraft, automotive, and other applications with vibrating panel-like structures.

Semiconductor lithography

Ferroelectric Emitter (6,885,138), invented by In Kyeong Yoo of Yongin, Korea, who received his Ph.D. at Virginia Tech in materials science engineering in 1990, and was a research scientist in materials engineering. The invention is a multi-layered emitter that can be used in a semiconductor lithography. It offers uniform electron emission from wide and narrow gaps of a mask layer and in an isolated pattern such as a doughnut shape for ferroelectric switching emission lithography. It has been licensed to Samsung Advanced Institute of Technology.

For more information about patents at Virginia Tech, visit Virginia Tech Intellectual Properties Inc. at www.vtip.org/.
Commonwealth honors civil engineering, English professors as outstanding faculty
by Liz Crumbley



Thomas M. Murray, the Montague-Betts
Professor of Structural Steel Design

Paul M. Sorrentino,
professor of English


Two Virginia Tech professors were recognized by Gov. Timothy M. Kaine for excellence in teaching, research, knowledge integration, and public service during a ceremony at the Library of Virginia in Richmond on Feb. 23.

Thomas M. Murray, the Montague-Betts Professor of Structural Steel Design in the Via Department of Civil and Environmental Engineering, and Paul M. Sorrentino, a professor in the Department of English, were among 15 college and university faculty selected from a statewide pool of 87 candidates to receive the Outstanding Faculty Award, the Commonwealth's highest honor for faculty.

The award program, now in its 20th year, is administered by the State Council of Higher Education for Virginia (SCHEV) and funded by a grant from the Dominion Foundation, the philanthropic arm of Dominion.

Since joining the Virginia Tech faculty in 1987 to coordinate the university's structural engineering program, Murray has founded the Virginia Tech Structures and Materials Laboratory, where he and his graduate students developed alternate methods for connecting beams and columns in buildings in areas that experience high levels of seismic activity. This work was conducted in response to structural problems that were brought to light by the 1994 Northridge, Calif., earthquake.

Among his other accomplishments is the development of techniques for building lightweight, affordable floor systems that reduce vibrations in large steel and concrete structures, such as airports and shopping malls. The American Institute of Steel Construction has honored him with a special citation for contributions to the art of steel construction and with the T.R. Higgins Lectureship Award.

In 2002, Murray was elected to the National Academy of Engineering, one of the highest honors that can be accorded an engineer. Academy membership recognizes those who have made important contributions to engineering theory and practice and have demonstrated unusual accomplishment in the pioneering of new and developing fields of technology. He was also the first recipient, in 1998, of the Via department's Alumni Excellence Teaching Award, an honor accorded to him again in 2003. The Virginia Tech student chapter of the American Society of Civil Engineers presented him with the Faculty of the Year Award in 2002.

Murray came to Virginia Tech after 17 years on the faculty of the University of Oklahoma, the last of which he spent as a distinguished visiting professor at the U.S. Air Force Academy. He received his bachelor's degree from Iowa State University, his master's from Lehigh University, and his doctorate from the University of Kansas.

Paul Sorrentino, a professor of English at Virginia Tech for 27 years, has published in the fields of technical writing, American Literature, and composition. A pre-eminent scholar on Stephen Crane, author of The Red Badge of Courage, Sorrentino unearthed some lost Crane papers in Hawaii in 1984, giving the scholarly world additional information on the writer and earning the Stephen Crane Literary Award for his extensive research. He co-edited The Correspondence of Stephen Crane, co-wrote The Stephen Crane Log: A Documentary Life, and is currently working on Crane's biography.

Sorrentino has received the Outstanding Teacher Award from the South Atlantic Association of Departments of English, as well as numerous awards from Virginia Tech, including the Alumni Teaching Award, the W.E. Wine Award, and three Certificates of Teaching Excellence.

During his tenure at Virginia Tech, Sorrentino has designed 12 new courses, developed and coordinated a new system of advising in English, coordinated the creation of the Alumni Advising Award, and co-founded Virginia Tech's Faculty Writing Workshop. He was co-author of a year-long study of teaching at Virginia Tech for the Provost's Office and revised university guidelines for the Certificate of Teaching Excellence and the Sporn, Wine, and Alumni Teaching Awards.

Sorrentino has served the university in numerous ways and has been involved in workshops and presentations to outside agencies and universities. He is a member of the American Literature Association, the Stephen Crane Society, the Frank Norris Society, and the Hamlin Garland Society. He received his bachelor's degree from Villanova University, his master's from Lehigh University, and his doctorate from The Pennsylvania State University.