FEATURE
The Science of Inspiration
Hokies envision the next space odyssey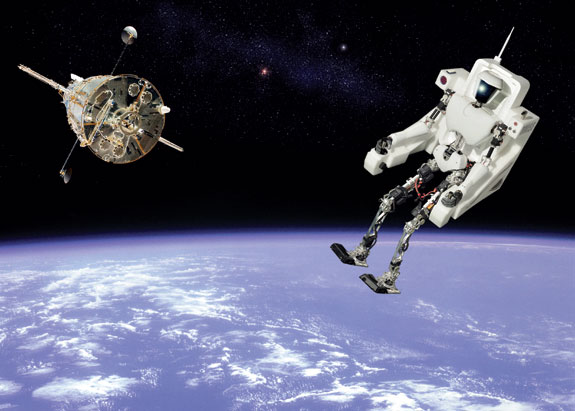 The background image is courtesy of NASA. The photo illustration is by Jim Stroup, who also constructed the jet pack for CHARLI, Virginia Tech's prized humanoid robot.
Standing on the edge of the runway at Kennedy Space Center last July, Chris Edelen (aerospace and ocean engineering '89), a National Aeronautics and Space Administration (NASA) flight director, watched the space shuttle Atlantis return from its final voyage. "It was the culmination of many years in space," Edelen said as he wistfully recalled the moment.
Atlantis may have landed—and along with it, NASA's famed shuttle program—but the moment is far from an end to our quest for the heavens.
Not surprisingly, there seem to be as many opinions about the future of space travel as there are stars in the night sky. At the center of the projections and prognostications, which include everything from robots to asteroid mining to colonies on Mars, is NASA, the U.S. agency that has come to epitomize American innovation. Indeed, since that first small step and giant leap, the agency has remained a shining example of what humans can achieve when they shoot for the stars.
Talk abounds about what trajectory space travel will take in the future, including pushing the boundaries of science and technology and the privatization of space flight. A number of Hokies, faculty and alumni alike, have their sights set upward, studying the sun, the solar system, and the moon; and others are looking closer at the third rock from the sun.
"I still see NASA's role as pushing the science [of space travel] and also for human exploration of space. NASA is one of the few federal agencies that everyone around the world not only knows of, but also likes," said Virginia Bioinformatics Institute researcher Kevin Shinpaugh. "People see NASA as representing Earth, not just the U.S."
Inspirational science
In the eyes of many, NASA's primary role is as a source of inspiration, pushing the boundaries of technology and science. "I think having that rallying point gives our children something to aspire to, but it also makes us want to push science and technology forward, not just in space, but in our quality of life," said Troy Henderson, College of Engineering (COE) assistant professor and a researcher at the Center for Space Science and Engineering (Space@VT), a group of faculty, students, and staff devoted to investigation of the space environment. As he spoke of NASA's work, he pointed to a drawing of a rocket ship on the whiteboard in his office, sketched in blue and red by his then-6-year-old son. "This is why every kid dreams of being an astronaut at one point or another."
Floyd Bennett (aerospace and ocean engineering '54) was one of those kids. "I never thought of going to college, but in 1950, I said, 'Man's going to go to the moon in my lifetime,' and I wanted to be a part of it." Following graduation, Bennett took a job with the National Advisory Committee for Aeronautics (NACA), NASA's predecessor, and later worked in the Flight Operations Directorate on the lunar landing phase of all Apollo manned lunar landings. He retired from NASA in 1982. "Working on the Apollo program was like working on a dream. It was something a lot of people wanted to be a part of. We'd looked at [the moon] for so long and didn't know what was up there."
Drawing from the lessons of lunar trips and more, NASA has a knowledge base from which to explore other mysteries. Essentially, the end of the shuttle program opens other doors for the NASA of tomorrow.
"With the space shuttle retiring, it has freed up money to develop the Space Launch System (SLS) and the crew capsule known as the Orion, [which] will provide deep-space exploration capability," Edelen said. "Both of those projects are under active [development]. You'd have to cancel the shuttle at some point to free up money for these projects."
Gregory Earle, a COE professor of electrical and computer engineering and Space@VT researcher, pointed to another open door for NASA. "In the '60s, exploration meant an astronaut had to fly on the mission. To my son, who's 10, the video or virtual world is more standard than it was in that era, so to his generation, exploring robotically is normal. I believe that future science missions—20, 30, 40 years into the future—will be almost completely robotic."
Whether robotic or manned, those missions could play a critical role in inspiring a new generation of engineers. Bob Castle (electrical engineering '76, M.S. '78), who retired from NASA in 2010, said the agency draws young people toward STEM (science, technology, engineering, and mathematics) disciplines. "There are other countries that don't inspire their kids, and they end up having to import their engineers. And we can't let that happen to this country."
Chris Kraft (aerospace engineering '44), NASA's first flight director and namesake of the Christopher C. Kraft Jr. Mission Control Center at the Johnson Space Center, lamented the role budgeting and politics has played in the agency. "Many [politicians] don't see the value and importance of what space flight does for the country. They don't see that it promotes new technology; they don't see that it promotes applied technology; they don't see that it promotes education and the need for engineering and science in our country—because our country runs on engineering and science." He credits his alma mater with fulfilling a vital need for brainpower in a technology-driven society. "That's the reason Virginia Tech is so important—to not only Virginia but the whole United States."
Former astronaut Charlie Camarda (Ph.D. aerospace and ocean engineering '90) is doing his part to ensure that today's youth learn firsthand the value of inspirational science and technology. As a senior advisor for innovation at NASA, Camarda teaches young engineers how to use the right side of the brain to look at other ways of solving problems.
He's also involved in a pilot program being hosted at MIT this summer that will engage students from middle school to graduate school in applying STEM knowledge to real-world problems. "Kids are losing touch with how course work relates to their passions," Camarda said, noting that the program shows students how their classroom knowledge can lead to scientific advances. "How can students use chemistry and biology to help build a colony on Mars, for example?"
For Camarda, who has the atypical experience of having served both as a research engineer and as an astronaut—at age 44—the pilot program is more than just bolstering enthusiasm for STEM. "Entrepreneurship is the way of the future. Companies become big, bloated, and bureaucratic, and we need to fuel the next generation of engineers and entrepreneurs."
Epic challenges
A dose of that creativity and innovation may well prove valuable when it comes to the future of space flight. With the end of the shuttle program, many have set their sights on a more distant destination: Mars. Not unlike humankind's first flight to the moon decades ago, a journey to Mars presents a unique set of challenges.
Earle, who builds instrumentation for near-Earth orbital and suborbital science missions, said that space is an especially harsh environment—the parts he designs have to be specially made to withstand radiation associated with energetic particles.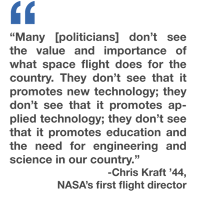 Time spent in deep space or zero-gravity conditions introduces a distinct set of problems, noted Earle. Since the human body evolved based on earthly conditions, preparing a spacecraft to accommodate humans requires precision and forethought. Life-support systems, protection from space radiation, and numerous safety protocols all take time and effort to develop. Zero-gravity conditions affect bone density, and prolonged exposure leads to muscle atrophy. Add those effects to the radiation hazards and it becomes clear that space is a very hostile environment for humans.
"I got to see firsthand how much the emphasis on astronaut health and safety drives the whole operation," said Earle, who worked on two shuttle programs. "Manned missions cost at least 100 times more than unmanned missions. If your money [goes] 100 times further, that's amazing. One hundred times the science return for every dollar you spend [is] a tremendous benefit." Given the harsh conditions of space and the higher costs of manned space flight, Earle advocated for robotic space missions. "There's no reason to put a human footprint on Mars. … Robotics are safer and cheaper."
"The big challenge," said Shinpaugh, "is that these people will be separated from Earth for two years, so it's not like they can call up and order a pizza." Shinpaugh is one of a number of Tech researchers engaged in NASA-funded research, and students in his yearlong spacecraft-design course focus on tackling real issues faced by organizations like NASA, developing plans for a habitation module with artificial gravity, for example, or lunar robotics.
Edelen sees a balance between robotic and human exploration, explaining that robots push the boundaries of technology so that humans can follow. "Having humans on site complements the scientific return of robotic missions, since humans are more adaptable to unexpected conditions," Edelen said.
Edelen said the International Space Station serves as a test bed for many technologies that will be necessary for space travel, including an advanced carbon-dioxide removal system that doesn't need to be replaced (the shuttle used one-time filters, which is not a viable option for the nine-month-long, one-way trip to Mars) and a water-recycling system. "Those types of systems will be in use 20, 50, 100 years from now. We're blazing a trail into the future."
One of Shinpaugh's students, senior aerospace engineering major Maria Rye, said her studies have allowed her to combine a love of astronomy with hands-on engineering. She is part of a student team tasked with creating a viable and profitable way to send 1,000 people yearly into low-Earth orbit, either for tourism or scientific purposes. Pondering the idea of aiming for Mars, Rye echoed a sentiment that many might have once felt about putting a man on the moon: "If we can get that far, what else can we do?"
Meanwhile, researchers are examining the solar system's weather. Because space weather, which is influenced by the sun, can affect navigation and GPS, communications, and astronauts, members of Tech research group SuperDARN—a subgroup within Space@VT—are investigating weather patterns far above us.
"If you want to look at exploration of other planets, you have to know how space weather affects those planets," said Wayne Scales, Space@VT director and professor of electrical and computer engineering. The knowledge garnered from the work of teams like SuperDARN could one day lead to overcoming or mitigating the impact of solar events on travel to other planets—just one of the many epic challenges that space flight poses.
The space race
Whether hauling cargo to the International Space Station, putting telecommunication satellites into place, or sending thrill-seekers into low-Earth orbit, the opportunities for private-sector space flight seem abundant. But many engineers and scientists caution that the commercialization of space travel—particularly the concept of "space tourism" that sends our imaginations soaring—is much farther off than private companies or the general public might think.
"If we're going to reap the benefits of flying in space, I think the private sector has to step up, and we have to find a commercial avenue that attracts the masses to flying in space," said Camarda. "We can't just have engineers, scientists, etc., but a large mass of people, to get that quantum mass in space flight."
Camarda points to NACA and its role in the aeronautics industry as a good blueprint for NASA today. "NACA was formed to give the U.S. an edge in aeronautics. … We should do with space what we did with aeronautics. NASA needs to take the next step and [investigate] sustainable human exploration of the solar system."
"The private sector is in a position to provide a spectrum of products to the space flight industry, from launch capability to civilian astronaut training and space tourism. Companies seeking to profit from this demand have developed business cases that show potential profit and draw investors," said Zigmond "Zig" Leszczynski, deputy director of the Virginia Commercial Space Flight Authority (VCSFA) and the Mid-Atlantic Regional Spaceport (MARS) on Wallops Island. "Given a substantive demand signal, the future of commercial space flight is only limited by the imagination, vision, and perseverance of these companies."
The commercialization of space has already begun. In April 2012, SpaceX has scheduled a launch of their craft, Dragon, to transport cargo. The launch will mark the vehicle's third test launch and its first time docking at the space station. Another company, Orbital, is planning to launch its vehicle, Cynus, this fall.
"The challenge this year will be that these are new rockets, new vehicles, so there will be technical challenges to overcome," said Edelen, whose day-to-day job is overseeing the mission control team during space station operations. He points out that these issues are not unique to these companies, but rather the nature of space flight.
"The ability to abort from a failing booster over the Atlantic is a lot more difficult than most people realize," said Castle, who said that adding in redundancies and fail-safes is one of the most complex issues to overcome. "In terms of cargo, it's not as big of a deal. It's not a once-in-a-lifetime thing on most cargo."
The liability of space travel doesn't just apply to those onboard. "You'll always find people who are willing to take the risk," said Earle. The greater liability may be to people on the ground.
"It's not any more dangerous than sailing across the ocean 100 years ago or flying in an airplane 50 years ago," said Castle. "But if a vehicle crashes in the middle of a city, who's responsible?"
Earle echoed this concern. "Until somebody develops the 'space bus,' it's not profitable. Legal liabilities and risks make it a deterrent for investors. Investors more likely would invest in companies putting up satellites." He points to GPS and its use in disaster relief as an example. "Everyone in the developed world benefits from satellite technology. And to make the most money, you serve the greatest number of people. We'll see the fastest and greatest growth there."
Scales believes that NASA should return to more-fundamental scientific work. "I think the private sector should come in and take over and let NASA focus on getting farther out into space," Scales said.
Castle, who was a flight director for 15 years before working on the now-canceled Constellation program and retiring in 2010, pointed out that many great technological innovations, from the Panama Canal to the Internet, were government endeavors that went on to have economic benefits. "There's no reason for private industry to invest [in travel to Mars]. Going to space is inherently governmental. Satellites are already commercialized because there's a business case for it. It's harder to make a business case for research on a space station."
Commercializing missions to Mars is much further in the future," agreed Earle. "There's no commodity there that we're lacking, so such a mission has to be justified purely on scientific and technical grounds. It's interesting from a science prospective, [but] it's not immediately apparent to me that there's a commercial aspect to it."
However the privatization of space flight progresses, the Commonwealth of Virginia could be well positioned to play a vital role. "It's a no-brainer," said Scales of Virginia's potential, listing such assets as the Wallops Island spaceport, a prevalence of private-sector companies in Northern Virginia interested in the industry, and the engineering and scientific know-how at Virginia Tech.
Leszczynski said that Virginia has both the political will and the workforce brainpower to take the lead in the aerospace industry. In addition to VCSFA and MARS, both NASA's Langley Research Center and the National Reconnaissance Office provide research capabilities. And he cited statistics from the Information Technology and Innovation Foundation: Among states, Virginia ranks first in the number of scientists and engineers as a percentage of workforce, third in the concentration of high-tech jobs as a percentage of workforce, and sixth in non-industry investment in research and development.
When the private sector is ready, Virginia may very well be the launch pad for the developing industry.
Gazing back at Earth
The greatest implications for space research might not be discoveries on Mars or an asteroid, but rather how humans understand our own planet. "For me, you study the atmosphere, and you can't help but be impressed by how unique the Earth is. It's a very fragile balance that's easily disrupted," said Scott Bailey, an atmospheric scientist and COE associate professor of electrical and computer engineering whose research is funded primarily through NASA. "NASA inspires all of us. The engineer in me loves the idea of standing up to those challenges [in space flight]. But the scientist in me is looking at what's going on in the atmosphere [in regards to climate change] and wishes we would stand up to those challenges. I'd like to see people be as excited about understanding the atmosphere and climate change—the changes going on in Earth's atmosphere—as they are about putting people on Mars."
Earle shares a similar sentiment. "With satellite imagery, it's easier to visualize Earth as one place, humanity's home. The perspective of looking at the Earth from the outside will go a long way to getting people to think in terms of Earth as our home, independent of national boundaries. A more global perspective could be a deterrent to war—and a reminder that Earth's resources are finite," he said.
Stretching from Earth's surface to the deepest, unknown mysteries of outer space, the human capacity to dream—sparking an innate need to innovate—is sure to fuel the continued quest into space.