FEATURE
Who's Running the Country?
How political appointees impact government performance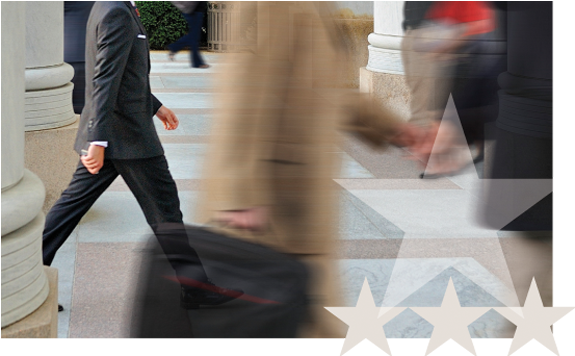 Matthew Dull is working to fill the gaps in what we know about how our government works—and how sometimes it doesn't.
Turn on a prime-time cable channel or talk-radio show, and the message is clear: Our federal government is broken. This consensus is shared by the more than 75 percent of Americans who recently told the Pew Research Council they feel "angry" or "frustrated" about the federal government.
Dull, assistant professor with Virginia Tech's Center for Public Administration and Policy, sees a paradox in this sentiment. While almost everyone agrees that the federal bureaucracy is broken, we know strikingly little about how government actually works.
Consider political appointees, individuals who are appointed by the president and confirmed by the Senate to run federal agencies. The number of appointed administrators throughout the federal government has been growing, according to Dull. The ranks of second- and third-tier appointees—undersecretaries and assistant secretaries—swelled in the mid-20th century; and more recently, appointees in agencies such as the Department of Commerce have increased due to pressure from interest groups.
Throughout history, political appointees have been accused of cronyism and corruption, and there have been numerous proposals to reform the system. Research by Dull and center colleagues Patrick Roberts and Sang Ok Choi shows, however, that what we "know" about appointees is often based on assumptions or old data. "Ask even close observers of the federal government how long appointees serve, and they will invariably say something like two years," said Dull, who noted that the most recent hard data reflecting this estimate was a 1990 study. With research help from graduate assistants Michael Keeney and Tara Bryan, the team meticulously pored through agency reports and other resources to create a comprehensive dataset tracking appointee turnover and tenure from 1989 through 2009.
One finding is an enormous variance in duration among positions. Most federal agencies, Dull explains, have an appointee responsible for congressional or legislative affairs. Such individuals are generally the "in-and-out" appointees who serve for about two years, with only about 15 percent serving out a full four-year presidential term. "These are politically sensitive positions, and almost invariably these appointees go on to lucrative positions in lobbying firms and private firms," Dull said.
Compare these short tenures with those of agency inspectors general (IGs), appointees designed to exercise independence and oversight from within the agency. Dull and his colleagues found that half of all IGs serve four years or longer, and many serve a decade or more. For example, John Layton served as Department of Energy IG from 1986 to 1998, and John Martin served as Environmental Protection Agency IG from 1983 to 1997.
Dull emphasized that duration, as a source of both competence and credibility is a vital component of agency leadership. The research team's analysis of 2,200 appointments showed that a position's insulation, independence, and formal authority all matter to duration. "Two measures of insulation from politics—fixed terms and inspector general status—are associated with longer tenure. Our research shows that agencies staffed by proportionately more professionals, such as the National Oceanic and Atmospheric Administration, are associated with longer tenure," Dull said.
Dull acknowledged there is a long way to go in understanding how appointees affect performance of government, but one aspect that he is clear on is the impact of vacancies—what he calls the ghosts in leadership posts. "There is a serious problem in leadership," said Dull. "Agencies can't make long-term decisions when they don't have a confirmed head. Those agencies are rudderless."
An example is the directorship of the Bureau of Alcohol, Tobacco, Firearms, and Explosives (ATF). "[The post] was made an appointed position in 2005, and has been vacant since," said Dull. He blames this lack of leadership for "Operation Fast and Furious," a flawed decision to give guns to Mexican criminals in order to track the guns and discover gun-smuggling networks. The tracking effort failed, and some of the guns were found at crime scenes in Mexico, according to media reports. An appointed and approved leader might have been more politically savvy and, before acting, more likely to coordinate with other agencies working in the border region before acting.
Dull and his colleagues have specific recommendations for addressing vacancies, such as forming an independent commission to reduce the number of appointed positions. They are most adamant about the need for and importance of reliability and transparency. In an article in Presidential Studies Quarterly, Robert and Dull noted that "despite mandated agency reporting under the Vacancies Reform Act, reliable and useful information on appointee vacancies is not systematically available from government sources."
"The simple truth behind this failure of government transparency is that none of the actors with a direct stake in appointee politics—committees, agencies, the White House, interest groups—see an obvious benefit from greater transparency," said Dull.
Because Dull's work provides useful, nonpartisan data and perspectives, it is an example of how the Center for Public Administration and Policy fits into Virginia Tech's land-grant mission of generating scholarship in service to the public. "We're all 'good government' people here at the center," he said. "We're here to help make government work. We're unapologetic about that."
Dana Cruikshank is the College of Architecture and Urban Studies' communications manager. The full version of this article first appeared in Virginia Tech Research, a magazine published by the Office of the Vice President for Research.