FEATURE
Full STEM Ahead
Educating the next generation's brightest minds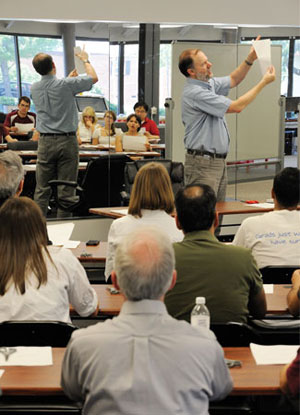 Amid the crinkling and rustling of paper, Robert Lang (at right), an origami expert and former NASA engineer, guided workshop participants through a series of folds and cuts while he explained the mathematics of origami—and how the Japanese art can yield ideas for technological designs.
By the end of last summer's workshop in the Institute for Creativity, Art, and Technology's (ICAT) studio space, those in attendance had learned how origami's basic principles—what Lang refers to as "the mathematics of folding"—could be applied to everything from airbags to solar-power arrays.
The workshop is but one example of activities related to science, technology, engineering, and mathematics (STEM) at Virginia Tech. From hosting small workshops to initiating broader collaborations that cross college boundaries, from encouraging children to get excited about science to creating vibrant, supportive communities for engineering undergraduates, the university leads the commonwealth in advancing the impact of STEM disciplines.
The next generation
Faculty and staff at Virginia Tech understand that both localized and transdisciplinary endeavors will be necessary in order to advance STEM disciplines and enhance the workforce. "Somebody once said, 'The job that middle-school kids are being trained for doesn't exist yet," said Bev Watford, associate dean of academic affairs in the College of Engineering and director of the Center for the Enhancement of Engineering Diversity (CEED).
Sue Magliaro, a professor in the School of Education, oversees the VT-STEM initiative, focused on K-12 outreach and education. "Whether it's Geoscience in a Box or the Kids' Tech University program, we're trying to [raise] awareness," she said.
Take, for example, the Studio STEM project, a collaboration between faculty in the College of Liberal Arts and Human Sciences' School of Education and the College of Engineering (COE). The program delivers hands-on engineering projects to middle schools in the region. This spring, the students—with the aid of Virginia Tech engineering majors—built miniature solar cars and learned about such topics as gears, friction, and force. "The hands-on aspect of the ... program gives [students] confidence so that even if they don't go into a STEM field, they still have greater faith in their problem-solving skills," said junior mechanical engineering major Ashley Taylor.
Studio STEM offers problem-based learning, said Brett Jones, an associate professor in the School of Education and co-collaborator on the project. Even the teachers love the magic of discovery; the program was an instant hit and now has a waiting list. "Because we do not have to teach to a standardized test, we can provide students with engaging activities that empower them to become designers and engineers," Jones said.
Workforce demands for those with STEM skills occur at the local, state, and national levels, according to Whitney Bonham, a Virginia Tech economic development specialist who recently examined STEM workforce trends in the commonwealth. "What we're trying to show is that Virginia's STEM workforce is largely [centered on] supporting federal and state government [in] Northern Virginia. But there are also regional specializations." For example, she pointed to a need for surveying and mapping specialists in the coalfields and a demand for engineering technicians to work in Lynchburg's growing nuclear energy and wireless technology industries.
Bonham's research drives home the fact that education in these disciplines is vital, even for those students who don't go on to earn a bachelor's or graduate degree. "We're seeing that there are more 'smart-collar' jobs in [STEM] as well," she said, naming an engineering technician position as one example of the need for STEM training across all levels of higher education, from technical degrees and certificates to advanced degrees.
STEM literacy is not reserved for future scientists, engineers, and educators, noted Magliaro. As STEM issues—from using a smartphone app to understanding how climate change intersects with public policy—affect people's everyday lives, the ability to understand the disciplines will become more and more crucial.
Jong-on Hahm, a Distinguished Senior Fellow in George Mason University's School of Public Policy who studies science policy, said that Virginia isn't alone in its growing interest in STEM. "Every nation on the planet is chasing innovation. [Nations are] looking to invest in areas that will foster innovation, and most of those are in the STEM disciplines," said Hahm, who also works with the National Science Foundation and previously served as director of the Committee on Women in Science and Engineering at the National Academies.
"I'm really heartened by the fact that there's a lot of interest in the science and technology behind other fields," said Hahm, naming forensics and meteorology as two examples. She is also fascinated by what the future holds. Computer science and materials science may be poised for revolutionary breakthroughs, but the timing is hard to predict. "When that hits, no one [will be able to] fill those positions fast enough," she said.
Live. Learn. Invent.
Virginia Tech is already the commonwealth's leading educator of engineers. In fact, Tech produces more engineers than all other Virginia universities combined. So it's not surprising that COE faculty, staff, and students are pushing the envelope on engineering education initiatives. Much of the focus is on diversity, evident in such programs as summer camps for high school girls interested in engineering and a women's preview weekend meant to help high school seniors decide if Virginia Tech is the right fit. "We need to produce a more diverse workforce," said Watford. "That's a given. And that diversity is of all kinds, not just gender or ethnicity."
Providing a supportive, inclusive environment for all engineering students helps improve retention rates, which is why the college's living-learning communities, Hypatia (for women) and Galileo (for men), are vital, said Susan Arnold-Christian, the CEED assistant director who oversees both communities. Both programs have been proven to improve retention rates for engineering students, with a rate of more than 80 percent, compared to the national average of about 50 percent.
These communities serve as gathering places for like-minded scholars, where first-year students discuss projects, collaborate on ideas, and find mentors in upperclassmen who serve as resident advisors (RAs). "With Hypatia, when you're surrounded by 100-plus freshmen women, it's the perfect environment to talk about projects, homework, classes, etc. It's a really amazing support group," said junior aerospace engineering major Carol Geary, currently a mentor in the Hypatia community. "My job is to watch freshmen grow up," she fondly said of her role.
Galileo RA Robert Kuczmarski, a junior majoring in mechanical engineering and psychology, first became excited about STEM when he started driving racecars, a family hobby. He initially minored in psychology, but added it as a second major when he discovered how the study of human thinking and behavior could enrich his engineering education. "I think it will be beneficial in management-type roles," he said.
Hypatia and Galileo reached a milestone last fall when they joined the College of Science's residential communities, Curie (for students studying physical or quantitative sciences) and Da Vinci (for biological sciences), in Lee Hall to form the inVenTs Residential Community. Informed by the themes of innovation and entrepreneurship, the environment offers opportunities for interdisciplinary collaboration, complete with a design and innovation studio.
The studio has proven to be one of inVenTs' most innovative features. Students can use the room as a study space, or they can train on the machinery, building prototypes and fostering a hands-on, entrepreneurial mindset. Graduate teaching assistant (GTA) and lab supervisor Juan Folgar (industrial systems and engineering '11) pointed out a laser cutter, a 3-D printer, a computer numeric control router (known as a CNC router), and more. "These are the top-of-the-line machines that are out there for prototyping," said Folgar, now a master's student. "GM visited this space last semester, and they loved it. When someone visits from a company, they will say, 'I wish I'd had this when I was in undergrad.'"
Joe Cuadrado (mechanical engineering '11), a master's student who was in Galileo as an undergraduate and is now a GTA overseeing the lab space, was surrounded by large whiteboards for sketching out ideas, tables for spreading out tools or working on group projects, and neatly labeled shelves of equipment. "This space allows you to know how to build things and understand the restrictions of the design—the limitations of the machines, for example," he said. "You can't do this kind of work in a dorm room." And when the studio is full of the hustle and bustle of students working on projects or training on the equipment, it's clear that innovation is in the air—not just in Lee Hall, but across campus and commonwealth.
STEM degrees as economic engines
Virginia Tech isn't alone in recognizing the value of STEM degrees. Reaffirming the commonwealth's commitment, the Virginia General Assembly passed the Virginia Higher Education Opportunity Act of 2011, often referred to as the Top Jobs Act or simply TJ21. The legislation sprang from the Grow By Degrees Coalition formed by the Virginia Business Higher Education Council. Supported by leaders in business, community, education, and economic development, Grow By Degrees championed affordable access to higher education and investment in education as drivers of economic growth.
"Grow By Degrees was really just the first scratch of the surface, but it got everybody's attention. It said, 'Look, if we don't start investing in higher education and our citizens, we'll lose our edge,'" said Elizabeth Hooper, Tech's state legislative liaison.
Signed by Gov. Bob McDonnell in April 2011, the TJ21 bill created and codified a set of goals for higher education, such as incentivizing year-round utilization of physical facilities and instructional resources, promoting resource-sharing across institutions, improving degree completion for Virginia students, and increasing degree attainment in the STEM-H—with "H" standing for "health"—disciplines.
"The Top Jobs legislation is already having a significant impact in Virginia by incentivizing institutions to increase degree production in high-demand fields, such as STEM-H. I commend Virginia Tech for being a leader in this effort," said McDonnell. "Together we are advancing the goal of 100,000 more degrees over the next 15 years. The reforms and investments we initiated are resulting in job-creating research, cost-saving innovation, and affordable access to a good college education for more Virginia students."
Like many, McDonnell recognizes the importance of increasing STEM graduates and improving educational access—both key aspects of the legislation—in keeping the commonwealth and its citizens competitive in tomorrow's economy. "In order to get a good job, you need a good education," he said. "The jobs of today and tomorrow are in the STEM-H fields. We must continue to ensure that Virginia students are prepared for the high-quality, high-paying jobs of the 21st century."
Added Hooper, "The STEM degree production [goal] ties into Virginia's ability to be competitive with states—and, really, other countries—that are making vital investments in their own human capital."
Meanwhile, TJ21 represents the commonwealth's investment in its residents and its institutions of higher education. Ralph Byers, executive director of government relations for Virginia Tech, noted the unique expenses associated with training and educating students in the STEM disciplines. "Generally speaking, STEM degrees are more expensive because of the equipment and labs that are required for STEM education, so we were pleased that the governor and general assembly recognized this in the Top Jobs legislation," Byers said.
And though STEM education might be a natural fit for the university, the arts will never be overlooked. While Hooper understands the vital role of STEM degrees in the commonwealth's economic future, she said that Virginia Tech won't turn its back on its commitment to the arts—a commitment exemplified in the university's Center for the Arts and ICAT. "It's important to note that while this focus on STEM degrees is a goal for the commonwealth and Virginia Tech, we're not going to abandon our commitment to the liberal arts. We do recognize that we have to educate the whole person."
Lang, the origami expert, demonstrated perfectly the aesthetics of STEM during his workshop on campus as he explained the fundamentals of flat-folding origami. When the paper is flattened and cut, a design emerges. "If I use this structure in a larger pattern, I can make a network of these creases," Lang said as he held up a design. "That moves us out of 'magic tricks' to create real-world structures."
Much like a design emerging in origami, Virginia Tech's multifaceted approach to STEM education is reshaping the commonwealth's future.
---
SOURCES
A growing demand for STEM grads ...
Between 2008 and 2018, the number of STEM jobs is expected to increase 17 percent, compared to 9.8 percent growth for non-STEM jobs.i
i – Source: U.S. Department of Commerce, Economics and Statistics Administration, ESA issue brief #03-11, July 2011.
The mean annual wage for all STEM occupations was $77,880, and only four of the 97 STEM occupations had mean annual wages below the U.S. average of $43,460.ii
ii – Source: Bureau of Labor Statistics, U.S. Department of Labor, The Editor's Desk, Science, Technology, Engineering, and Mathematics (STEM) occupations, May 2009 on the Internet at www.bls.gov/opub/ted/2011/ted_20110615.htm.
A leading producer of STEM graduates ...
Virginia Tech produces more than 31 percent of the STEM graduates in the state—twice as many as any other institution.iii In the commonwealth, half of the engineering graduates each year are produced by Virginia Tech.iv
iii, iv – Source: Ralph Byers, Office of Government Relations, Virginia Tech.
Virginia Tech's College of Engineering is one of the nation's leading producers of engineers. Its graduating class, close to 1,300, is the sixth largest in the nation.v
v – Source: "The Competitiveness of the Virginia Tech College of Engineering and its Relationship to the Commonwealth of Virginia," fact sheet, Lynn Nystrom, College of Engineering, Virginia Tech.
Virginia's goal: 100,000 more degrees ...
Among its goals, the Top Jobs legislation aims "to place Virginia among the most highly educated states and countries by conferring approximately 100,000 cumulative additional undergraduate degrees on Virginians between 2011 and 2025."vi
vi – Source: Farrell-Cox presentation, June 16, 2011. Accessed at www.education.virginia.gov/Initiatives/HigherEducation/meetingPresentations/Farrell-CoxPresentationJune162011.pdf.
An investment pays off ...
"Every dollar spent on public higher education by the state is associated with an additional $1.39 in state revenue and an increment of $13.31 to Virginia gross domestic product."vii
vii – Source: Study of the economic impact of higher education, Weldon Cooper Center for Public Service at the University of Virginia, commissioned by the Virginia Business Higher Education Council and cited by the Grow By Degrees campaign, www.growbydegrees.org/docs/STUDY_OF_ECONOMIC_IMPACT_FINAL.pdf.
$255 million: The amount in the commonwealth's 2012-14 biennial budget dedicated to new, reform-based investments in Virginia's colleges, universities, and community colleges.viii
• TJ21 incentives/institutional initiatives, including STEM-H degrees and initiatives: $32 million
• Enrollment growth: $43.6 million
• Financial aid: $18.5 million
• Other programs, including Eastern Virginia Medical School, the Institute for Advanced Learning and Research, Southern Virginia Higher Education Center, State Council, and Virginia Aerospace Science and Technology Scholars: $9.6 million
viii – Information provided by the Virginia Business Higher Education Council.