FEATURE
All in the Family
Holistic learning in Virginia Tech's residential colleges
It was a fortuitous dryer malfunction that brought new neighbors together in the Residential College at West Ambler Johnston.
Shortly after students moved in last fall, Ben and Jennifer Sax's dryer broke. In the common laundry room on the fourth floor, while drying their clothes, the couple—who are live-in faculty principal and senior fellow for Virginia Tech's newest living-learning initiative—got to know their new neighbors, and students got to know them as real people. "The residential college motto is 'to know and be known,'" said Ben. "Doing our laundry, we were just people engaged in conversation about things we were passionate about. And they found out that we wear underwear, too."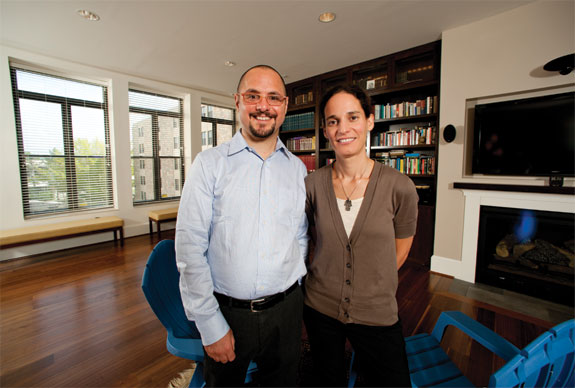 Right at home: Ben Sax and Jennifer Quijano Sax in West Ambler Johnston
"Up to that point, they had been so polite and thoughtful and formal," said Jennifer. "The exchanges I had with students in the laundry room were wonderful. They began to see us not as disciplinarians, but as [colleagues] there to support and facilitate the community."
By history, temperament, and philosophy, the Saxes are a great fit to lead the holistic learning and community-building efforts at the residential college at West AJ. Ben Sax is assistant professor of Judaic studies in the religion and culture department in the College of Liberal Arts and Human Sciences. Jennifer Quijano Sax is interim director for education abroad in the Office of International Research, Education, and Development. Before coming to Virginia Tech in 2008, the couple spent four years as live-in faculty in one of the 38 residential colleges at the University of Chicago. It was a positive experience for the Saxes, and they longed to once again be part of the lively intellectual environment that results from living with people of different ages, interests, backgrounds, and goals.
The Saxes also bring a surprising element to the multigenerational mix of the residential college: two children, Sarai, age 7, and Avishai, age 4. They also have two cats, Falafel and Monty, who, like the children, get a lot of attention, love, and treats. "[The] students are smart, thoughtful, creative people at a wonderful time in their lives where anything is possible," said Ben. "It is refreshing to live with them—it reminds us of why we got into this profession, and it keeps us inspired and curious. We wanted our kids to experience that, too."
The multigenerational environment is a place where students can be mentored and in turn mentor those who come after them. "Because I live in West AJ, I've had opportunities to be a part of events I never dreamed of, and [I've] met such a wide variety of people," said Tara Lynn Shockley, a first-year student from San Diego majoring in human nutrition, foods, and exercise. "I am incredibly lucky as a freshman to meet upperclassmen I can look up to and who can help me find my niche on campus."
A new twist on an old idea
The residential college concept dates back to the 12th century. The idea evolved at Oxford and Cambridge universities, which would provide models for residential colleges in the U.S. Key characteristics of a Virginia Tech residential college include

• Multidisciplinary: Students from every discipline are welcomed, and this diversity is essential to the learning philosophy.

• Multigenerational: Students from all classifications, first-year through graduate, reside in the community. There are many opportunities to interact with faculty, staff, and their families (and pets).

• Live-in faculty: The community is led by an academic faculty member, working and living side-by-side with student affairs professionals.

• Highly engaged faculty: There is substantive faculty engagement with members of the community.

• Well-established governance: Students, faculty, and other members of the community are afforded significant opportunities to engage in decision-making.

• Mission-centric spaces: The physical environment provides intentional spaces that practically and symbolically communicate a residential college's emphasis on holistic student development.
Chief among the philosophical underpinnings of the residential college approach is that learning can—and does—happen everywhere, not just in the classroom. "Thinking doesn't stop at the end of class," Ben said. "You never switch off learning. Ideas need time to percolate."
Students may have been surprised when Ben bought 50 tickets to opening night of the biggest movie event since "The Hunger Games" leapt from the Kindle to the big screen, but his support of the midnight showing of "The Hobbit" started to make more sense when he arranged for Matthew Gabriele, associate professor and coordinator of medieval and early modern studies, to offer a seminar before the movie. Gabriele talked with students about the origins of monsters and why medieval times are associated with fantastical creatures.
Based on a typical semester's course load, students spend "roughly 15 to 18 hours per week in the classroom," said James Penven, associate director for academic initiatives in Housing and Residence Life. "This means they spend more time outside of the classroom than in it. We want to make this time meaningful. Our collaborative initiatives make residence halls more than just a place where students go after class."
It's all part of a holistic approach to learning, said Patty Perillo, vice president for student affairs. "Our challenge is to create a community that nurtures learning and growth for all of its members, across our curricula and co-curricular services and programs, and woven throughout the fabric of a student's university experience," said Perillo. "The residential colleges are one way we are creating the circumstances in which students are challenged and encouraged to reframe how they approach their college and lifelong learning experiences."
The residential colleges at Virginia Tech provide places where students can realize the advantages of a small, student-centered college, along with the opportunities of a large, research-oriented university. West Ambler Johnston houses 800 students, and each member is assigned to one of four houses. A live-out associate faculty principal leads each house and is assisted by a live-in graduate fellow. In addition, 80 faculty fellows, selected from across the university and the community, participate in the daily life of the college, making sure each student has opportunities for research, service learning, and international experience.
"At Virginia Tech, the Drillfield symbolically separates the two parts of student's lives—in the classroom and outside the classroom," said Frank Shushok, associate vice president of student affairs. "Our residential colleges represent an important partnership between academics and student affairs, and the re-emergence of faculty in shaping the out-of-classroom experience."
Faculty support makes a difference in how students experience Virginia Tech. "This is the difference between a 'room in a dorm' and a residential college," said Jennifer. "You have a say, you are known, and you choose to shape your own learning experience. It's organized serendipity. We don't plan or tell the students what to do—we help them make their ideas happen. This is their initiative."
Maggie Appel-Schumacher, of Mackenbach, Germany, is a senior majoring in German and international studies and a resident advisor in West AJ. "We were given the structure and the resources," she said, "but no plan. That's really exciting. Everyone there is intentionally committed to the community, and we are allowed to share ideas, make things happen, and foster a sense of belonging."
"I have a lot of confidence in Virginia Tech students," said Ben. "The harder I make my classes, the higher they rise to succeed. The residential college can make a difference by raising expectations, expanding the bounds of student experience, connecting them to new opportunities, and providing a safe space to think critically and learn continually. Our goal is to make it a vibrant community. We'll fine-tune it as we go along."
Sandy Broughton is the assistant director for marketing and communications in the Division of Student Affairs.