ALUMNI ASSOCIATION
Hokie football games add flavor to class reunions and homecomings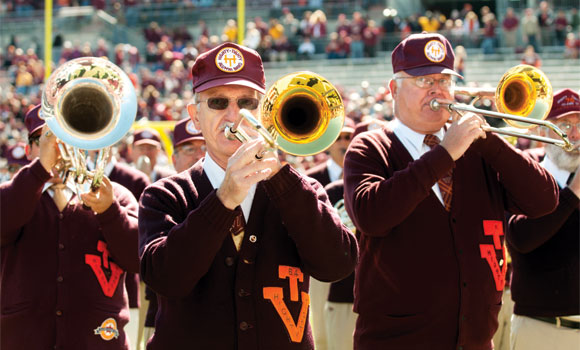 2014 class reunions
Class reunions from the 25th through the 50th anniversaries are held at five-year intervals. Each reunion includes optional campus tours, an afternoon presentation by current students, a Friday evening meal, and plenty of time for reminiscing and dancing. Saturdays feature a morning brunch and pregame festivities. The exception to the typical Friday/Saturday reunion agenda is for a Thursday evening game, when the banquet follows on Friday. Special seating is arranged for the reunion registrants at Tech's sold-out games, and rooms are set aside at The Inn at Virginia Tech.
Sept. 20 – Georgia Tech
Class of 1974 – 40th Reunion
Class of 1979 – 35th Reunion

Sept. 27 – Western Michigan
Class of 1964 – 50th Reunion

Oct. 23 – Miami
Class of 1984 – 30th Reunion
Class of 1989 – 25th Reunion

Nov. 1 – Boston College
Class of 1969 – 45th Reunion

Nov. 28 – Virginia
Young Alumni Reunion
2014 homecomings
Homecomings are hosted throughout the football season. Programs for the eight academic colleges are spread across the home schedule, along with other special homecomings for graduate-degree alumni and Corps of Cadets alumni. Homecomings are open to all alumni of the host groups, regardless of graduation year. In each case, there is a game-day gathering, pregame tailgate food, and the opportunity to reunite with friends, faculty, and staff. Lodging and game tickets (if needed) are available to registrants on a first-come, first-served basis, so it's best to register early.
Aug. 30 – William & Mary
Veterinary Medicine
Graduate School

Sept. 13 – East Carolina
Corps of Cadets
College of Natural Resources and Environment
College of Liberal Arts and Human Sciences

Sept. 20 – Georgia Tech
College of Agriculture and Life Sciences

Sept. 27 – Western Michigan (Homecoming Parade)
Alumni Center Open House and Tailgate
College of Engineering
Student Affairs: SGA and Order of the Gavel
Highty-Tighties
Marching Virginians

Oct. 23 – Miami
College of Science

Nov. 1 – Boston College
Pamplin College of Business

Nov. 28 – Virginia
College of Architecture and Urban Studies
Student Alumni Associates 45th Reunion
Come home: For more information on the 2014 homecomings and reunions, visit www.alumni.vt.edu/reunion/index.html.
---
Seeking nominations
Board of Directors: The Alumni Association is seeking nominations for its board of directors for the next three-year term, beginning in 2015. Nominations are due by June 1.
Multicultural Alumni Advisory Board: Nominations are invited for the board that represents the interests of multicultural alumni constituencies. The board works closely with the Alumni Association and the Office for Diversity and Inclusion.
Outstanding Recent Alumni Award: The Alumni Association invites nominations for the 2014-15 Outstanding Recent Alumni Awards, which recognize professional achievement and leadership by alumni who have graduated since 2004. Nominations are due by Aug. 15.
For both boards and the recent alumni award, please include the nominee's full name, class year, address, and specific qualifications for the nomination. Self-nominations are welcome. Mail nominations to Virginia Tech Alumni Association, Holtzman Alumni Center (0102), 901 Prices Fork Rd., Blacksburg, VA 24061.
---
Alumni Humanitarian Award: Nominations are invited for the Humanitarian Award, which is presented to an alum who has performed exceptional service outside his or her profession or career. The scope of service should have significant regional, national, or international impact.
The nomination form is available at www.alumni.vt.edu/humanitarian.
---
Something for everyone at alumni chapter events
Local alumni chapters provide opportunities for Hokies to network, socialize, and promote their alma mater. Last year, more than 115 chapters held more than 1,000 events in their local communities, with 600 alumni volunteers giving back in the spirit of Ut Prosim (That I May Serve).
Chapter events include
• Visiting speakers from Virginia Tech
• Wine tastings
• Professional networking events
• Student send-offs
• Strong Together events
• Game-watching gatherings
• Holiday celebrations

"With the volume of events being hosted throughout the Hokie Nation, there always is something of interest for everyone," said Debbie Day, associate vice president for alumni relations. To find a chapter where you live, visit www.alumni.vt.edu/chapters, and select "Find Your Chapter."
Sports and activities
Cheering on the Hokies is as popular among chapters throughout the country as on campus. Chapters sometimes take an active approach to sports by forming local leagues. For instance, in 2013, the Chicago chapter won its first beach volleyball championship. The Manhattan Hokies gather in the summer for softball; last year they celebrated their fifth season and defeated U.Va.'s New York City alumni chapter. "It's always better to win," said Casey Lee (finance '04), "but we celebrate together after each game." The Kentucky chapter combined serious physical challenges and service last October when alumni competed in their first Tough Mudder. The globally recognized race with military-style obstacles, adapted for civilian participation, raises donations that support the Wounded Warrior Project. "We could not think of a better way to live Ut Prosim and put our Hokie Spirit to the test," said Jordan McCauley (sociology '12).
Community events
Many chapters hold special events unique to their own communities. For example, the Eastern Shore chapter sponsors an annual oyster roast, which averages 200 attendees. The roast features a silent auction, and an admissions representative attends to meet with prospective students. Such events usually benefit scholarships for local students entering Virginia Tech.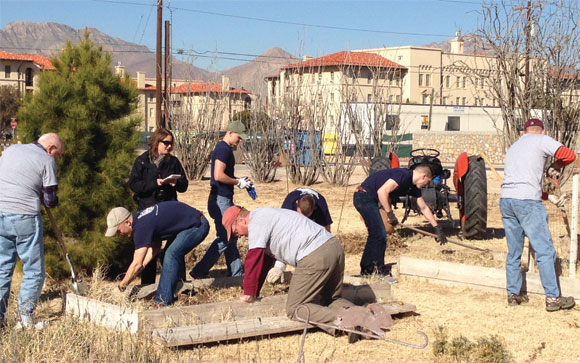 Community service in El Paso, Texas, before the Sun Bowl
Community service
Many chapters coordinate service projects, including efforts connected with Virginia Tech bowl games. Last December, alumni in El Paso, Texas, joined members of the current Corps of Cadets Color Guard to refurbish planting beds at the Old Fort Bliss Replica. "We're excited to see Virginia Tech here coupling football and service—two things that make us very proud," said Blythe Hogeboom (international studies '95), who was participating with her husband, Patrick (civil engineering '94), and three sons.