AROUND THE DRILLFIELD
Going the Distance, Judging for Speed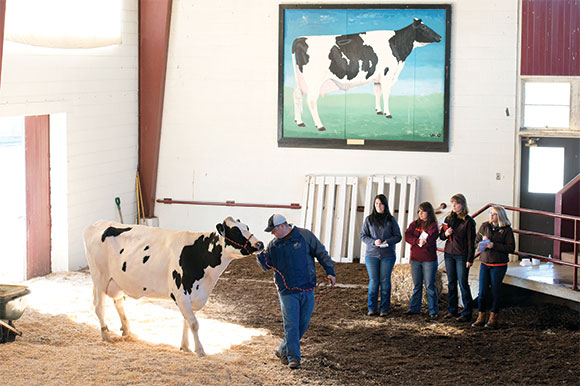 Virginia Tech's dairy-judging team has claimed four out of the last eight national titles. Photo by Logan Wallace.
To the untrained eye, a herd of spotted black-and-white Holstein dairy cows may seem like perfect copies of each other, save for the varied Rorschach-like patterns that dot their hides.
But Mackenzie Moore, a senior sociology major from Cobleskill, N.Y., and her three dairy-judging teammates know better.
When Moore judges cows, she quickly scans the four immense animals before her, notebook at the ready. First, she looks for large udders that ride high and full and tuck neatly underneath a cow's haunches. Then it's on to the feet and legs. She's looking for a square angle from the rump to the feet. The spacing of the ribs is also key. Award-winning dairy cows display a visible rib cage and very little fat, indicators that most of their energy is going into the task of producing milk.
Moore has just 15 minutes to consider these factors and to take copious notes in order to verbally defend her choice hours later in front of an individual judge.
"You have to think critically and evaluate the cows in a short amount of time," said Moore, who plans to graduate in May and hopes to return to her home state of New York as an Extension specialist.
These detail-intensive tasks are second-nature by the time the Virginia Tech dairy judging team takes center ring to competitively judge cattle on the national stage. Moore and her teammates, including Elizabeth Davis, a sophomore pre-med and dairy science major from Union Bridge, Md.; Mandi Ramsburg, a senior dairy science major from Walkersville, Md.; and Lyndsey Royek, a senior agricultural and applied economics major from Corry, Pa., swept the awards at the World Dairy Expo in Madison, Wis., last year. It was the fourth national contest victory in eight years for a Virginia Tech team, with past wins coming in 2006, 2008, and 2009.
Judging, however, is more than a bovine beauty pageant.
The training to judge a dairy cow takes uncommon commitment. Every weekend from August to October, mandatory practices are conducted at dairy producer sites across eight states, where students learn how to evaluate cows quickly, weigh judging criteria, defend their decisions, and handle criticism. The learning process is so rigorous and focused that cell phones are banned when the team trains.
"These students learn not just to evaluate the cows, but also to make decisions and accept and respond to criticism," said Katharine Knowlton, a professor of dairy science in the College of Agriculture and Life Sciences who co-coaches the team with professor emeritus of dairy science Mike Barnes. The process is rigorous, to say the least. "An alumnus once told me that practicing judging was like chewing glass," Knowlton said.
Davis said the critical-thinking skills she gained from judging will help her in medical school. "These skills will also give me confidence to defend my decisions as a medical professional," she said.
Over the years, the team has welcomed members who were not dairy science majors and had no previous dairy experience. In addition, dairy judging has helped recruit students to Virginia Tech. Three-quarters of dairy science students come from out of state, a testament to the department's excellence.
"Dairy judging teaches important professional skills," said Knowlton. "The cows are just the bait to attract students to learn these skills."
Amy Loeffler is a science writer and marketing communications specialist with the College of Agriculture and Life Sciences.