Book Notes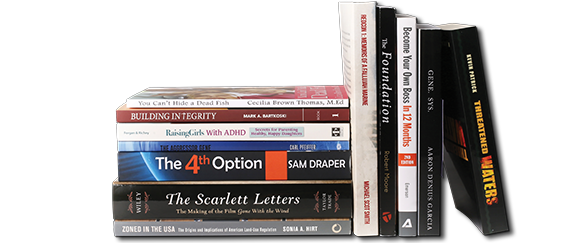 NONFICTION
Eric Austin (M.P.A. '93, Ph.D. public administration and public affairs '03) and Sandra Parkes Pershing, "Organization Theory and Governance for the 21st Century," textbook, CQ Press.
Mark Bartkoski (mining engineering '81, M.S. '83), "Building Integrity: A Story of Business, Life, and the Journey," motivational, business, self-published.
Susan Coleman (elementary education '83, M.A. curriculum and instruction '90, Ph.D. instructional technology and design '94), "Design and Development of Training Games: Practical Guidelines from a Multidisciplinary Perspective," education, Cambridge University Press.
Melinda Emerson (communication '94), "Become Your Own Boss in 12 Months," business, Adams Media.
Alireza Haghighat, professor, Department of Mechanical Engineering, "Monte Carlo Methods for Particle Transport," textbook, CRC Press.
Sonia Hirt, associate professor and associate dean of academic affairs, College of Architecture and Urban Studies, "Zoned In the U.S.A.: The Origins and Implications of American Land-Use Regulation," regulatory policy, Cornell Paperbacks.
Hsien-Lu Huang (M.S. electrical engineering '68, Ph.D. '70) and Hui-Lien Peng Huang, "The Favor of Our God of Trinity," religion, Xlibris.
Newton Lee (computer science and application '83, M.S. '84), "Digital Da Vinci: Computers in the Arts and Sciences" and "Facebook Nation: Total Information Awareness," computers, Springer.
Laine Mears (mechanical engineering '93), et al., "Electrically Assisted Forming," textbook, Springer.
Mary Anne Richey (clothing, textiles, and related arts '69, M.A. educational supervision '70) and James Forgan, "Raising Girls With ADHD: Secrets for Parenting Healthy, Happy Daughters," parenting, Prufrock Press.
Joel Shelton (history, political science '05, Ph.D. planning, governance, and globalization '12), "Conditionality and the Ambitions of Governance: Social Transformation in Southeastern Europe," politics, Palgrave Macmillan.
William Bryan Steverson Jr. (metallurgical engineering '64), "Baseball: A Special Gift from God," baseball, religion, WestBow Press.
Mac Stone (international policy, Spanish, environmental affairs '06), "Everglades: America's Wetland," photography, University Press of Florida.
Cecilia "Celie" Brown Thomas (elementary education '75), "You Can't Hide a Dead Fish," education, 1st World Publishing.
Budd Titlow (M.S. fisheries and wildlife '73), "Bird Brains: Inside the Strange Minds of Our Fine Feathered Friends," wildlife, Lyons Press.
John Wiley Jr., (communication '80), editor, "The Scarlett Letters: The Making of the Film 'Gone with the Wind,'" film, Rowman & Littlefield.
FICTION
Ellen Butler (political science '94, M.P.A. '95), "Poplar Place," novel, Turquoise Morning Press; and "Heart of Design" and "Planning For Love," romance, Crimson Romance.
Douglas Ewan Cameron (Ph.D. mathematics '70), "The Body Beneath the Bridge," mystery, W&B Publishers.
Sam Draper (mechanical engineering '97), "The 4th Option," thriller, self-published.
Aaron Denius Garcia (theater '01), "Gene. Sys.," science fiction, self-published.
Robert Moore (chemical engineering '60), "The Foundation," religious, family, Tate Publishing.
Kevin Patrick (political science '74), "Threatened Waters," political thriller, River Walk Publishers.
Richard Perkins (architecture '77), "Bones of the Emperor: A Theology of Humanity in the Universe," science fiction, Trafford Publishing.
Carl Pfeiffer, professor, Department of Biomedical Sciences and Pathobiology, "The Aggressor Gene," marine science thriller, AuthorHouse.
---
Featured author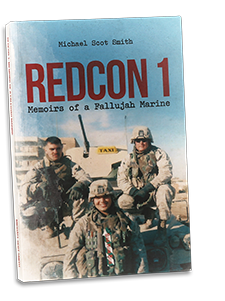 Michael Scot Smith (sociology '01) is a decorated Iraq War combat veteran who served in the U.S. Marine Corps. Requests from his fellow platoon mates to tell their stories and depict the intimate nature of a Marine's personal experiences while fighting inspired him to write "Redcon 1: Memoirs of a Fallujah Marine," a self-published memoir. Smith currently works in law enforcement in Northern Virginia.
"There, there, baby, it's OK… . Daddy will make it all better! Does it hurt? I'll fix you all up and never let the bad men hurt you again. Shhhhh… shhhhhh… shhhhhhhhhhhh," coos the Goat to our truck, taping the small patch of gauze over the bullet hole left by the armor piercing round in the truck's frontal armor plating.
"He's insane!" Jeans says to me as we watch Daniel "fix" his baby. I just laugh and shake my head, continuing to resituate my personal gear and top off my magazines.
I look around and notice that my guys are nasty and dirty from a few days of combat. I notice that they are also no longer shiny. But the presence of all the dirt on us is not the lack of "shiny" that I'm seeing.
I'm talking about how my boys aren't all shiny and new anymore. My guys seem a bit older. The lines on their faces seem just a bit deeper and dirtier. They somehow seem to have a bit of that edge and swagger that I was noticing about the Scouts that we relieved a few months ago. They are developing their combat muscles and losing the "greenness" of an untested unit. We are slowly becoming more and more of what's known as "salty."