ALUMNUS PROFILE
Classroom Experience
How an unexpected lesson instilled integrity in a business-minded alumnus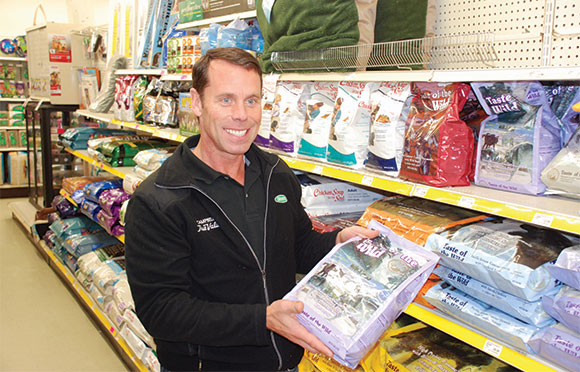 Brent Burger's business acumen, evident well before his undergraduate days in Blacksburg, has positioned him atop a national chain of hardware stores.
Brent Burger's first management job came early in life.
He was still in grade school when he started a lawn-mowing business with his older brother and his fraternal twin.
"Brent put the business together," said his uncle, Jim Burger, the recently retired Garland Gray Professor of Forestry in Virginia Tech's forest resources and environmental conservation department. "He did the sales and accounting and marketing. The other two boys pushed the lawnmowers."
Eventually, Brent Burger (English '92) found his way to Blacksburg, where he received his degree, along with a lengthy education in running a business as an employee, manager, and eventual owner of a TCBY frozen yogurt shop.
Today, Burger owns six True Value hardware stores in Maine and serves as chairman of the True Value Board of Directors.
"Brent is an entrepreneur," said Jonathan Bruce (building construction '93), one of Burger's friends. "He's one of those guys who can figure things out, whether it's remodeling a bathroom or running a business. He's a person with a great business mind."
Burger's friends and family said he was practically born an entrepreneur. After the lawn-mowing business with his brothers in Indiana, Burger used an empty building on the old family farm to start raising rabbits. He was 14 years old.
"At its height, I had 40 or so rabbits producing offspring," Burger said. "I would raise them and slaughter them and sell them. As I earned money in my business, it would help me grow that business. I moved from having to go water those rabbits every single day to being able to put in an automated watering system that went past each cage."
By the time he graduated from high school, his talents and smarts were recognized by his uncle. Jim Burger talked Brent into moving from Indiana to Blacksburg, and the student spent the next few years living in a finished room in his uncle and aunt's house.
Despite the support, Brent Burger still nearly blew his opportunity at Tech.
"I cheated on a test, and I got caught, and I got kicked out of school" for a trimester, he said. Burger landed in an academic misconduct hearing for copying someone else's theme paper for a final exam. "That was 25 or 30 years ago. It is crystal clear for me. I can remember sitting in that room—that little room in a trial of my peers. I don't remember a whole lot of stuff from 25 or 30 years ago, but that—I just remember the impact it had on my life.
"That was a turning point for me in my life," Burger said. "Certainly, at the time, it was not comfortable, but when I look back on that, the impact that consequence had on me at the time shaped me. It pointed me in an entirely different direction. I knew I was not a cheater or thief. I made a bad decision because I was up against the wall. There was a consequence for it. That's when I learned this huge lesson about integrity."
Burger learned a series of other lessons in Blacksburg—he cites the discipline involved in obtaining a degree—but many of them came through his job, which turned into a career.
"I got a job probably six months [after starting classes] at the TCBY yogurt store, really to pay for school," Burger said. "I loved the work."
The experience invigorated Burger, who quickly moved up to manager and then pursued the opportunity to buy the franchise. He walked into First National Bank to apply for a loan, but he had little to offer as collateral. "A typewriter and a bicycle were the two biggest assets I had," he said.
Jim Burger said that the late Grover Jones, the bank executive who spoke to Brent about the loan, was at first unimpressed.
"Here's this kid, 19 or 20 years old," said Jim Burger. "[Jones] thought he was totally crazy and discounted him. But Brent can present himself and charm you very quickly, so you at least hear him out. Then Brent laid out an extensive business plan in front of him. Grover was really impressed by that."
The increased responsibility at TCBY elevated Burger's confidence. "That's really when I lit up," he said. "The ordering process, the marketing component, hiring staff, payroll—all of those elements required to run a business—it came natural to me. It was a terrific start."
That enthusiasm bled over into his personal life and classes at Virginia Tech, too.
Carol Burger—Jim's wife and Brent's aunt—said one of Brent's girlfriends described how he had arrived to pick her up on a date, then noticed that her refrigerator door was mounted on the wrong side respective to the wall.
"He said, 'Instead of going out tonight, let's just switch that door around.' So that's what they did," Carol said.
Burger was learning so much by owning and running his own store that he eventually lost interest in his business classes. Instead, he enrolled in English and literature electives that he found more interesting.
He also helped his cousin, John Burger (communications '90), in John's successful campaign for Homecoming king. Brent and John visited classes wearing paper Burger King crowns and handing out TCBY coupons.
Eventually, Brent Burger secured his degree and bought more TCBY stores, including three in Boca Raton, Florida. TCBY ultimately bought back the stores and hired Burger as a consultant. He was promoted to vice president of TCBY's West Coast operations and moved to San Francisco, where he was then recruited by Starbucks.
By 1999, Burger's father-in-law, who owned a hardware store and lumber yard in Maine, decided to slow down. Burger wanted to apply the lessons he'd learned in the corporate world to a family-owned business, so he moved to Maine in 1999.
In 2007, Burger was selected as a member of the True Value Board of Directors. During the next five years, he worked on a variety of committees, and in 2012, he was elected to a six-year term as chairman of the board.
Today, Burger looks back at his time in Blacksburg as formative. He found a supportive business community that allowed him, even as a young man, to participate and succeed. Tech played a pivotal role, too, teaching lessons about discipline, persistence, and integrity.
"I credit that time in my life and being at Virginia Tech for shifting my perspective," Burger said.