AROUND THE DRILLFIELD
VTHacks' 36-hour coding marathon
Video by J. Scott Parker
Some 450 high school and college-age computer programmers, builders, and enthusiasts from across the East Coast gathered in Virginia Tech's Torgersen Hall in early February for VTHacks, a 36-hour coding marathon organized by students in the university's Department of Computer Science.
VTHacks founder and event organizer Ben Johnston, a senior majoring in computer science in the College of Engineering, said that such events, sometimes called "hackathons," are dedicated to "reclaiming the name" of hacking, a term that has come to denote the illegal practice of circumventing computer security for criminal purposes.
In reality, the term "hacking" was originally used in the 1960s and 1970s by technology enthusiasts who would form groups and build their own computers from kits. "If the general public or media became aware of hackathon expos and came to see the projects," Johnston said, "a lot of the negative perception around the word 'hack' would begin to disappear."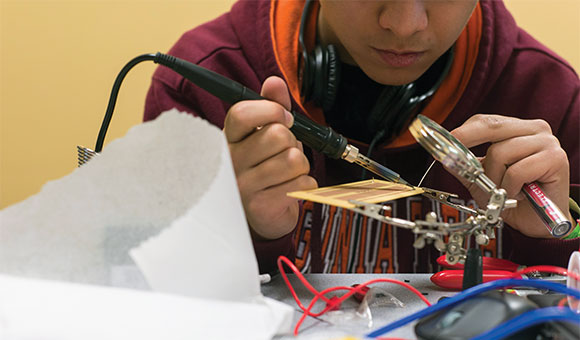 During the course of the marathon, some student teams took on challenges created by VTHacks sponsors, which included Bloomberg, Capital One, Ford, Microsoft, RackSpace, and Techpad. Other teams worked on their own projects: a virtual reality boxing game; a robotic hand built from cardboard, drinking straws, fishing wire, and electronic components; and a prototype low-cost telescope that its creators hope to market in the form of a model for hobbyists and children.
Generating the most buzz was a project created by three Georgia Tech students: a software application for smart watches that can detect intoxication by measuring whether wearers stumble or sway while walking. In response, the app sends an automatic alert to a pre-chosen emergency contact to request a ride. The group plans to refine the application and make it available on Web-based app stores for free download.
Because of its various sponsors, VTHacks not only paid participants' travel expenses, but also offered free registration and required no proof of skill. "The attitude of our community and our culture is [that] we are able to afford it far more than they are," Johnston said of event attendees. "We wanted to be inclusive."

"Meet the Hackers: A Force for Good" (WVTF/Radio IQ)
---
Kitchen of the future debuts in Las Vegas
Video by J. Scott Parker
In mid-January, the Virginia Tech Center for Design Research, part of the College of Architecture and Urban Studies (CAUS), unveiled the future of kitchen design and construction at the Kitchen and Bath Industry Show in Las Vegas. The show is North America's premier annual event dedicated to the kitchen and bath industry.
The innovative kitchen is part of a research project that explores manufacturing strategies and the greater integration of technology with architecture, or the industrial production of smart homes. CAUS researcher Joseph Wheeler, professor of architecture and co-director of the Center for Design Research, was a lead for the LumenHAUS project that won the International Solar Decathlon competition in Madrid and received a 2012 American Institute of Architects Honor Award for Excellence in Architecture.
As the first phase of a three-year plan to construct a two-story FutureHAUS, the kitchen incorporates technology to enhance user experience. For example, an oven camera allows users to monitor their confections from anywhere in the house. A refrigerator detects when staples such as milk are running low or are out-of-date. High-definition displays mounted in the backsplash can serve as a virtual window or a handy place to pull up recipes. A glass countertop provides an uninterrupted work surface, but mounted beneath it are convection burners that allow it to serve as a cooktop. The team also considered accessibility and aging issues, incorporating touch-and-gesture devices that open cabinets and appliances.
Similarly, technology guided the construction. The kitchen, and eventually the entire FutureHAUS, highlights how assembly-line technology might be used to build the kitchen as a complete modular "cartridge" that could be delivered fully assembled—just as the intact kitchen was transported from Virginia to Nevada for the industry show.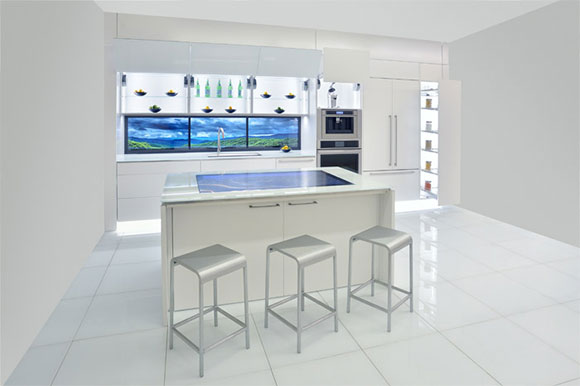 Although modular construction leads to economies of scale for production, the focus is not on creating cheap products. Much like the customizable production of luxury cars, these cartridges could contain high-end finishes, appliances, and technology, while increasing quality-control standards and precision in the production process.
"We're not changing the final product. We are just changing the process to get there," Wheeler said. "We can deliver the kitchen of the future through a process that's really construction of the future."
The next phase of the FutureHAUS design process is the addition of a living room, alongside the kitchen, that will debut at the American Institute of Architects national convention in mid-May in Atlanta.
---
Wrestling in the Moss Arts Center
Video by Jarrad Henderson
In early February, the ninth-ranked Virginia Tech wrestling team took center stage—literally—defeating Atlantic Coast Conference (ACC) opponents University of Virginia, University of Pittsburgh, and North Carolina State University in a special three-match stand in the Anne and Ellen Fife Theatre in the Moss Arts Center's Street and Davis Performance Hall.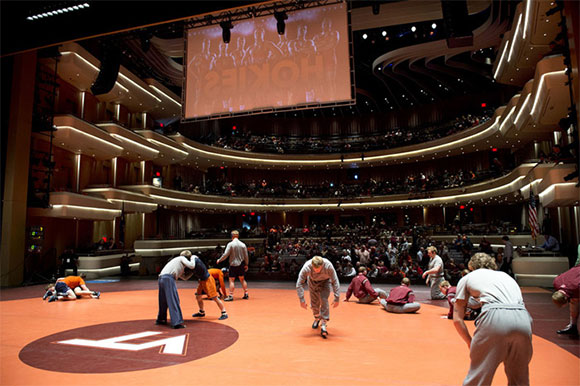 ---
Late Tech professor portrayed in popular film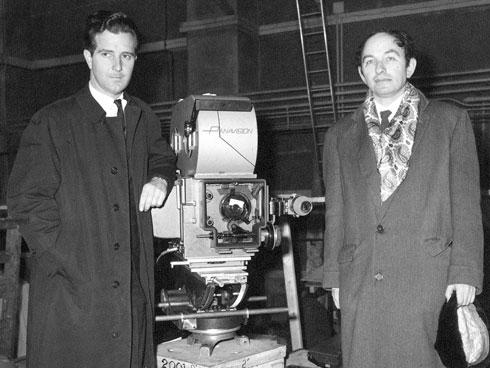 Jack Good (right) at Hawk Films Ltd. in 1966, as an adviser on Stanley Kubrick's "2001: A Space Odyssey"
(Learn more at Special Collections, University Libraries, Virginia Tech.)
Although advanced math as a concept rarely plays a major role in Hollywood movies, "The Imitation Game," which tells the story of Alan Turing, a British mathematician and logician who broke the German military's Enigma code and helped the Allies to victory in World War II, has garnered considerable praise—and has ties to a late Virginia Tech professor.
A prominent member of Turing's cryptanalytic team at Bletchley Park was I.J. "Jack" Good, a British mathematician who, after the war, held positions at Trinity College, Oxford; and the Atlas Computer Laboratory before coming to the U.S.
In 1967, Good was appointed a research professor of statistics at Tech, where the numbers, he believed, added up: "I arrived in Blacksburg in the seventh hour of the seventh day of the seventh month of year seven in the seventh decade, and I was put in apartment seven of block seven … all by chance."
Good, who was later named a University Distinguished Professor and, in 1994, received emeritus status, died in 2009.
---
Lane Hall receives historic status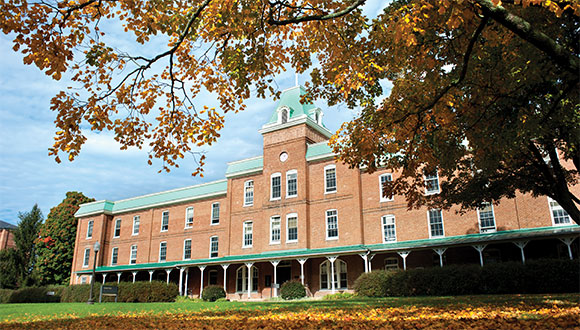 The traditional home of the Virginia Tech Corps of Cadets on the Upper Quad, Lane Hall has been added to the National Register of Historic Places by the National Park Service.
Constructed in 1888 from five unconnected townhouses, Lane Hall originally served as the corps' Barracks No. 1, housing 130 students; it was converted into academic offices in 1967. Hundreds of signatures of former cadets, some dating back more than a century, are scratched into the building's bricks and mortar.
Lane Hall is the second Virginia Tech building to achieve the historical designation; Solitude, the oldest building on campus, was added in 1989. Both are on the Virginia Landmarks Register.
---
Virginia Tech's hand in hatching the modern turkey industry
Charles Wampler, at far left, presented then-Vice President Richard Nixon with a Thanksgiving turkey. Courtesy of Virginia Tech's Department of Animal and Poultry Sciences.
In 1922, when A.L. Dean was head of the Department of Poultry Science at Virginia Agricultural and Mechanical College and Polytechnic Institute—today's Virginia Tech—he received a letter from a young Virginia Cooperative Extension agent, Charles Wampler, who served Rockingham County, Virginia.
Wampler had written to land-grant universities across the country about the prospect of artificially raising turkeys in a manner similar to how chickens were being raised—in houses and without hens. Dean, the only recipient to respond to the agent's query, encouraged Wampler to try at least 100 eggs.
Before long, poults were being hatched in a 12-by-14-foot barn heated by a kerosene brooder stove, a new farming technique that would forever change the turkey industry, which now raises more than 240 million turkeys each year and provides jobs around the world.
Although Wampler left Extension in 1927, when his new business, Wampler's Feed and Seed, began to take off, he remained a staunch supporter of using the cooperative to share the knowledge he had gained from his operations.
"Without a doubt, this early partnership is why we have the turkey industry we have today," said Paul Siegel, University Distinguished Professor Emeritus of Animal and Poultry Sciences, who knew both men. "A.L. would throw 15 or 20 ideas out to Charles, and Charles knew which ideas to run with."
In turn, to ensure that the turkey industry flourished both in Virginia and around the country, Extension published bulletins with the new knowledge, a model that continues today in the productive collaboration between Virginia Tech and the Virginia Cooperative Extension.
Over the years, Wampler routinely introduced trailblazing models that became industry standards: raising turkeys year-round by using artificial indoor lighting; incorporating the force-draft incubator, which increased production; using contract growers; and pioneering vertical integration.
Along with raising turkeys, Wampler became an enthusiastic spokesman for the industry, founding the National Turkey Federation and serving as its president for five years. He was instrumental in encouraging the National School Lunch Program to begin buying turkeys, and he was photographed as part of the industry delegation presenting then-Vice President Richard Nixon with President Dwight D. Eisenhower's official Thanksgiving turkey circa 1955.
The Wampler family also continued to serve Virginia Tech and the Department of Animal and Poultry Sciences. Wampler and his son, Charles Wampler Jr., served on the Board of Visitors and were members of the Ut Prosim Society, which recognizes donors who are leaders within the community of philanthropy that sustains Virginia Tech. On campus, several rooms bear the family's name, including Litton-Reaves Hall's Wampler Conference Room, where black-and-white photos depict the roots of the turkey industry and the Wamplers' growing company.
After the elder Wampler's death in 1976, his family ably carried on his legacy of innovation in the turkey industry. Wampler Jr. assumed leadership of the business, and upon his retirement in 1998, the company was the seventh-largest poultry producer in the U.S. He was followed by William "Bill" Wampler, who, before his death in 2014, was named to the College of Agriculture and Life Sciences Hall of Fame.
"It's not only Virginia Tech that owes a great deal of gratitude to Dean [who died in 1964, after a long career at Virginia Tech] and the Wampler family," said Professor David E. Gerrard, the head of the Department of Animal and Poultry Sciences. "Anyone who enjoys a turkey [during the] holiday season has these people to thank for it."
---
Pamplin College of Business at 50
Celebrating its 50th anniversary this year, Virginia Tech's Pamplin College of Business kicked off a yearlong series of events, displays, and publications with a Jan. 30 reception in the atrium of Pamplin Hall.
"Pamplin has made great progress in these 50 years," said Pamplin Dean Robert Sumichrast. "We invite everyone to join us in celebrating our rich heritage of accomplishments in advancing the state of business knowledge, giving generations of students an excellent education that helps them become more productive citizens, and promoting economic development through service to the business community."
Other activities during the year will include a panel discussion by several recent Pamplin alumni addressing their successful transition from college to career; an anniversary-themed effort by faculty, staff, and students at The Big Event; and activities during summer orientation for freshmen, the Business Horizons career fair in September, and Pamplin's tailgate in October.
The spring edition of the college's magazine, Virginia Tech Business, will feature profiles of alumni from each of the five decades, along with faculty perspectives on significant developments during the past 50 years in such areas as accounting, technology, finance, hospitality, management, and marketing that have changed consumer quality of life, as well as business and management practice.
Anniversary commemorations will conclude in December with a faculty and staff luncheon and a black-tie gala that will bring together Pamplin alumni and friends, students, faculty, and staff, and various state and local dignitaries to celebrate the college's history and future.
---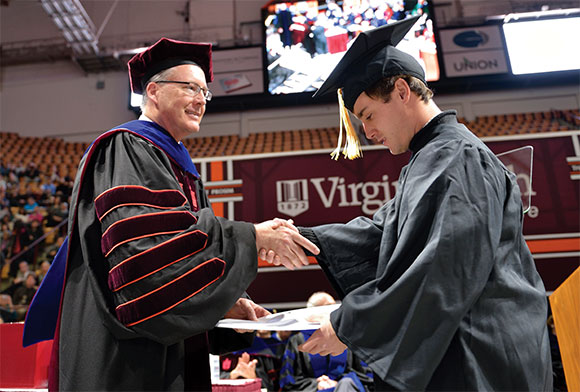 When the Hokie Nation gained more than 2,500 new alumni at Virginia Tech's two commencement ceremonies on Dec. 19, 2014, Archer Ruffin III (agricultural technology '14) received the first diploma handed out by President Timothy D. Sands as the university's 16th president.