ALUMNI SHORTS
An ambassadorship of an educational kind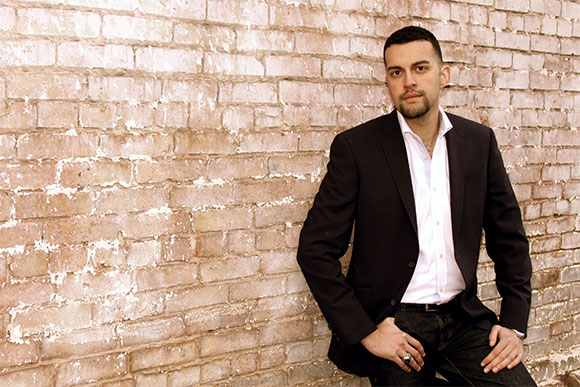 Adnan Barqawi '09; photo Carey Wingerd
Back when he was excelling at Virginia Tech as the first foreign national to command one of the nation's senior military corps, Adnan Barqawi (business management '09), driven by a desire to serve others, decided he would eventually be a U.S. ambassador.
Six years later, as he takes over as the Nashville region executive director of Teach For America (TFA) in Tennessee, Barqawi is still guided by his alma mater's motto, but life outside the university setting has led to a different path from the one he had envisioned.
"I've committed my life to improving and to enhancing access to quality public education for all students," said Barqawi, who cited his time at Tech and in the Corps of Cadets as "instrumental in defining my role in the world."
Student profile, Sept. 25, 2008
Born and raised in Kuwait, Barqawi grew up without access to public education because his grandfather was from Palestine, so he came to the U.S. and Tech to fulfill his educational aspirations. During his senior year at Tech, he was struck by how many American children have no access to a quality education in the country where he sought refuge for that very opportunity. So he applied and was accepted into TFA, teaching fifth-grade math and science in rural Arkansas while earning a master's in education.
After a brief stint as special assistant to the Virginia secretary of education, Barqawi tried the private sector as global product manager at Asurion, a technology company based in Nashville. Still drawn to public education, he founded a partnership between Asurion and TFA that provides thousands of employees the opportunity to volunteer in high-need classrooms around the city. Buoyed by the success of that effort, Asurion's philanthropic arm, Compassion Forward, contributed more than $1 million to help TFA expand in Nashville.
While completing his M.B.A. from Vanderbilt's Owen Graduate School of Management, Barqawi returned to TFA, where he will partner with the community to improve education for all Nashville children and lead a staff of 25 to recruit and train hundreds of teachers.
Shortly before he graduated from Virginia Tech, Barqawi took the big step of becoming a U.S. citizen. He's come a long way from days in Kuwait, where he felt rootless. "I take a lot of pride in being a man with a country such as the United States," Barqawi said.
• "Hokies teach for America: The learning curve" (Virginia Tech Magazine, fall 2010)
• "Cadet finds self, country, leadership" (Virginia Tech Magazine, winter 2009)
---
Alum puts stock in bitcoin
When Daniel Mross (computer science '00) read about bitcoin, the cybercurrency experiment, he realized the movement could radically change the way the world's financial system functions. Mross, a software developer, narrated "The Rise and Rise of Bitcoin," a documentary directed by his brother, Nicholas Mross.
What is bitcoin, and why is it a breakthrough?
Bitcoin is an online payment system invented by Satoshi Nakamoto in 2009 that is the first decentralized digital currency, functioning somewhat like digital gold or a bearer bond. Similar proposals had been suggested before, but bitcoin is the first to succeed in solving the fundamental problems of digital currency without the need to trust third parties.
How can bitcoins be used?
Sending money person-to-person internationally; purchasing goods and services from a growing number of merchants that accept bitcoin, such as NewEgg, Dell, Microsoft; high-risk investment; and wealth preservation during a financial crisis.
What about the negatives of bitcoins?
The wildly fluctuating value of bitcoins has evened out recently. If the device (e.g., computer) containing the electronic key to your bitcoins is hacked and the key stolen, or if the owner loses the key, there is no reimbursement. Regulators have discussed ways to insure losses, but doing so without destroying the independence of the system is difficult. Bad actors will attempt to game any system, but that happens regularly with our current financial system.
Will bitcoins become widely accepted?
Some form of digital currency—though maybe not bitcoins—could eventually replace or become the backbone of the current monetary systems. The average person might not ever buy their morning coffee with bitcoin, but the system he or she use for the purchase might rely on bitcoin or something similar. This is more likely to happen once paying for products by smartphones or electronic devices becomes more common.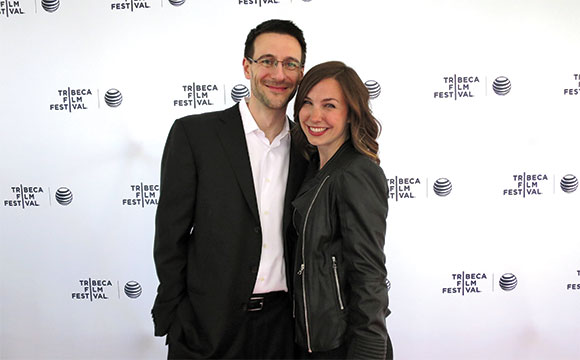 Daniel Mross '00 and his wife, Eliza (Humphrey) Mross '00, posed on the red carpet at the Tribeca Film Festival, where he spoke about his documentary on bitcoin. Photos courtesy of Eliza Mross and Nick Mross.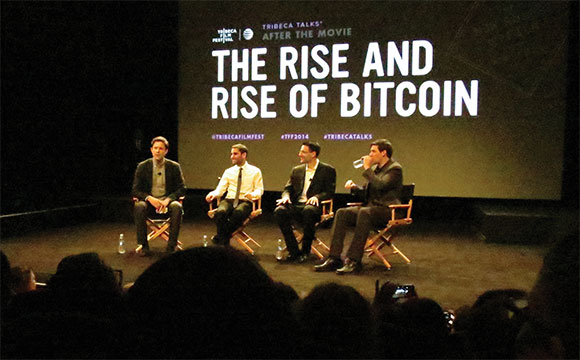 To learn more about bitcoin, go to bitcoin.org or reddit.com/r/bitcoin. Companies that operate bitcoin "wallets" can be found at coinbase.com and circle.com.