SHORT
After eclipsing the $500 million mark in funding, Tech plots the future of university research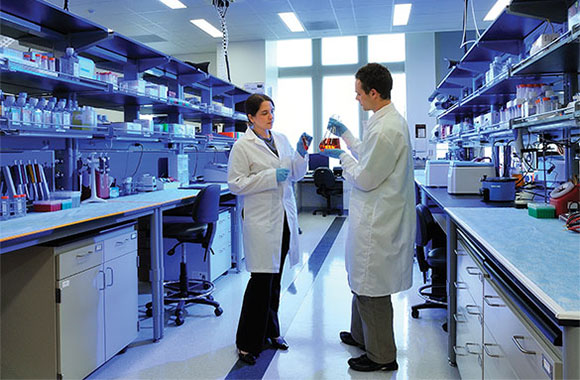 As funding sources for research shift, Virginia Tech remains focused on tackling societal-scale challenges.
Virginia Tech continues to build its reputation as one of the top research universities in the United States, climbing two positions to reach No. 38 in the National Science Foundation's (NSF) annual survey of higher education research expenditures.
The ranking is based on Virginia Tech's expenditures of $496 million on research projects in fiscal year 2013, a figure that's up from $454 million in fiscal year 2012.
In fiscal year 2014, Tech spent even more on research, $513 million, an all-time high for the university and a 3.42 percent increase from fiscal year 2013. The NSF rankings for 2014 won't be released until early 2016.
The figures show substantial growth from the turn of the millenium. The university's research portfolio sat at $192.7 million in fiscal year 2000, around the time former President Charles W. Steger took office and helped jumpstart the investment in research.
The statistics are compiled from the NSF's Higher Education Research and Development Survey, the primary source of information on research and development expenditures at academic institutions. The survey ranks 891 degree-granting institutions that spend at least $150,000 in research and development.
"Our ranking as a research institution is just one of the ways to measure Virginia Tech's impact and momentum, and it is a signal to talented people everywhere that we are a university in action," Virginia Tech President Timothy D. Sands said. "Virginia Tech's steady growth in research expenditures reflects our commitment to impactful scholarship across the continuum, from curiosity-driven research that leads to unexpected opportunities, to problem-inspired research that results in solutions that benefit humanity today. Our strength is in collaboration across the disciplines, especially in emerging societal-scale challenges in sustainability, resilience, health, and security."
The advance in rankings comes at a crucial time for Virginia Tech: Robert W. Walters, who has served as vice president for research for eight years, announced he will retire Sept. 1. Dennis Dean, director of the Fralin Life Science Institute, is serving as interim vice president for research as the university searches for a permanent replacement.
Over the years, Tech's R&D spending has increased annually with continued reinvestment in infrastructure and faculty, better positioning the university in primary areas of sponsored research, including agriculture, engineering, health sciences, and physical and natural sciences.
Nearly 80 percent of Virginia Tech's research portfolio is funded by competitive awards from the federal government and funding agencies such as the NSF and the departments of Defense, Health and Human Services, Transportation, Agriculture, and Energy. About 10 percent of funding is from commercial sources and industry partnerships. The rest comes from the state, the Virginia Tech Foundation, and a variety of other sources.
The percentage from commercial and industry sources may grow, given Sands' thoughts on research and its connection with the university motto, Ut Prosim (That I May Serve). The motto, Sands said in his installation speech last year, is "why our research programs do not stop with new knowledge, but are shaped by the potential impact they can have on humanity."
In the same speech, Sands cited increasingly unreliable government funding for research as a daunting challenge facing Virginia Tech. "The funding of research is increasingly unreliable in the current climate in the state and federal government; institutions such as Virginia Tech cannot continue to be viewed as deep pockets that should co-fund sponsored programs," Sands said. "If the funding model does not change, we will be relying to a greater degree on limited gift and foundation funds to propel our research in partnership with government and corporate sponsors."
Sands called for Virginia Tech to break into the NSF's top 30 and to become a top-100 global research institution by 2022. Along the same lines, he set a goal of giving every undergraduate the opportunity to participate in an internship or in a "meaningful undergraduate research experience," or both.
Virginia Tech's upward climb through the NSF rankings, along with increased spending for research in 2014, seems to indicate that the university is already making progress toward those goals.