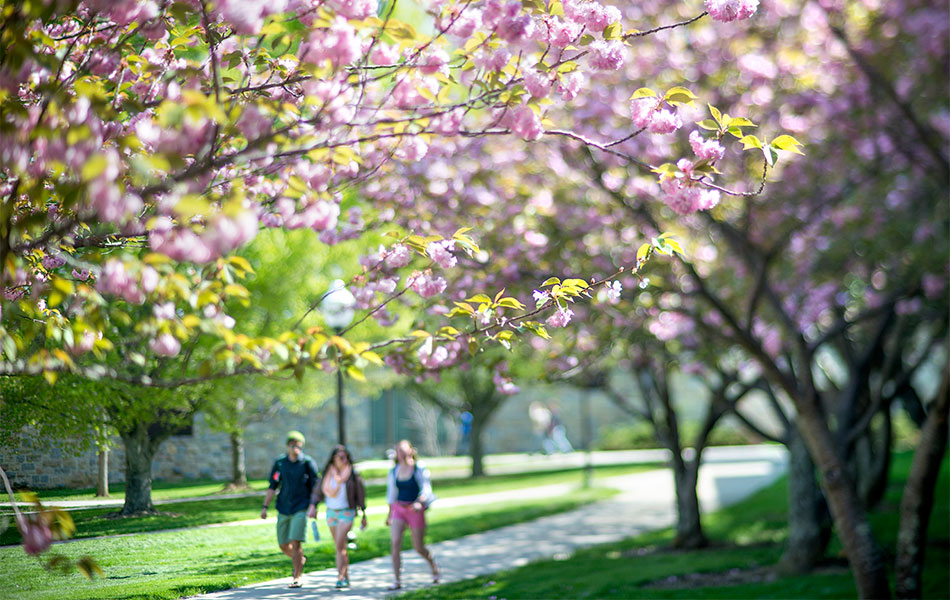 Photo by Logan Wallace
---
Spring is in the air
by Matthew M. Winston Jr. '90
Senior associate vice president for alumni relations
I love campus in the spring. Like a sleeping giant awakening, the campus comes alive. Runners, walkers, bicyclists, dogs, children, and sports enthusiasts magically appear on the Drillfield, around the Duck Pond, on tennis and basketball courts, on intramural fields, and at other campus outdoor spaces.
The Blacksburg campus, named the prettiest college campus in America in a February social media contest, is beautiful year-round. However, in the spring when the flowers and trees bloom, it is just spectacular.
Spring is also the most exciting time of the year in the Virginia Tech community. Juniors look forward to Ring Dance, a tradition dating from 1934, that ends with a ring exchange and students sporting their shiny, new jewelry and enjoying an elaborate fireworks display over the Drillfield. We also celebrate the accomplishments of our soon-to-be graduates as they conclude their senior years. Hokie bucket lists are completed, awards and scholarships are presented, career fairs are attended, and interviews are scheduled.
In May, Virginia Tech will send about 5,500 new Hokies into the world. These new graduates will make their impact through new jobs and serving to their communities, honoring our motto, Ut Prosim (That I May Serve). As students at Virginia Tech, they have received a world-class education and training through experiences that are unique to the Hokie Nation and shared by about 250,000 alumni
We want our new alumni to connect with Hokies living around the world and remain attached to their alma mater, giving back through mentorships and scholarship support, providing jobs and internships to fellow Hokies, and contributing to the success of new Destination Areas being identified by President Tim Sands. Giving back to Virginia Tech is how we give back to the world.
Lyrics taken from our alma mater seem especially appropriate today:
"All loyal sons and daughters, one,
We raise our banner to the sun;
Our motto brings a spirit true,
That we may ever serve you."
Happy spring to all!
---
Exhibition honors black alumni artists
Natalie Titus '88, '91 and Rhakim Smith '15

Natalie Titus '88, '91

Rhakim Smith '15

Artwork by Stanley Barner Jr. '09

From left, Latanya Walker, director of alumni relations for diversity, inclusion, and community engagement; Menah Pratt-Clarke, vice provost for inclusion and diversity and vice president for strategic affairs; Natalie Titus '88, '91 (in background); David Travis, retired former interim vice provost for inclusion and diversity and longtime faculty member; and Debbie Day, associate vice president for alumni relations.
An exhibition featuring the works of three Virginia Tech alumni artists is on display at the Holtzman Alumni Center through mid-May.
Natalie Titus (biology '88, D.V.M. '91), Stanley Barner Jr. (sociology, fine arts '09), and Rhakim Smith (fine arts '15) were recognized at a reception kicking off Black History Month and the exhibition.
Titus, who practices veterinary medicine at Haven Lake Animal Hospital in Milford, Delaware, said she "loves photography almost as much as she loves animals." In her eight photographs in the exhibit, she said she attempted to "show the beauty that exists all around us, not just in the magnificent, breathtaking scenes, but also in the small, silent moments that tend to slip by unnoticed and not remembered."
Barner Jr., of Chesapeake, Virginia, considers himself to be a conceptual artist whose work is based on socio-economic happenings; he said he aims "to present these prevailing themes in a way that invokes thought and emotion in order to empower or incite change in views or behavior." His works on display, crafted in oil, watercolor, acrylic, paper, and wood, focus on the black male experience.
Smith, a native of Hampton, Virginia, uses primarily pencil and ink to create drawings of some of his closest friends and most sentimental moments. "Pencil was the first drawing utensil I ever used, and I feel as if it's the most basic tool you can use to convey any idea," said Smith, who is pursuing a master's degree at the Savannah College of Art and Design in Atlanta. His seven submissions feature graphite, ink, and watercolor.
The alumni center's second-floor gallery is free and open to the public from 8 a.m. to 5 p.m. Monday through Friday.
---
Legacy in letters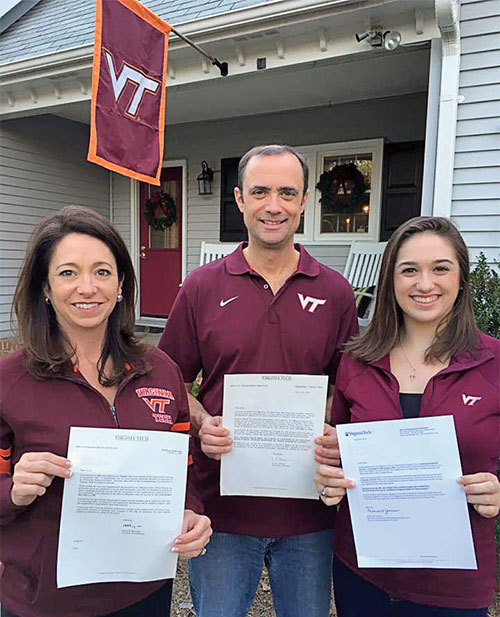 Do you still have your Virginia Tech acceptance letter? The Burriss family of Virginia Beach does. Proud parents Lisa (communication '91) and Dean (liberal arts and sciences '89) posed with their daughter, Ashley, a member of the Class of 2020 holding her 2016 letter.
Said Lisa, "We're so glad we kept [the letters] all these years." Unfortunately, her father, Wayne Hanks (business '63), tossed his letter many years ago.
Upcoming Alumni Association events
Old Guard Alumni Reunion, May 18-20
Hokie alumni who graduated in 1965 and earlier are invited to return to campus for special anniversary dinners, college breakfasts, and more.
View a tentative schedule of events and register →
Drillfield Series, Human and Animal Health: We're All in This Together, June 10-11
Learn how human and animal medicine are tied together in an interactive program with experts from the Virginia Tech Carilion School of Medicine, Virginia-Maryland College of Veterinary Medicine, and Edward Via College of Osteopathic Medicine.
$99 per adult, $49 high school ages and below
Drillfield Series, A Day in the Life of College Admissions, July 8-9
Parents and their 2017 and 2018 high school graduates will get a behind-the-scenes look at the admissions process.
$130 per adult, $100 per student
Visit alumni.vt.edu/drillfieldseries to register and learn more. Secure the special alumni lodging rate of $117 per night at The Inn at Virginia Tech (based on availability; taxes not included).
4th Annual Hokie Classic Golf Tournament, June 13
$135 per person; $500 per foursome; sponsorship opportunities available
3rd Annual Summer Beer Festival at Virginia Tech, June 25
$25 per person in advance; $35 per person day of event; $60 per person for VIP (limited)
Alumni mentors living Ut Prosim
---
New face of civil engineering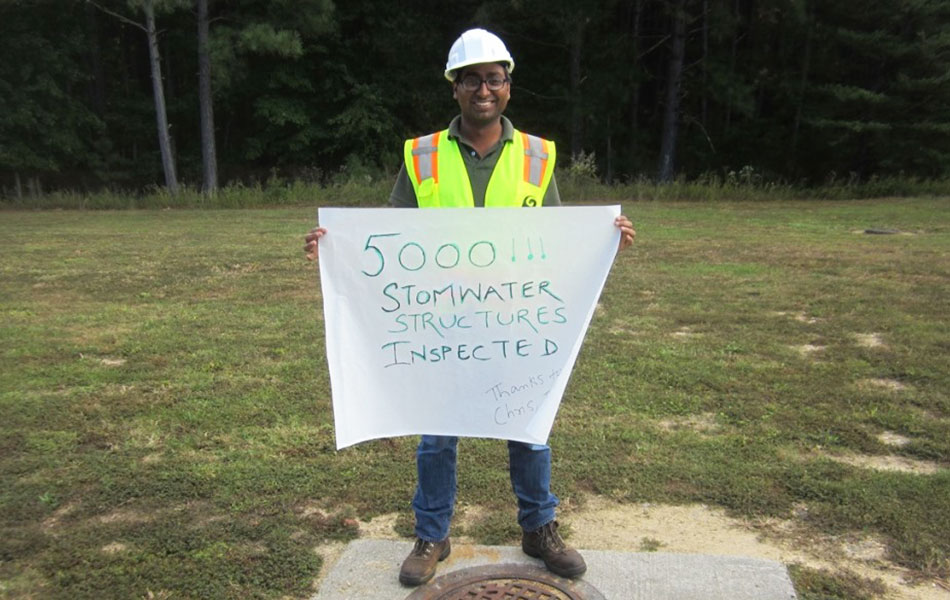 Rajan Jha '13
Environmental and water resources engineer Rajan Jha (M.S. civil engineering '13) has been named one of 2016's New Faces of Civil Engineering Professionals by the American Society of Civil Engineers, the oldest engineering society.
He will represent civil engineering, along with honorees from other engineering societies, in the New Faces of Engineering program, which recognizes the talents of the next generation of engineering leaders.
A native of India, Jha now lives in Richmond, where he has worked for ARCADIS US since receiving his master's degree at Tech. "Virginia Tech changed my life," Jha said. "People I met there made me believe that I am special and that I can make a difference." And he is making a difference, solving water resources problems around the world, from India to the U.S. to Zambia.
Jha has a passion for real-world water and sanitation challenges and works to bring sustainable solutions to these environmental concerns. His technical skills lie mainly in exploring the physics and philosophies behind river-flow behavior and how the flow can be returned to its natural state of equilibrium.
Actively involved with the Water for People and Engineers Without Borders organizations, Jha planned, monitored, and evaluated lead levels in a Zambian school water supply system. Jha has also mentored student engineering chapters from Virginia Tech, Virginia Commonwealth University, and James Madison University on community-based projects, such as the design of a bio-sand filter in Honduras and wastewater management for a Guatemalan school.
A veterinarian and mentor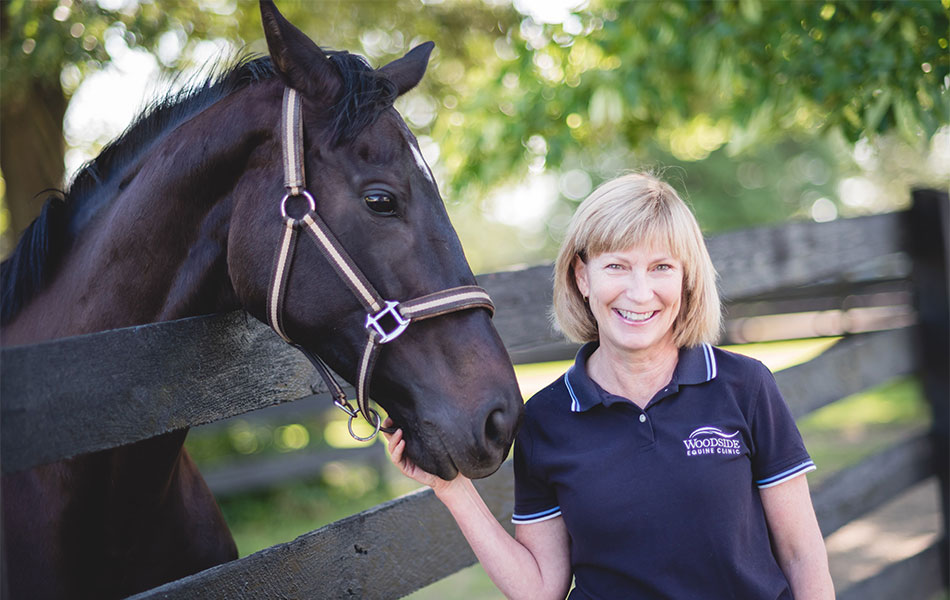 Claudia True '81, '96
Claudia True fell in love with horses as a 9-year-old when she visited Chincoteague Island and rode a pony there. At age 11, she started riding regularly, and she received her first horse at age 16.
Fast forward to today: The Fairfax County native was recently named the Virginia Veterinary Medical Association's (VVMA) Veterinarian of the Year.
A double Hokie, True (biology '81, D.V.M. '86) completed an internship at Texas A&M University and then began practicing at Woodside Equine Clinic in Ashland, Virginia, where she still works today.
True's career has been highlighted by her willingness to serve. In addition to sitting on the Virginia Tech Alumni Association board, she has been president and a director of the VVMA board and president of the Virginia Association of Equine Practitioners. She is a founding veterinarian of the Potomac Regional Veterinary Conference and has served as Virginia's equine program committee member since 2011.
Additionally, for several years she has volunteered as an alumni interviewer for prospective veterinary students at Virginia Tech. A role model to numerous veterinary students, she was named VVMA Mentor of the Year in 2015.
---
A surprise on Hokie Day
Hokie Day delegation with Virginia Gov. Terry McAuliffe
More than 100 Virginia Tech alumni, students, and university staff convened in Richmond in early February for the 18th annual Hokie Day at the Virginia Capitol. Hosted by the Richmond Alumni Chapter, the group first gathered at the Richmond Crowne Plaza, where President Tim Sands and others spoke about state funding initiatives that support the university.
Students also heard directly from two alumni legislators: Sen. Mark D. Obenshain (economics, history '84) and Sen. Amanda F. Chase (business '92). The experience was an "amazing opportunity for Hokies to meet with Virginia Tech alumni involved with state politics," said biological systems engineering Ph.D. student Chelsea Corkins.
The group then ascended to The Hill, where they met with General Assembly senators and delegates and advocated for Virginia Tech priorities. After gathering on the Capitol steps for an official photo, the group was surprised by Gov. Terry McAuliffe, who announced that Feb. 4 was "Frank Beamer Day" and presented the newly retired coach and 1969 alumnus with a state proclamation.
And that was just the beginning. Coach Beamer was then escorted into the Senate chamber, where Del. Joseph Yost presented a joint resolution commending Beamer for his coaching career and for guiding the Hokies to 22 straight winning seasons and 22 consecutive bowl appearances. The beloved coach received a standing ovation from the lawmaking body—and Hokie Day participants experienced a day they'll not soon forget.
---
Hokie treks: Travel with the Hokie Nation
Why travel with the Virginia Tech Alumni Association? We'll introduce you to fascinating cultures and breathtaking sights in the company of fellow Hokies and friends. We offer secure travel with top tour operators in the industry—and we guarantee lifelong memories. View the complete list of alumni travel tours →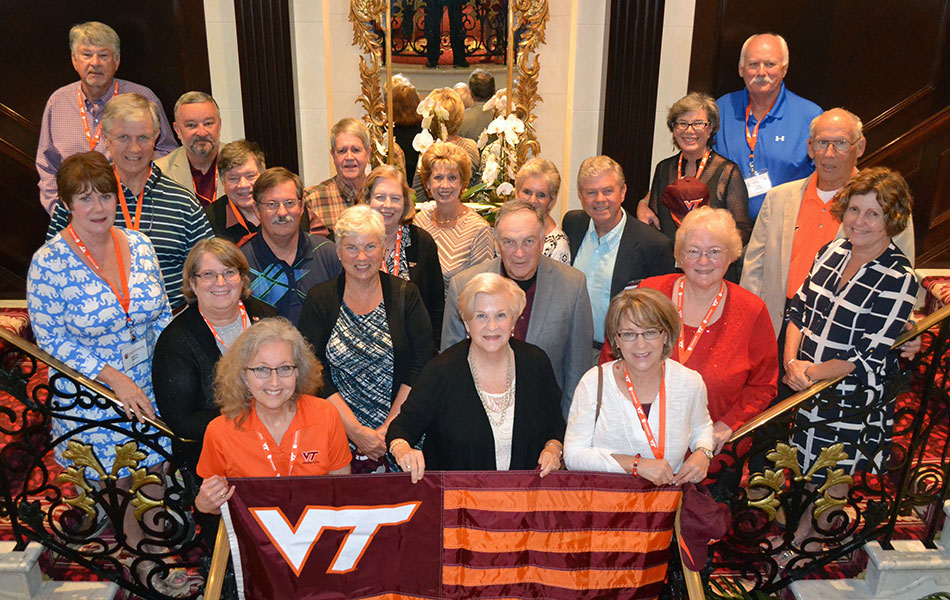 Dedicated Hokies gathered with like-minded friends on the 2015 Coastal Alaska cruise.
June
4-13 | Southern Culture and Civil War
5-14 | Southwest National Parks
13-24 | Regal Routes of Northern Europe
25-July 3 | Mediterranean Crossroads
July
12-23 | Baltic and Scandinavian Treasures
22-30 | Town and Country Life: Oxford, English Countryside, Cotswolds
25-Aug. 4 | Alaska Passages
August
11-17 | Canadian Rockies Parks and Lodges
22-31 | The Magnificent Great Lakes
26-Sept. 17 | The Art of Living: Provence
September
17-25 | Great Pacific Northwest
October
1-9 | Grecian Delights
2-11 | Symphony on the Blue Danube
6-14 | Cuban Discovery
8-16 | Captivating Mediterranean
14-22 | European Empires and Artistry
23-31 | Country and Blues
November
1-9 | Adriatic Gems
December
6-17 | Holiday Markets
Connect with local Hokies
---
Hokies participate in alumni events around the world every day. Join your local chapter for community service projects, career networking opportunities, young alumni events, raising money for student scholarships, cheering on Virginia Tech athletic teams, and more! Find your local Hokies →
The Denver Chapter hosted its fourth annual A-Basin Beach Party, with more than 100 Hokies hitting the slopes.

Charlotte Hokies volunteered at the Crisis Assistance Ministry's Free Store to sort, inspect, and hang donated clothing.

First State (Delaware) Hokies gathered for the annual Polar Bear Plunge to benefit Delaware Special Olympics.

Forty members of the Dallas/Fort Worth Chapter served the Fort Worth Community Food Bank by stuffing grocery bags and sorting food items.

Alumni in Charleston, South Carolina, cheered on the Hokies when the baseball team took on the Citadel.

Alumni in Kaiserslatern gathered for their first Hokie Meet-Up in Germany.

The Tidewater Chapter turned out in full force to cheer on Coach Frank Beamer and the Hokies during the 2015 Independence Bowl.

The National Capital Region Chapter hosted a First Friday Black Alumni Happy Hour and Mixer to recognize Black History Month and mark the 50th anniversary of the university's first black women graduates.