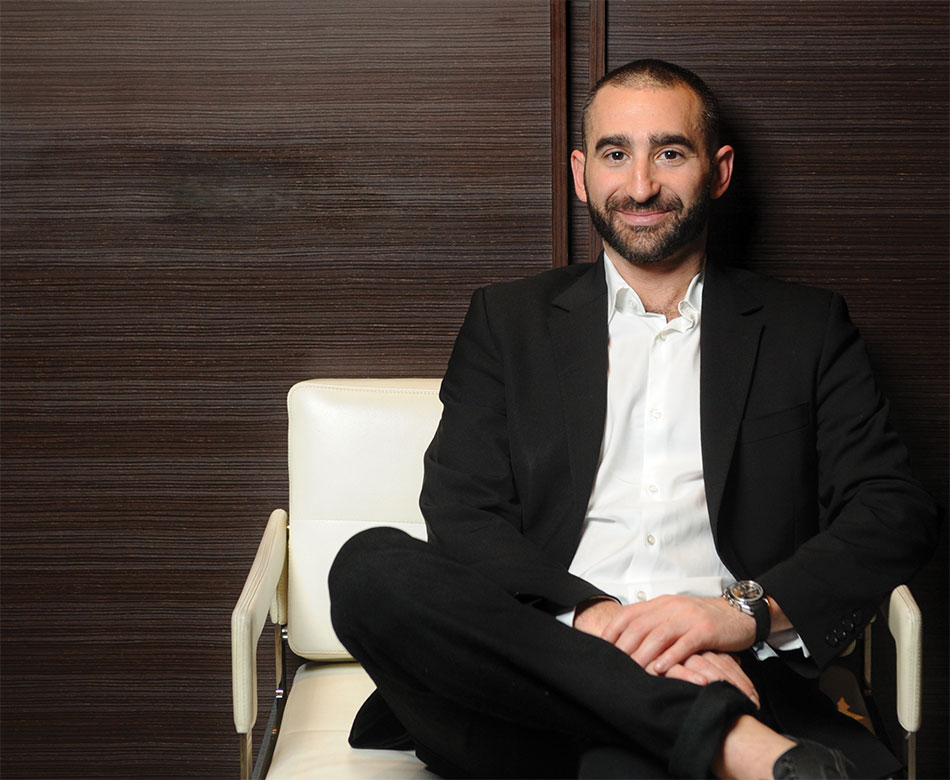 Ben Barokas '96, photo by James Glover II
---
"Take Big Swings"
Entrepreneur empowers online publishers
by Zeke Barlow
There are some people who enjoy the comfort of employment at a big company with a boss, minimum risk, and a guaranteed 401(k).
And then there are entrepreneurs like Ben Barokas.
Ever since he was a boy cleaning out gutters and painting houses to make a few bucks, he's wanted to own his own company, be his own boss, and control his own future.
After recently selling one of the latest companies he helped start (Have there been five or six? Sometimes he loses count.) for a reported $400 million, it's clear not only that Barokas (agricultural and applied economics '96) has learned a thing or two about entrepreneurism, but that he relishes the challenges.
"We all work way too much not to love what we do," said Barokas. "You have to find something you are passionate about and dive into it head-first and roll around in it. You have to learn new things every day."
Barokas' journey to self-made international businessman is a circuitous one that started in Colombia, made a stop at Tech's College of Agriculture and Life Sciences, and now continues around the globe.
His father was an agricultural economist with the U.S. Agency for International Development, so his family lived around the world before settling in Reston, Virginia. Barokas' mother, Judy Barokas, had earned her master's and doctoral degrees at Virginia Tech and loved the comunity, so she encouraged her son to apply. Barokas had been to an all-sports camp at Tech and fondly remembered the outdoor activities, especially the rolling Blue Ridge Mountains, so he listened to Mom.
Before long, he was in Blacksburg studying global agricultural economics while riding horses and hiking with his Great Danes on the weekends. Agricultural and applied economics Professor Jeff Alwang said he could tell that Barokas had big plans early on. "He had his wheels spinning all the time," Alwang remembers. "He was friendly and outgoing and seemed to have a plan without knowing it himself."
Barokas spent a semester studying economics in Budapest and summers working at the U.S. Department of Agriculture's Foreign Agricultural Service. But the entrepreneurial bug was biting at him, so he took a semester off and tried to launch a record label that focused on the music he'd come to know as a globetrotting kid. Even though the venture didn't succeed, he was undeterred.
After graduation from Tech, he worked at the University of Hawaii cataloging the capability of Hawaiian agribusinesses. He then moved back to the mainland to work for two large food companies creating inventory systems. For Barokas, those jobs marked the beginning of a long relationship with internet advertising and commerce.
He then spent some time working at a kibbutz in Israel, where he also opened an internet café. But when the coffee shop down the block was blown up in a terrorist attack, it was a hard sell to get anyone to come to his. He closed the café, but kept plugging away on other ideas.
Barokas returned to the states and began working at AOL, where he started to learn—and excel in—the world of online advertising. He was a founding employee of a start-up called Fifth Network that went bankrupt and another called JumpTV that went public.
"You learn from all your experiences," Barokas said.
Seth Levine, the managing director of Foundry Group, a venture capital firm, met Barokas when Barokas was working without pay, hammering away at developing AdMeld, a new company that would eventually be his most successful. Levine said Barokas has that certain entrepreneurial gene that sets him apart from others.
"Ben is clearly a visionary," said Levine. "It is absolutely true that there's something different—I'd say special—about entrepreneurs. They look at the world through a different lens, asking what's possible, not what is."
Barokas found what was possible with AdMeld. The business was a pioneer in exchange-based trading, a system in which a company's inventory of advertisements is sold in an exchange market that maximizes revenue for web publishers and allows companies to reach new audiences. "We built the company with two guys, a [PowerPoint slide] deck, and a dream," he remembered.
Four-and-half years later, AdMeld had 163 employees and was sold to Google for a reported $400 million.
At this point, some people would be inclined to enjoy an early retirement. But the drive that had pushed Barokas so far didn't let up. He was a general manager at Google for three years before leaving last year to start his newest company, Sourcepoint, which seeks to empower internet publishers. The company emphasizes that paid advertising is needed to provide free content and provides publishers with both advertising- and nonadvertising-based compensation.
His current job is a long way from the days when he thought he'd be traveling the world as an agricultural economist. Instead, he's visiting company offices in Berlin, London, and Seattle.
Though his LinkedIn profile details the career map of a serial and successful entrepreneur, it doesn't demonstrate the wisdom he likes to share with others looking to get into the start-up world.
"Owning your own business allows you to curate your own community and chose the people whom you work with who are ambitious and driven and want to change the world," he said from his home in New York City. "It allows you to create an environment in which people want to excel and are proud to be passionate."
And if he could offer any advice to a young Ben Barokas sitting in a Virginia Tech classroom and dreaming of what his future may hold?
"Take big swings at the ball."
Zeke Barlow is the College of Agriculture and Life Sciences' assistant director of communications.