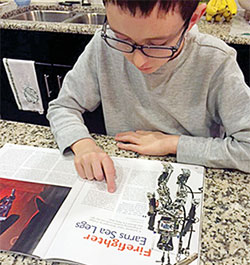 This is our second-grader, Bryce, reading your spring 2015 article, "Firefighter Earns Sea Legs." This kid has been telling us for about a year that he wants to go become a robotics engineer at Virginia Tech! This article is awesome. Not only are you showing how great Virginia Tech's programs are, you're inspiring the next generation.
Valerie Moore Mullins (management '02)
Clayton, North Carolina
To all of the young women (and men) preparing to enter the working world: Please, please disregard the letters in the prior edition of the magazine. Any employer who would give even the slightest weight to the nature of the shoes you wear to an interview does not deserve to have you as an employee.
Dina Haines Appleby (chemical engineering '83)
Kennett Square, Pennsylvania