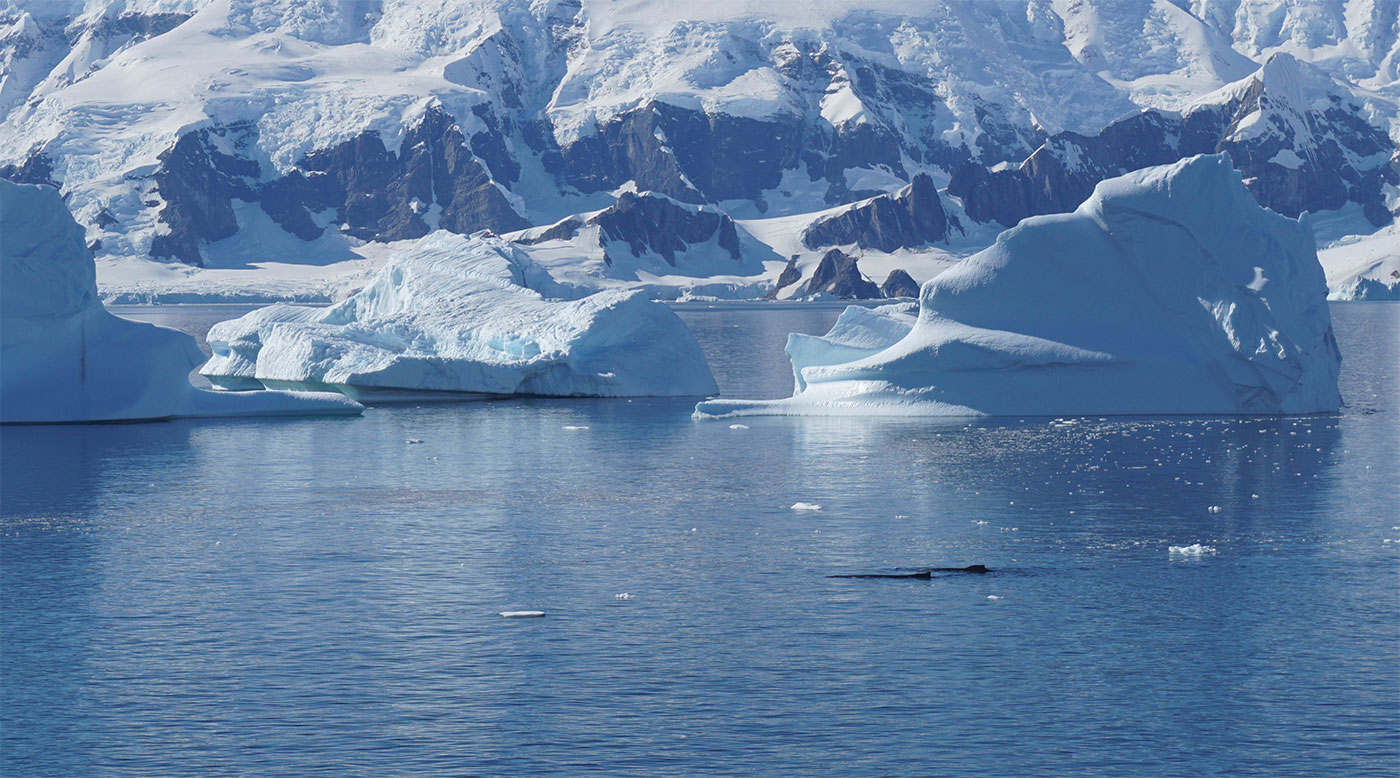 Alumni travel
Seals and whales and Hokies, oh, my!
It's not easy picking a favorite memory from a trip to Antarctica.
The landscape, with its towering icebergs and glaciers, and wildlife, starring penguins, seals and whales, combine for a unique experience that can be difficult to articulate.
Just ask Rachelle Walker (apparel, housing, and resource management '09, MBA '12), one of a dozen "Traveling Hokies" who visited Antarctica in February as part of an expedition cruise offered through the Virginia Tech Alumni Association travel tours program.
"Antarctica's charms are indefinable by the normal written word, a place that at times alternated between the feeling you were walking on an alien planet or floating past gods of ice and ancient lore," Walker wrote in a travel blog she co-authors with her husband, Ben Walker (mechanical engineering '10). For the Walkers, the trip was a family affair. They traveled with Rachelle's parents, Debbie (business '78) and Jim Petrine (civil engineering '80), and her brother, James Petrine. "We understand now why explorers and poets were drawn to this place and even more so why it must remain unbroken," she noted.
During the trip, the 200-passenger French cruise ship Le Soleal served as home base for the Traveling Hokies, and the adventurers used smaller eight-person Zodiac boats, to make landfall, cruise the bays, and get closer to nature. Debbie Petrine, a member of the university's Board of Visitors, said she won't ever forget cruising through Hidden Bay in a small boat. "The magical beauty of the icebergs, glacial ice, and seals seemed unreal — like a movie set instead of real life," she said.
In February, late summer in Antarctica, first light dawns around 3:30 a.m. Most days start — and often stay — gray, with clouds and fog hanging low over the water. But our fourth day in the region proved different. It was a rare sunny day near Portal Point on the Reclus Peninsula. And the sight was unforgettable. We woke to bright light shimmering brilliantly off the water and the ice all around us. A thin, white fog hung in the distance, but it was overshadowed by the picturesque blue sky.
[swipe for more]
(From left) Chris Rohrer, Kathryn Herron-Venancio, Debbie Petrine, James Petrine, Jim Petrine, Yvette Johnson, Elizabeth Weeks, Jack Weeks, Butch Webber, Ludi Webber, Ben Walker, Jim Weeks, Michael Stowe, and Rachelle Walker.

(From left) James Petrine, Debbie Petrine, Jim Petrine, Rachelle Walker, and Ben Walker.

Debbie Petrine and James Petrine.

The Virginia Tech group on a Zodiac cruise.

(From left) James Petrine, Debbie Petrine, Rachelle Walker, Ben Walker, and Jim Petrine.

Chris Rohrer and twin brothers Jack and Jim Weeks on the ice near Brown Bluff.

Yvette Johnson in the sunshine at Portal Point.

Rachelle and Ben Walker at Portal Point.

Nancy Lubin enjoys the view on a beautiful sunny day at Portal Point.

The group's landings included a morning on Deception Island.

Yvette Johnson is ready for a short hike up to a lookout on Deception Island.

Chris Roher proudly wears the hat that he was given when he first traveled to Antarctica as a junior geophysics major at Virginia Tech in 1974 as part of a National Science Foundation research project designed by one of his professors.

Elizabeth and Jack Weeks on Deception Island.

Chris Rohrer and Kathryn Herron-Venancio on the deck of the 200-passenger French expedition cruise ship Le Soleal.

Ben and Rachelle Walker on the expedition ship.

Jim Weeks got plenty of great photos of the chinstrap penguins on Half Moon Island.

Adelie penguin chicks rest on the ice in Hope Bay.

Elephant seals relax on the beach near Hannah Point.
For Yvette Johnson, (business information technology '05, information technology '11) that day's continental landing was a trip highlight. After hiking in 5 inches of snow half a mile up the ridge at Portal Point, she gazed out to soak in the scene. In the water down below, two humpback whales swam by spouting water. "It was incredible to experience the beauty and warmth of the icy view," she said.
A moment etched in Kathryn Herron-Venancio's mind occurred early in the trip, soon after the ship cleared the rough seas and 25-foot waves that rocked us for 36 hours across the notorious Drake Passage separating Antarctica from the southern tip of Argentina.
"Once we had reached the South Shetland Islands, we finally encountered some very calm waters. There was no wind, everything was at a whisper, the sky was clear with the blue of the sky and the water reflecting each other," said Herron-Venancio (English '73). "What came to mind was the poem, 'The Rime of the Ancient Mariner.' The trip was a living poem."
The cruise was Chris Rohrer's second trek to Antarctica. He was a junior geophysics major at Virginia Tech in 1974 when he first traveled to region as part of a National Science Foundation research project designed by one of his professors. He spent Virginia Tech's entire 1974-75 winter quarter living on the interior of the continent, measuring fluctuations in the Ross Ice Shelf caused by tides.
Rohrer had always wanted to return to the "land of the ice," but never found the right opportunity until he heard about the alumni tour and signed up with Herron-Venancio.
"The return trip let me see much, much more of the wildlife, the details of the coastline, and gave me the opportunity to walk around on all those places, seeing them close-up," he said.
For Jack Weeks (accounting '68) and his wife Liz, the expedition was their fourth through the Virginia Tech Alumni Association, but their first to Antarctica. Jack Weeks said they enjoy the alumni tours because they connect travelers with a shared Virginia Tech connection, providing a dynamic group to socialize with at dinners and during outings.
Jack's twin brother, Jim Weeks, (chemistry '68, biochemistry '70) and his traveling companion, Nancy Lubin, also joined the cruise. All three Weeks' travelers shared one motivation for the trip — reaching their seventh continent, an accomplishment that was celebrated with a champagne toast.
"What an amazing experience," Liz Weeks said as she walked across the sand at Livingston Island, an Antarctic landing in the South Shetland Islands.
Less than 100 feet away, a dozen elephant seals sprawled on the beach. In the distance, hundreds, if not thousands, of Gentoo penguins scurried clumsily on the rocks, moms leading their babies to the water.
Michael Stowe, Virginia Tech's director of media relations, traveled with the alumni tour to Antarctica in February.