CONTENTS
Summer around the Drillfield, June 23-27
Alumni board nominations sought for 2000-2003
Is 1999 a reunion year for you?
Nominate Outstanding Young Alumni
Where are you and what are you doing?
Short features about alumni
Class Notes
Summer around the Drillfield, June 23-27
Make plans to join fellow Virginia Tech alumni, family, and friends at the 10th annual Summer Around the Drillfield on the Tech campus. Activities for all ages include canoeing, tubing on the New River, and a day at Mountain Lake, as well as recreational activities, arts and crafts, and a campus scavenger hunt for children. Adults participate in morning lectures and tours of exciting new research facilities. There are special activities for teens too. For more information or to receive an application, please contact the alumni association.
Back to Contents
Alumni board nominations sought for 2000-2003
Nominations to the 32-member alumni association board of directors are requested by June 1 for the next three-year term, which begins in July 2000.
Nominee
Class year
Address

City
State, Zip

Please list reasons for your nomination and the nominee's qualifications on an additional page.

Your name
Class year
Address
City
State, Zip

Return to: Virginia Tech Alumni Association, Alumni Hall (0102), Blacksburg, VA 24061.
E-mail: alumni@vt.alumnet.com
Is 1999 a reunion year for you?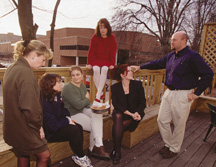 If it has been five years, or even 50, join the alumni association this fall as we celebrate the following five-year reunions. Rekindle friendships, make new friends, and get to know Virginia Tech all over again.
Reunion schedule
Date, Home Football Game
Sept. 10-11--University of Alabama-Birmingham, classes of '59 and '74
Sept. 23-24--Clemson, class of '54
Oct. 15-16--Syracuse (HOMECOMING), classes of '49, '79, '84, '89, '94
Nov. 12-13--Miami, classes of '64 and '69
Upcoming events
Old Guard Reunion May 20-21
Alumni Chapter Training for New Officers - To be held in several locations during May.
Summer Around the Drillfield June 23-27
Statistics Alumni Reunion August 13-14
Contact the Alumni Association for more information at (540) 231-6285.
Back to Contents
Nominate Outstanding Young Alumni
The Virginia Tech Alumni Association invites alumni to nominate candidates for awards presented each year to outstanding young alumni. These awards recognize one graduate from each of the academic colleges who is a leader in his or her profession and community. Alumni who have graduated in the past 10 years are eligible. For the 1999-2000 awards, graduates of the classes of 1989 through 1998 will be considered.
Nominations are due by August 15, and should be mailed to Outstanding Young Alumni Awards, Virginia Tech Alumni Association, Alumni Hall, Blacksburg, VA 24061. Please include as much biographical information as possible about each nominee.
Back to Contents
Where are you and what are you doing?
If you have a new postal or e-mail address or new phone number, please let us know. This information and other news announcing marriages, new jobs, births, or other items of interest to classmates may be sent to us through the "Class Notes" page at http://vt.alumnet.com. You may choose to write or call us with your new information: Virginia Tech Alumni Association, Alumni Hall, Blacksburg, VA 24061; phone (540) 231-6285; fax (540) 231-3039; e-mail alumni@ vt.alumnet.com.
Back to Contents

Home | News | Features | Research | Philanthropy | President's Message | Alumni | Classnotes | Editor's Page