PHILANTHROPY

DuPont bestows largest gift in university's history

by Liz Crumbley and Susan Trulove
A $23-million gift of patents and equipment from DuPont, the largest donation ever received by Virginia Tech, will aid university researchers in developing recyclable automotive parts, low-cost aircraft parts, and composite bridge beams.
The gift, consisting of a number of thermoplastic composites-technology patents and related materials and equipment, will be used by the university for commercial licensing and research applications. Virginia Tech competed with several other research universities for the gift, one of the most valuable ever made by an industry to a single institution.
Michael Martin, executive vice president of Virginia Tech Intellectual Properties (VTIP), Inc., said the $23-million evaluation is based on DuPont's market projection for the patents.
"Virginia Tech believes it has even broader applications, including use in bridge decks and other infrastructure applications, and in aircraft construction." says Martin.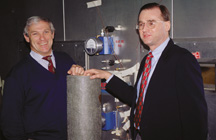 Production assets from the patents will be used to help establish the Random Wetlay and Continuous Rollforming Composites Laboratory, under the direction of Donald Baird, professor and eminent scholar of chemical engineering, and Alfred Loos, professor of engineering science and mechanics and materials science and engineering. The new lab will be affiliated with the Center for Composite Materials and Structures, co-directed by Baird and Loos, and with the Center for High Performance Adhesives and Composites, directed by eminent chemistry professor James E. McGrath.
VTIP will market and license these patented technologies to businesses and industries that wish to use them to improve their products and processes, Martin said.
Meanwhile, Virginia Tech researchers will use the patented processes and materials as a basis for developing advanced random wetlay technology. Along with the patents, DuPont is donating equipment that will enable Virginia Tech researchers to produce composite sheets. One potential use for this capability is the construction of automotive parts made from lightweight, recyclable composite materials, a project that Baird and other Tech researchers plan to tackle in the future.
DuPont also is giving Tech a patent for the continuous rollforming of composites. Normally, a fixed mass of the composite sheets is pressed into molds to form parts. Rollforming is a method of continuously pressing composite sheets made from the wetlay process into desired shapes.
Baird said engineering researchers can use rollforming to devise methods for developing large composite infrastructure parts such as beams for bridges. Loos is interested in studying the potential of rollforming to produce low-cost structural parts for aircraft.
The gift-in-kind, along with any new applications, materials, and technologies that result, will be administered by VTIP, a private, non-profit corporation established by Virginia Tech in 1985 to identify and market technologies and other intellectual properties belonging to the university.
"We are excited about this major gift," says F. William Stephenson, dean of the College of Engineering. "This technology will enable our faculty to continue their cutting-edge research in a vital area of materials science and engineering."
Liz Crumbley and Susan Trulove are information coordinators for the College of Engineering and the Division of Research, respectively.
Home | News | Features | Research | Philanthropy | Alumni | Classnotes | Editor's Page