Virginia Tech Magazine's online feature, Hok-E-News, which is updated quarterly with Web-only content, gives Web-savvy readers more news and stories about some of the exciting things happening at the university today.
---

Biomedical engineers use electric pulses to destroy cancer cells
by Lynn Nystrom
A team of biomedical engineers at Virginia Tech and the University of California at Berkeley has developed a new minimally invasive method of treating cancer, and they anticipate clinical trials on individuals with prostate cancer will begin soon.

The process, called irreversible electroporation (IRE), was invented by two engineers, Rafael V. Davalos, a faculty member of the Virginia Tech–Wake Forest University School of Biomedical Engineering and Sciences and Boris Rubinsky, a bioengineering professor at the University of California, Berkeley.

Electroporation is a phenomenon known for decades that increases the permeability of a cell from none to a reversible opening to an irreversible opening. With the latter, the cell will die. What Davalos and Rubinsky did was apply this irreversible concept to the targeting of cancer cells.
"IRE removes tumors by irreversibly opening tumor cells through a series of short intense electric pulses from small electrodes placed in or around the body," Davalos, the 2006 recipient of the Hispanic Engineer National Achievement Award for Most Promising Engineer or Scientist, said. "This application creates permanent openings in the pores in the cells of the undesirable tissue. The openings eventually lead to the death of the cells without the use of potentially harmful chemotherapeutic drugs."
The researchers successfully ablated tissue using the IRE pulses in the livers of male Sprague-Dawley rats.
"We did not use any drugs, the cells were destroyed, and the vessel architecture was preserved," Davalos said.
This work was completed with three additional colleagues, Lluis Mir, director of the Laboratory of Vectorology and Gene Transfer Research of the Institut Gustave Roussy, the leading cancer research center in Europe, and of the Centre National de la Recherche Scientifique (CNRS), Liana Horowitz, a visiting scientist at the University of California, Berkeley, and Jon F. Edd, a doctoral candidate at Berkeley. They reported these in vivo experiments in the June 2006 IEEE Transactions on Biomedical Engineering.
Oncologists already use a variety of methods to destroy tumors using heat or freezing processes, but these current techniques can damage healthy tissue or leave malignant cells. The difference with IRE is Davalos and Rubinsky were able to adjust the electrical current and reliably kill the targeted cells. "The reliable killing of a targeted area with cellular scale resolution without affecting surrounding tissue or nearby blood vessels is key," Davalos says.
Now, an article by Davalos on IRE is being featured in a special issue of Technology in Cancer Research and Treatment dedicated to this new field. Rubinsky, who holds his Ph.D. from the Massachusetts Institute of Technology, is the guest editor for this special issue, to be published in August 2007.
At Virginia Tech, Davalos directs the interdisciplinary Bioelectromechanical Systems Laboratory, part of the university's Institute for Critical Technology and Applied Science (ICTAS) of which the school of biomedical engineering and sciences is a core member. In the Bioelectromechanical Systems Laboratory, other research projects associated with utilizing the physical and electrical characteristics of cells, such as engineering methods for microfluidic single cell analysis, selective cell concentration, and image-guided surgery, broaden the understanding and potential of the field of IRE.
"IRE shows remarkable promise as a minimally invasive, inexpensive surgical technique to treat cancer. It has the advantages that it is easy to apply, is not affected by local blood flow, and can be monitored and controlled using electrical impedance tomography," Davalos explained. Davalos and other researchers will continue to advance this promising method to treat cancer.
---

Virginia Tech offers new online master's degree in agriculture and life sciences
by Lori Greiner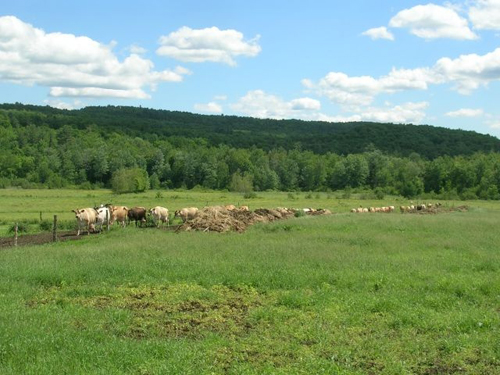 Virginia Tech's College of Agriculture and Life Sciences
is expanding its educational opportunities to include an online master's degree program in agriculture and life sciences for working professionals and others who are not able to participate in an on-campus learning experience.
The degree program, which will provide broad, scientific-based courses for professionals in agriculture, life sciences, and related fields, will begin in fall 2007. Upon successful completion of the program requirements, students will earn a master of science degree in agriculture and life sciences.
"This online degree program will provide educational opportunities currently unavailable to place-bound professionals wanting to pursue an advanced degree. Our unique program provides professionals the flexibility to earn a master's degree with focus on a career-relevant area of specialization from the convenience of their own home," said Sharron Quisenberry, dean of the College of Agriculture and Life Sciences. "Over time, we will be able to expand program areas and thus expand the educational capabilities of the college and the university to benefit professionals interested in a quality online education."
Students can choose from five concentrations: biosecurity, bioregulations, and public health; food safety; environmental science; education; and plant science and pest management.
All courses will be offered in a distance-delivered format to provide students the flexibility to study at their own pace.
"Offering the program entirely online makes it more accessible for people already working in life sciences, agriculture, and other related industries," said Tim Mack, associate dean for information technology and distance learning in the College of Agriculture and Life Sciences. "Students in the program will be able to work full time while they complete their degree at their pace."
The American Distance Education Consortium (ADEC) Degree and Program Database lists 11 advanced online degree programs that are offered nationally at other universities in the general areas of food and agriculture. According to Mack, Virginia Tech's online master's degree program offers a unique set of concentrations that are different from what is offered by the other online programs.
Applicants must have a bachelor's degree from an accredited institution and have a 3.0 grade point average (4-point scale) unless there are documented extenuating circumstances. Students will be required to complete 30 hours of approved coursework, plus a project and report, to earn the degree.
A student could complete the degree in about four years, assuming he or she takes one or two courses per semester. All students must orally defend their reports in a meeting with their advisory committee.
For more information about the agriculture and life sciences master's degree program or to apply, visit the Online Masters of Agricultural and Life Sciences webpage or contact Tim Mack, associate dean for information technology and distance education, at (540) 231-6879.
---

New MBAs get USBs

by Sookhan Ho
Students offered admission to the MBA program in the Pamplin College of Business received a small welcome gift in their information packets mailed this spring: a 128 MB USB drive containing information about the MBA program and graduate student life at Virginia Tech.

The slide show, narrated by Pamplin's associate dean for graduate programs, Steve Skripak, includes snapshots of the Drillfield, Burruss Hall, and other campus landmarks and information on class registration, courses, setting up a PID, various campus resources, housing, and the traditional MBA Quest orientation (a series of team-building outdoor exercises) on August 18.

"The presentation supplements materials from the Graduate School and our MBA program office," says Melanie Johnston, associate director of MBA marketing and recruitment. Screen shots provide examples of the websites mentioned in the Graduate School's admitted student material, she says, allowing students to see clearly where various student resources can be found online.

"Students can view the slide show as often as needed, using it as a guide for everything they need to know as new students. There's also plenty of leftover capacity in the drives for students to store new information."

The USB drives are inscribed with the Virginia Tech Pamplin College of Business logo on one side and "Pamplin MBA" on the other and are attached to a handy maroon and orange lanyard. Johnston, who came up with the idea of giving out the drives and did some informal research on the subject, believes that Virginia Tech is the first school to use USB drives as a promotional tool aimed specifically at admitted MBA students. "Yield strategies" at some MBA programs have featured iPods and other, more costly technology devices, she says, but she likes the idea of a USB drive "because it is so simple and practical. It is about technology, function, and efficiency. Everyone uses these devices."

The USB drives, Johnston says, "are a gimmick to draw attention to the MBA program, but it's a gimmick that's very much in keeping with Virginia Tech's image as a technology leader."

For more information about the Pamplin MBA program, please visit www.mba.pamplin.vt.edu.
---
Innovative computer scientist recognized by Computerworld
by Susan Trulove


Naren Ramakrishnan of Blacksburg, associate professor of computer science and faculty fellow in the College of Engineering at Virginia Tech, has been named as one of Computerworld's "40 innovative IT people to watch, under the age of 40."

The award recognizes the contributions of Ramakrishnan, who is 35, to the areas of data mining, personalization, and problem-solving environments. In particular, he is being recognized for the data mining paradigm called "storytelling."

"Naren's ingeniously innovative concept of "storytelling" is an excellent example of an algorithm that reveals and exploits the interconnectedness of information," said Dennis Kafura, computer science professor and department head at Virginia Tech. "By finding a sequence of documents that connect the concepts in two starting documents, Naren was able to help life scientists discover new biological insights. Because the storytelling approach mimics the way people make and follow information connections, Naren's work can also be used to help people with everyday exploration of the web or other repositories," Kafura said.

Storytelling, developed in collaboration with recently graduated students Deept Kumar (Ph.D.) and Joe Gresock (M.S.) and biochemistry professors Richard Helm and Malcolm Potts, discovers connections between information that at first appear dissimilar. The original application context was in bioinformatics where the algorithm was used to connect research results published in disparate papers by drawing together intermediate papers into a story.

For instance, a connection can be made between metabolic arrest in primitive organisms like cyanobacteria and the same phenomenon in complex organisms such as mice. While such a connection might appear tenuous, the storytelling algorithm provides a carefully argued chain of links that remove and add participants (genes, proteins, processes), yielding a continuous line of reasoning.

This novel technique also has applications in homeland security by linking events across databases and in a general Web search, by connecting users' imprecise requests to relevant Web pages. The storytelling project garnered significant publicity last year, in data mining, bioinformatics, and Web search news outlets.

In particular, the project and its findings were profiled in the winter 2007 issue of Biomedical Computation Review, a publication sponsored by the National Institutes of Health (NIH), and was featured twice in ACM Technews, a digest of computing trends.

"Storytelling is an example of Naren's ability to think broadly about problems and how computer science can be brought to bear," said Kafura. "He often uses the term 'wacky' to describe solutions that only arise when one takes an innovative or unusual view of a problem that leads to an elegant solution. Faculty members in the department now use this term to compliment a really good piece of original thinking."

Previous research by Ramakrishnan's group have led to the "out-of-turn" interaction interface for websites, algorithms for recommender systems, and other data mining innovations. The out-of-turn interaction interface allows a user to "speak" into a Web browser that employs speech recognition and communicates the words back to the Web server. While there are many sites and browsers that allow you to "talk into them," especially when you browse a website over a mobile phone, "the trick here is the ability for the user to say something out-of-turn when the site is not quite expecting it, and being able to transform the website appropriately," Ramakrishnan said.

His work on recommender systems addresses the targeted marketing capabilities seen at sites such as amazon.com. A visitor to Amazon is greeted with recommendations like "People who liked the books you like also liked these other books." Ramakrishnan and collaborators have studied how rating patterns influence the quality of such recommendations, leading them to show how ratings can be selectively "rewired" to improve recommendations.

Ramakrishnan received his Ph.D. in computer sciences from Purdue University and has been at Virginia Tech since 1998. He is the recipient of a National Science Foundation CAREER grant, the New Century Technology Council Innovation award, and a certificate of teaching excellence from the College of Engineering. He is currently the program chair for the IEEE Conference on Data Mining (ICDM), the premier research conference in data mining, which is held annually in different parts of the world.

A detailed write-up about storytelling will appear in the summer 2007 issue of the Virginia Tech Research magazine, available in late August.
---
Outstanding alumni receive awards

This spring, Virginia Tech recognized the contributions of four alumni to both society and their alma mater.

Virginia Tech chose William C. Latham (agriculture '55) to receive its 2007 William H. Ruffner Medal, the university's most prestigious honor. The Ruffner Medal is awarded annually to recognize individuals who have performed notable and distinguished service to the university. Latham has served Virginia Tech for more than 50 years. He was appointed by both governors Charles Robb and James Gilmore to two terms on the Virginia Tech Board of Visitors, where he served as vice rector. He is also an active member of the William Preston Society, has served on the National Leadership Campaign Committee for the Alumni and Conference Center, and played prominent leadership roles in Virginia Tech's two prior capital campaigns. Nearly a decade ago, he received the Alumni Distinguished Service Award in recognition of his service and dedication to the university. An entrepreneurial spirit led Latham to found Budget Motels Inc. in 1973, which today owns and operates ten motels.
Homer Hickam (industrial engineering '64), nationally known best-selling book author, is the recipient of the 2007 University Distinguished Achievement Award in recognition of his personal and professional achievement. A member of the corps of cadets, Hickam's activities on campus included building the first "Skipper"--Tech's famous cannon. Following completion of his studies at Virginia Tech, Hickam served in Vietnam, where he was awarded the Army Commendation and Bronze Star medals. Hickam was subsequently employed as an engineer for the U.S. Army Missile Command from 1969 until 1981, then with the National Aeronautics and Space Administration until his retirement in 1998. Today a critically acclaimed freelance writer and best-selling author, Hickam wrote Rocket Boys, which inspired the popular film "October Sky" and became an instant classic. It also attained number one ranking on The New York Times bestseller list and is currently one of the most often selected "Community Reads" books chosen for study in secondary school systems nationwide. Hickam's latest work includes the popular series of World War II novels featuring Josh Thurlow--who is also a Virginia Tech alumnus.
Charles E. Broadwater Jr. (management '72) and W. Thomas Clark Jr. (finance '76) are the 2007 recipients of Virginia Tech's Alumni Distinguished Service Award, which recognizes outstanding service to the university and the Alumni Association.
Charles E. Broadwater Jr. (management '72) is past president of the Virginia Tech Alumni Association and has served on the Pamplin College of Business Advisory Council. He is a member of the Robert B. Pamplin Society and a former member of the Economic Development Advisory Board. Broadwater also established the Charles Edward Broadwater Sr. Scholarship for Athletics. He is the co-owner and managing partner of Sunbelt Richmond, a mergers and acquisitions firm. Prior to joining Sunbelt, he held executive positions with Bank of America.
W. Thomas Clark Jr. (finance '76) has served on the board of directors of the Virginia Tech Alumni Association and as a member of the Virginia Tech Alumni Center National Leadership Campaign Committee, the National Campaign Steering Committee, the Regional Campaign Committee, and the Foundation Board and Executive Committee. He is currently a member of the Pamplin College of Business Advisory Council. The retired managing director and partner of Morgan Stanley Dean Witter & Co, Clark has since established a venture capital business and serves as chairman of The Westchester Bank.