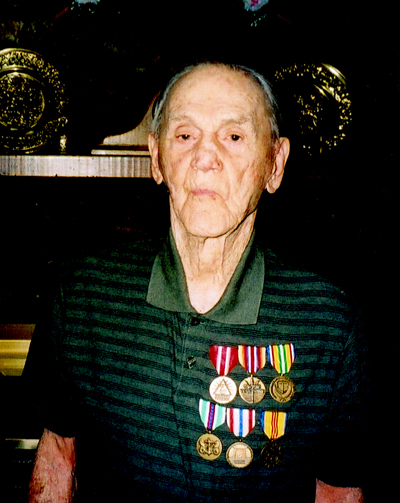 Formerly of Botetourt County, Va., Showalter, who turned 101 last March, has been present for every Old Guard reunion since the organization's inception--and he's yet to show a hint of slowing down. Not even a move a few years ago to Houston to join his daughter, Carol, has deterred him from gathering with his "buds."
Long the oldest Old Guard alum in attendance, Showalter has also been treated the last several years to a birthday celebration at a special luncheon organized by a group of fellow U.S. Navy Armed Guard and U.S. Merchant Marine veterans. The Armed Guard, a special branch of the Navy, manned the guns on Merchant Marine vessels during both World Wars.
A veteran of World War II and the Korean and Vietnam wars, Showalter served as a U.S. Merchant Marine from 1930 to 1972, retiring as a chief engineer officer/commander and having worked aboard nearly 40 different vessels.
In case you're wondering, Showalter is amazingly healthy for a centenarian. He maintains his fighting weight of 145 pounds, doesn't need hearing aids or glasses, doesn't have any false teeth, and takes no medications. And word is that he's an ace at the poker table.
What else would you expect from a Hokie?