SERVICE MOTTOS RING TRUE
I enjoyed reading about the community service activities of students and alumni in the Spring 2009 Virginia Tech Magazine. As the 2008-09 governor of Rotary International (RI), District 7600 (central and southeastern Virginia), I have met many Hokies during my visits to Rotary clubs. I am not surprised to see so many Virginia Tech alumni as Rotary members because the Rotary motto, "Service Above Self," is similar to the Virginia Tech motto, Ut Prosim (That I May Serve). Two distinguished Hokies who served on the Rotary International board include Bill Skelton (RI president 1983-84) and Bill Sergeant (RI vice president 1981-82). Through their service, Hokies and Rotarians are making dreams real for the less fortunate members of our communities.

Bill "Bebo" Pollard '86 | Suffolk, Va.
REMEMBRANCE AND THANKS
I was saddened to hear of the passing of Bill Lavery, but I have fond memories of my first meeting with him. I was trying to transfer into the Virginia Tech School of Architecture from another Virginia college, and this was back when admissions were a little more personal. Although Lavery's job title was not director of admissions, for whatever reason, he interviewed me in his enormous and intimidating office. My academic history was not stellar, but I knew I was destined and determined to be an architect, and he must have seen that in me. I distinctly remember his words; he looked me in the eyes and, after a long pause, said, "I am going to give you a chance here." There was a longer pause. "But don't you disappoint me." I hope I did not and wish I had the chance to thank him again.

William Prillaman '75 | Irvington, Va.
HOKIE-PROUD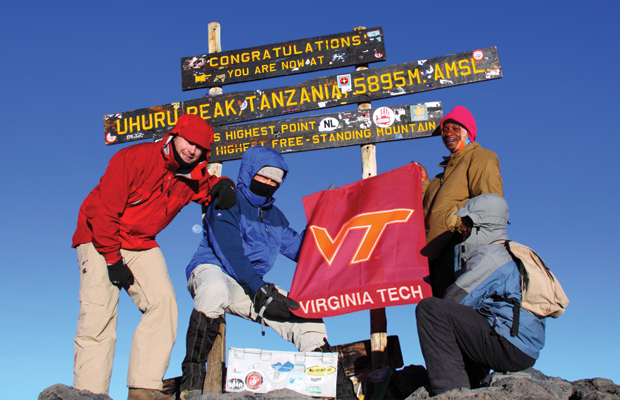 Matt White (business information technology '02) writes, "This photo was taken at the top of Mt. Kilimanjaro during a recent trip to Africa to attend the wedding of a fellow Pritchard Hall mate. Although it's not visible, I had the biggest smile as I was holding up that flag." From left to right: Ben Mackay (physics '02), White, Kitambia (guide, standing), and Dube (assistant guide, sitting).
Janine Bents, mother of future VT alumnus Bryson W. Bents, son of Duane D. Bents '03, sent us these photos, commenting, "The Hokie headgear he is wearing for the next few months is to straighten out his skull alignment. We could have left it warped, but the doctor was afraid that might make him want to go to Clemson or Ohio State.
Richard Barnhart '66 wrote, "Here are three proud Hokies from a family of 17 Hokies! This picture was taken at George Anne Falkinham's place in Bonita Springs, Fla., in February 2009." From left to right: Charles Hunt '71, George Hunt '74, and Barnhart.
---
ARE YOU TRYING TO GET IN TOUCH with Virginia Tech Magazine? We want to hear from you! To submit a letter to the editor or to give us feedback, write to Virginia Tech Magazine, 105 Media Building (0109), Blacksburg, VA 24061, or send an e-mail to vtmag@vt.edu.

To submit an item for Class Notes--including career news and birth, adoption, wedding, or death announcements--write to Class Notes, c/o Alumni Association, Holtzman Alumni Center, West Campus Drive (0102), Blacksburg, VA 24061, or send an e-mail to fleets@vt.edu.




Like most universities, companies, and families throughout the nation, we are struggling with the impact of budget reductions and lost revenues. When faced with university reduction targets, we considered eliminating or scaling back issues of Virginia Tech Magazine. However, you have told us--whether personally, in letters, or in reader and alumni surveys--that Virginia Tech Magazine is your primary source of information about your alma mater. We considered online-only issues, yet we have found that those tend to be skimmed, not read, and they cannot replace the quality of the print experience. Therefore, we have cut back our operating budgets, eliminated other university publications, and saved monies from this year in order to fund next year's magazines. You are important to us, and we don't plan to scrimp on our responsibility to keep you engaged with Virginia Tech. Granted, we don't know what the future holds--we may someday be forced to scale back. But for the coming year, we plan to continue sending Virginia Tech Magazine as we have in the past.

Larry Hincker
Associate Vice President for University Relations