Campus life is vibrant, even during summer. We've borrowed the Alumni Association's 135th anniversary theme from the original alumni gateway, which was the first portal to the campus grounds, constructed in the early 1900s. Today, there are several major entrances to campus, some with attractive gateways that welcome visitors and new students. Each July, more than 5,000 newly accepted freshmen enter campus through those gateways. For most, their journey will carry them beyond those gates four years later. As new alumni, they will know that Virginia Tech is for life and will always be connected to their university. On the following pages, you can read more about the generations who have passed through our gates for more than 14 decades.
More than 250,000 people have graduated from Virginia Tech in the 135 years since the earliest degrees (originally called certificates) were awarded. More than 212,000 alumni continue their journeys through careers or through service in retirement. Our alumni association enjoys increased participation in its programs as more alumni join the rolls and attend class reunions, college homecomings, and other events. Alumni return by the thousands to visit campus with its energetic students and to support the Hokies on the gridiron. There is a robust program of alumni events planned for this fall; go HERE, or check our website for dates and schedules.
Earlier this year, several alumni events enjoyed record participation. Hokie Day at the General Assembly, an annual tradition, had its largest attendance, and a record number of students joined alumni to visit with state legislators. The National Capital Region Job Fair had its highest attendance yet as it continues to serve alumni in that region. In March, the Black Alumni Reunion, held about every three years, had its most successful program in more than two decades. Also of note, the Class of 2011 Ring Dance, which celebrated the 100th anniversary of the university's class ring tradition, had the largest attendance in the dance's 75-year history.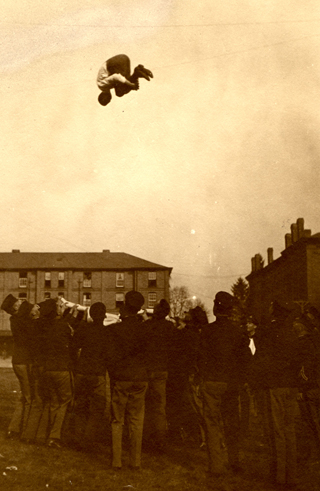 Corps of cadets blanket toss, 1920
We'll summarize the achievements of our alumni programs in the magazine's fall issue, where we will present a more comprehensive annual report. Our 135th anniversary year is off to a roaring start. Thanks to so many of you for helping make it such a success.


Tom Tillar '69, Vice President for Alumni Relations