For What They're Worth
How to weigh the rankings
| | |
| --- | --- |
| | |
| | |
| | Illustration by Steven White '92 |
| | |
by DENISE YOUNG
Some might argue that few decisions are as significant and influential in one's life as the choice of where to attend college.
Few choices are as liberating. For many high school students, the decision is the first time they have a say in where they go to school. Parents, too, proud and anxious, play a powerful role in guiding their children through the sea of options.
There are more than 4,000 institutions of higher education in the United States. As students prepare for the journey of applying to college, they are faced with an overabundance of information. One of the tools available to aid parents and students in this process is college rankings. Publications, including U.S. News & World Report, Forbes, The Princeton Review, and Washington Monthly, among others, offer various rankings systems. But this oft-confusing wealth of data can leave parents and high school students scratching their heads. Where does one begin?
Deciding factors
Larry Hincker, associate vice president of university relations at Virginia Tech, said college rankings should serve only as a jumping-off point in the decision-making process. "The thing to remember is that there's no appreciable difference between No. 1 and No. 2 or between No. 25 and 35. You also have a lot of schools tied for, say, No. 25. But is there a difference between a school in the top 10 and one in the top 100? Yes," said Hincker, whose two-decade role as chief of university communications means he has compiled and analyzed data for many rankings.
Hincker offered a few pointers for assessing these numbers. "It's important to understand what's being ranked." Rankings systems place varying weights on faculty-student ratios, small class size, incoming student SAT scores, and a number of other factors. Rankings draw data from a number of sources, ranging from U.S. News' peer-institution surveys to a Forbes survey that culled student evaluations from the popular websites RateMyProfessors.com and MyPlan.com. A recent Wall Street Journal survey took a unique approach by asking corporate recruiters which schools produced the most well-trained, well-educated graduates—in other words, those most likely to succeed once hired.
Hincker cautioned that some aspects of the undergraduate experience cannot be quantified: No rankings system can tell a student whether a large public university or a small, private liberal arts college will best fit his or her needs, or if the student will be happiest in an urban or small-town environment. In the end, the "fit" between student and school should drive the decision.
Robert Morse, director of data research for U.S. News & World Report, agreed that the rankings are meant to be only one part of the decision-making process. "They should be used as one tool, not the sole determining factor," said Morse. "In fact, if they're being used as a sort of line in the sand, then that's the wrong use."
"It's one data point," agreed Sue Magliaro, director of Virginia Tech's School of Education, who estimates that the school spends about $250,000 per year on accountability-assessment expenses and who has expertise in the evaluation of educational programs. "If you're really going to be a savvy consumer, you're going to need to investigate quality more broadly and deeply."
Ultimately, other salient factors should play key roles in the decision-making process. Daniel Wubah, vice president and dean for undergraduate education at Virginia Tech, said retention and graduation rates are important, as are opportunities for undergraduates to interact with faculty and conduct undergraduate research and creative work.
The quality of the student's intended major at that institution should also be considered. "Campus visits are very important," he added. "[Parents] get a feel for the culture of the [school], and [they] get an idea of how [their] student will fare."

Outside of Virginia Tech, administrators at other universities echoed the need to understand how to interpret rankings.
"I'm not one of those people who says rankings are intrinsically evil," said Henry Broaddus, associate provost for enrollment and dean of admission at the College of William & Mary. "But a person needs to use that information responsibly and make sure that the decision is based on personal considerations." Broaddus added that he is surprised by how many prospective students, despite placing high importance on the rankings, aren't aware of the methodologies being used.
In fact, some studies suggest that the rankings are far more important to parents than to students, noted Morse. Students might be more interested in campus life, such as student organizations, study-abroad opportunities, or campus dining options.
Nicole Lartigue, a rising high school senior, visited Virginia Tech for a campus tour in June. She said the feel of a campus and its people are more important to her than the numbers. "I want to study computer science, and I heard [there is] a great program here," said Lartigue, who added that she doesn't know Tech's position in the rankings.
Lartigue's mother, Michelle, accompanied her daughter to campus. She agreed that the campus tour is the best way to determine whether a school feels right. "We're going to look at the rankings before we make a final decision, but it's not a make-or-break deal."
In addition, there's one source of information that might give students the best indication of whether a university will be a good fit: alumni and current students. "You can't beat hearing from someone who's actually experienced [the university]," said Amy Widner, public relations coordinator for undergraduate admissions at Virginia Tech.
Decoding rankings
One of the keys to navigating the rankings is simply understanding what is being ranked and from where the data was extracted. For example, Hincker noted, some rankings rely heavily on factors such as dollars spent, so those rankings tend to work in favor of wealthier schools. Other aspects must be considered, too. For example, U.S. News defines a "small" class size as 20 students or less, whereas many smaller classes at Tech and other universities are capped at 25. (It's important to note that the U.S. News survey, as the granddaddy of college rankings, receives the most attention and, consequently, the most flak.)
For the U.S. News survey, the professional reputation portion accounts for 22.5 percent of a university's rank. This category is based on how the institution is viewed by its peers, using data collected by peer surveys. While some believe that leaders may intentionally undervalue competing institutions in order to make their own institutions look better, Hincker found another potential downfall: Leaders at fellow institutions simply might not be aware of changes undertaken by a university in the past few years, so the peer surveys might not be reflective of recent developments.
On occasion, even the validity of a rankings system has been called into question. A ranking of teacher-preparation programs recently set into motion by U.S. News and the National Council on Teacher Quality drew the ire of many schools of education across the country. Virginia Tech's School of Education was among 33 of the commonwealth's 37 schools of education to elect not to participate in the study. "We're all for accountability," said Magliaro. "But it has to be a fair and credible assessment." Among the criticisms of the study was that universities that opted out would receive a failing grade, and an independent review showed that the methodology would not be a credible way of assessing teacher quality, according to Magliaro. "Assessment should be pointed toward student outcomes, not inputs."
The amount of time, money, and resources spent by many institutions of higher education to participate in these rankings is also significant. Hincker, whose office is just one of several that contributes data to the annual U.S. News ranking, estimates he spends about 10-20 hours yearly on that survey alone, as do other offices.
Now, universities are also coping with a growing number of rankings systems geared toward graduate school strengths. The systems tend to emphasize such factors as research capability, evident in faculty citation rates and other data, and are therefore viewed as key to attracting top graduate students from around the country and the world.
Where a college stands in the rankings often isn't at the forefront of day-to-day life at most universities. "At James Madison University (JMU), the faculty and staff do not come to work each day motivated to improve our position within the rankings," said Don Egle, director of public
affairs at JMU. "Instead, we come to work focused on adding value to the university and creating a better place for our students. We're always pleased to be included in the rankings, but rankings are not the primary focus at JMU."
Nonetheless, rankings remain popular tools for prospective students and parents. In one month—March 2011—U.S. News' Best Colleges Web page had 13.7 million page views. As millions of people access the publication's rankings online, the number continues to climb.
Hincker advised, "Take every [ranking] with a grain of salt. Understand what is being ranked." Faced with so many options for what will be a weighty life decision, students and their families need someplace to start—and rankings provide just that.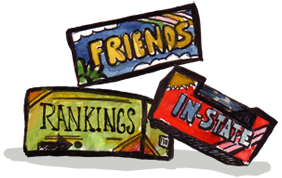 - - - - - - - - - - - - - - - - - - - - - - - - - - - - - - - - - -
| | |
| --- | --- |
| | |
| | |
| | |
| | |
| | |
| | |
| | |
| | |
| | |
U.S News & World Report

• Graduation-rate performance – 7.5%


The difference between a school's actual graduation rate and the one predicted by U.S. News based on the students' test scores and institutional resources
• Undergraduate academic reputation – 22.5%


Presidents, provosts, deans of admissions, and high school counselors rate a school's academic programs

• Graduation rate and freshman retention rate – 20%


Six-year graduation rate, not four-year

• Faculty resources – 20%


Class sizes, student-faculty ratio, faculty salary, proportion who are full-time, and proportion with the highest degree in their field
• Student selectivity – 15%


Students in top 10 percent of their high school class, SAT/ACT test scores, admitted students-applicants ratio

• Financial resources – 10%


Average spending per student, not including sports, dorms, or hospitals

• Alumni giving rate – 5%

Forbes

• Student evaluations from RateMyProfessors.com – 17.5%

• Freshman-to-sophomore retention rates – 5%

• Student evaluations from MyPlan.com – 5%

• Salary of alumni from Payscale.com – 15%

• Listings of alumni in "Who's Who in America" – 10%

• Alumni in Forbes/CCAP corporate officers list – 5%

• Four-year debt load for typical student borrower – 12.5%

• Student loan default rates – 5%

• Actual four-year graduation rate – 8.75%

• Predicted vs. actual four-year graduation rate – 8.75%

• Students receiving nationally competitive awards – 7.5%

Washington Monthly

•

Social mobility – 33.333%


Figure comprised of percentage of students receiving Pell Grants, predicted rate of graduation based on incoming SAT scores vs. actual graduation rate

•

Research – 33.333%


Figure comprised of amount of money spent on research expenditures and the number of bachelor's recipients who go on to receive Ph.D.s, relative to school size

•

Service – 33.333%


Figure comprised of number of alumni who go on to Peace Corps relative to school size, percentage of students in ROTC, percentage of funds in federal work-study for community service, combined measure of the number of students participating in community service and total number of service hours performed relative to school size, the number of academic courses that incorporate service, and whether or not scholarships for community service are provided
Princeton Review
• Rating vs. ranking
Ratings are based on school-reported data; rankings are based on student surveys.
• Ratings are numerical scores that appear in an individual school profile. Ratings are given on a scale of 60-99 in each individual category, rather than an overall score.
- Academics
- Admissions Selectivity
- Financial Aid
- Fire Safety
- Quality of Life
- Green

• Rankings list the top 20 colleges in 62 categories based on students' answers on surveys. There are eight general areas with sub-categories.

- Academics/Administration
Notable categories: Most Accessible Professors, Least Accessible Professors, Best College Library, This is a Library?, School Runs Like Butter, and Long Lines and Red Tape
- Quality of Life
Notable categories: Dorms like Palaces, Dorms Like Dungeons, Best Campus Food, and Is it Food?
- Politics
Notable categories: Most Politically Active and Election? What Election?
- Demographics
Notable categories: LGBT-Friendly, LGBT-Unfriendly, Lots of Race/Class Interaction, and Little Race/Class Interaction
- Social Life
Notable categories: Town-Gown Relations are Great and Town-Gown Relations are Strained
- Extracurriculars
Notable categories: Students Pack the Stadiums, Intercollegiate Sports Unpopular or Nonexistent, Best College Newspaper, and Best College Theater
- Parties
Notable categories: Lots of Beer, Got Milk?, Reefer Madness, Don't Inhale, and Lots of Hard Liquor
- Schools by Type
Notable categories: Future Rotarians and Daughters of the American Revolution; Birkenstock-Wearing, Tree-Hugging, Clove-Smoking Vegetarians; Jock Schools; and Dodgeball Targets