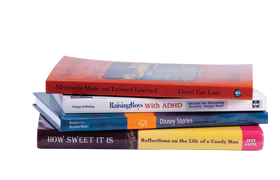 BOOK NOTES
Books by faculty/staff
Nonfiction
Critical/reference
Klaus Hinkelmann, professor emeritus of statistics, editor, "Design and Analysis of Experiments, Vol. 3: Special Designs and Applications," John Wiley & Sons.
Rock Roszak (management '71), "Hokie High: Combat Aircraft and Aviators of the Virginia Tech Corps of Cadets Alumni," article compilation, aviation, self-published.
Books by alumni
Nonfiction
Critical/reference
Roger Amato (geological sciences '66, M.S. '68), "Classic Vintage Crawlers and Dozers, Vol. 2," machinery, Heimburger House.
Deb Cheslow (aerospace and ocean engineering '87) and Angie Flynn (finance '93, M.B.A. '97), "The Simple Success Solution for Real and Permanent Weight Loss," holistic approach to weight control and fitness, TAG Publishing.
Bill Franks (statistics '90), "Taming the Big Data Tidal Wave: Finding Opportunities in Huge Data Streams with Advanced Analytics," business, John Wiley & Sons.
Newton Lee (computer science '83, M.S. '85), et al., "Disney Stories: Getting to Digital," technological innovation, media, Springer.
Christine Mason Miller (studio art '90), "Desire to Inspire: Using Creative Passion to Transform the World," personal growth, inspiration, North Light Books.
James L. Moore III (M.A.Ed. counselor education '97, Ph.D. '00), co-editor, "African American Students in Urban Schools: Critical Issues and Solutions for Achievement," Peter Lang Publishing.
Dwight Polk (secondary education, history, and social science '81), "Law Enforcement Responder: Principles of Emergency Medicine, Rescue, and Force Protection," textbook, Jones & Bartlett Publishers.
Richard G. Rice (chemical engineering '61), et al., "Applied Mathematics and Modeling for Chemical Engineers," second edition, John Wiley & Sons.
Mary Anne Richey (clothing, textiles, and related art '69, M.A.Ed. educational supervision '70), "Raising Boys with ADHD: Secrets for Parenting Healthy, Happy Sons," Prufrock Press Inc.
Katherine Ziff (M.U.A. urban affairs '84), "Asylum on the Heal: History of a Healing Landscape," psychiatry, Ohio University Press.
Memoir
Herbert Lawrence Duff Jr. (mechanical engineering '49), "Recollections and Reflections: The Years Go By," memoir, self-published.
Jeff Jaffe (architecture engineering '43), "How Sweet It Is: Reflections on the Life of a Candy Man," autobiography, business, Professional Press.
David Van Lear (forestry and wildlife '63, M.S. '63), "Memories Made and Lessons Learned: During a Lifetime of Angling," Outskirts Press Inc.
Fiction
Domingo Rocha (physics '78), "Redemption Island," novel, survival, Old Line Publishing.
Everett Stephenson Jr. (M.S. industrial forestry operations '77), "Innovation," reflections on creativity, short stories, iUniverse.
Neil J. Swanson (history '97, M.A.Ed. education '99), "Prae Omega-Primus," science fiction, apocalyptic, CreateSpace.
Vernon Wildly Jr. (industrial systems engineering '94), "Nice Guys Finish Last," romantic comedy, Lulu Publishing.
---
from Sarah McCoy's "The Baker's Daughter"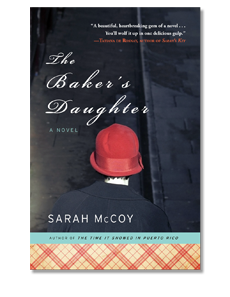 Garmisch, Germany, July 1945
Long after the downstairs oven had cooled to the touch and the upstairs had grown warm with bodies cocooned in cotton sheets, she slipped her feet from beneath the thin coverlet and quietly made her way through the darkness, neglecting her slippers for fear that their clip might wake her sleeping husband. She paused momentarily at the girl's room, hand on the knob, and leaned an ear against the door. A light snore trembled through the wood, and she matched her breath to it. If only she could halt the seasons, forget the past and present, turn the handle and climb in beside her like old times. But she could not forget. Her secret pulled her away, down the narrow steps that creaked under weight, so she walked on tiptoe, one hand balancing against the wall.
In the kitchen, bundled dough mounds as white and round as babies lined the countertop and filled the space with the smell of milk and honey, and promises of a full tomorrow. She lit a match. Its black head flamed and licked the candlewick before fuming to nothing. She preferred the candle's burning ribbons to the electric bulb, buzzing bright and incriminating high above. Armed soldiers patrolled outside their doors; she couldn't risk inciting curiosity or waking her family.
She bent to her knees beneath the rising bread, pushed aside a blackened pot, and groped in the darkness for the split in the floorboard where she'd hidden the new letter. Her palms, callused from the rolling pin, snagged on the timber planks. Shallow splinters embedded in her skin, but she did not take notice. Her heart pounded in her ears and radiated heat through her arm and fingertips until she heard and felt the crackle of the paper she'd bunched into the crevice earlier.