FEATURE
Maximizing Potential
A microencapsulation company leverages the region's resources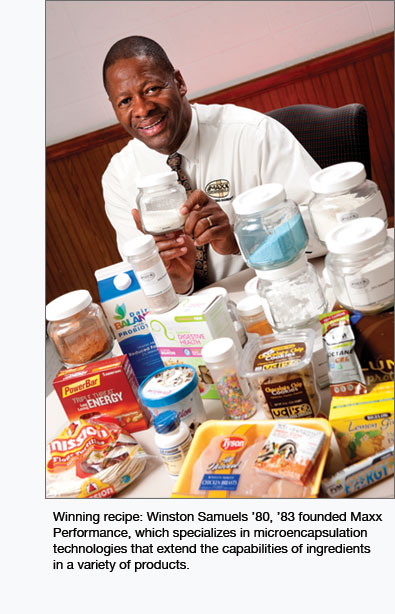 Borrowing money from the Jamaican government in the 1970s, Winston Samuels left his homeland to pursue an education in the U.S., earning a bachelor's degree at Tuskegee University. Despite being nearly penniless, he continued to Virginia Tech, where he cleaned sheep pens at Smithfield Plantation to pay for his master's degree and then earned a separate stipend for his doctoral studies.
During a highly successful career in development and sales with agricultural biotechnology company Monsanto, Samuels (M.S. animal and poultry sciences '80, Ph.D. '83) traveled incessantly to promote the then-controversial bovine growth hormone, battling in some states and foreign countries to keep legislatures from banning the product, and fighting to get it accepted among veterinarians. After learning how to build and run a company at Monsanto, he later served as vice president and executive officer at Balchem Corp.
By 2003, starting Maxx Performance with his wife, Marilyn (psychology '82), didn't seem so daunting. The company, originally based in Wisconsin, microencapsulates food ingredients to extend their useful life. "I traveled across an ocean with $6,000 to my name and to a new country, so starting a business was nothing unusual," Samuels said. "With Marilyn and my family as supporters, anything was possible."
Partly because Samuels considers Virginia Tech, with its vast human and technical resources, to be a member of his "family"—Professor Emeritus Joseph Fontenot and his wife, Eula, even served as Samuels' parents at his wedding to Marilyn—the couple moved manufacturing and research and development for their company to Roanoke in 2010. It's in the old Valley Rich Dairy building, a vast edifice that they plan to fill one day.
"Virginia Tech has been good to my family," said Samuels, whose two sons—Courtney (marketing management '07), currently in sales and marketing for Maxx, and Joel, a senior agricultural and applied economics major—are also Hokies. "We wanted to give back what was given to us."
The entrepreneur was also drawn to the region because of easy access to major highways and because he saw an area moving from its reliance on the railroad to something more technical and requiring more education. "Virginia Tech is creating a technology base. Tech is perfectly positioned to narrow the [knowledge] gap," Samuels said.
Samuels' comments confirm what Derick Maggard, executive director of the Roanoke-Blacksburg Technology Council (RBTC), believes. "The region offers a compelling case for entrepreneurs who are looking for great talent and a quality of life that is second to none," said Maggard, citing the impact of area colleges and universities and organizations committed to economic growth. The RBTC interacts with alumni who have returned and rediscovered the area, coming away "astonished at the redevelopment of Roanoke, the growth of the [Virginia Tech Corporate Research Center, and more], and they are so ecstatic to be part of the action," Maggard said. "These individuals are so energized by the progress, growth, and culture."
The growth is making headlines. In 2011, according to the Bureau of Labor Statistics, employment in Blacksburg, Christiansburg, and Radford—considered linked as one Metropolitan Statistical Area (MSA)—grew by 5.32 percent, ranking No. 3 nationally among 363 MSAs. "The general feel is that [the region has] been very fortunate … to have weathered the recession better than most," said Aric Bopp, executive director of the New River Valley Economic Development Alliance. "But it isn't until you start looking at some of the statistics do you realize just how fortunate we have been."
Pointing to analysts' predictions that microencapsulation technologies have an annual market potential of $39 billion by 2015, the Samuels plan to add to that employment base. Microencapsulation inside a sphere as tiny as half the thickness of a human hair has numerous uses, including protecting lifesaving probiotics from degradation during processing and storage; extending the shelf life of bakery products; and masking the bitterness of ingredients such as caffeine in weight-loss supplements. According to Samuels, Maxx was the first company, using his proprietary process, to successfully disguise the bitterness of green tea extract, which allows it to be used in products for its health benefits.
The Samuels also create opportunities for students. Josh Bennett (biological sciences '12) benefitted from an internship, gaining experience in quality control. "[Winston] was always willing to listen to my own ideas that I had learned in food-science classes," said Bennett. "He would be open-minded about implementing any new practices to make his factory better. Winston gave me the confidence to elaborate and expand on my own ideas."
The Samuels, who plan to expand the business internationally, have established the Samuels Study Abroad Scholarship at Virginia Tech to allow students to travel to such places as South Korea and South Africa. "We see ourselves as globalists, as internationalists at heart," partly because of stints with Monsanto in Toronto, Canada, and Sao Paulo, Brazil, Winston said. "There's a bigger universe out there."
As part of that global mission, the Samuels are actively hiring refugees who wish to work in the Roanoke area. "They are tremendous workers," Winston said. "We want for them to feel welcome, we want for them to come to America, as I came to America. … We want to work jointly with Virginia Tech … to give them a new life."
Richard Lovegrove is an editor with University Relations' marketing and publications unit.