ALUMNUS PROFILE
Brad Casper
On Point with the NBA's Phoenix Suns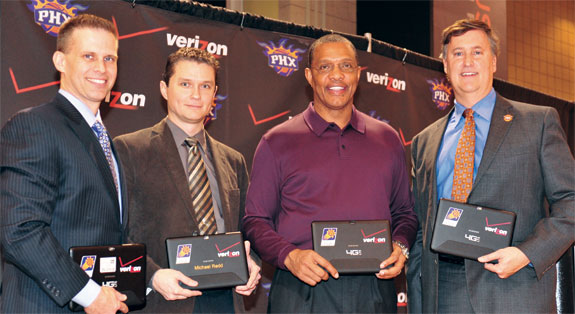 Brad Casper '82 (right), pictured with Alvin Gentry, the Phoenix Sun's head coach (second from right), and others, oversees business and non-basketball operations for the franchise. Courtesy of Barry Gossage, NBA Photos.
Soap, shampoo, and dryer sheets—household items that consumers always need—are products that can earn a customer's loyalty and, therefore, consistent sales, based on quality and reputation.
Brad Casper (finance '82) knows this. But in his new job as president of the NBA's Phoenix Suns, the product has a degree of fallibility: wins and losses. Building upon an international career in global marketing and general management that has included such positions as vice president and general manager of Procter & Gamble (P&G), president of Church & Dwight, and CEO and president of the Dial Corp., Casper now oversees all business and non-basketball operations for the franchise.
Think of the US Airways Center, where the Suns play, as a large entertainment venue. Casper is in charge of tickets, community relations, charities, in-game entertainment, food and beverages, and events such as concerts—in short, the entire fan experience—along with a staff of about 250 full-time employees and, indirectly, hundreds more part-timers. What's not in his control is the basketball itself—those wins and losses that we most associate with sports. "You don't control the quality of the output, but you're expected to manage what surrounds it," Casper said.
Fortunately, managing the Suns' business and brand is as automatic for Casper as assists are for the Suns' star point guard, Steve Nash. Soon after starting with the Suns, Casper happened across a quadrant analysis that plotted consumer activities on a needs-wants axis and a functional-emotional axis. "Wants" included activities such as eating at a restaurant or visiting a salon. Sports? An "emotional need."
With Casper's guidance, the franchise is exploring how to "market a solution to that need," he said, by offering fans experiences they don't anticipate, such as locker-room tours after the third quarter.
Training camp
After earning McDonald's All-American honorable mention status as a high school basketball player in Cincinnati, Casper applied to multiple universities, including Virginia Tech because his girlfriend's father was an alumnus. Accepted based on academics, the 6-foot-5-inch incoming freshman also arrived with word from the basketball coaches that they thought he could play.
Even so, he was burned out on basketball—and he was concerned about reserving time to woo his girlfriend and future wife, Kay (animal science '82). So he took his skills to intramurals, becoming the university's 1-on-1 champion and leading Alpha Tau Omega to fraternity basketball and university flag-football championships. He also seized leadership opportunities: as president of his fraternity, as an ambassador with Student Alumni Associates, and as a 19-year-old pulled in to work with town and university officials to envision what would become fraternity row.
In Blacksburg, Casper sharpened a zeal for being out in front. Upon leaving, he quickened the pace. He started at General Electric as a financial analyst, leaving in 1985 to join P&G's vaunted brand management department, where his performance on a hockey sponsorship established his reputation for out-of-the-box thinking. He soon became a brand manager in Japan at the age of 28, one of the firm's youngest professionals to earn an international posting. The self-described "cultural chameleon" discovered a capacity for cultural sensitivity and interpersonal skills that allowed him to thrive. He spent nine and a half years in Asia, launching items such as Pantene hair products and rising to the position of P&G's vice president and general manager. All told, he has on-the-ground experience in more than 35 countries.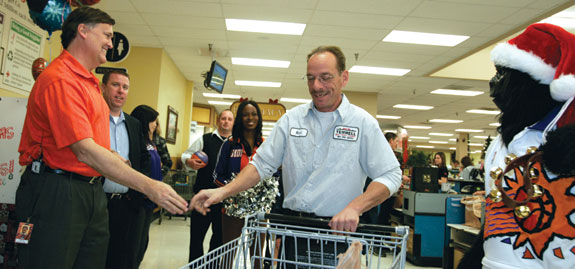 Outreach: As president of the NBA's Phoenix Suns, Brad Casper '82 (left) knows that community service events enhance the franchise's image. Courtesy of Barry Gossage, NBA Photos.
Casper's global acumen plays well with students and faculty in the Pamplin College of Business, where he has been a speaker and guest lecturer, and where currently he serves on the Pamplin Advisory Council. College Dean Richard Sorensen has witnessed Casper, whom he has known for about 15 years, effectively counter the perception that an international assignment is a path toward being forgotten. Via his meticulously detailed presentations and personable demeanor, Casper emphasizes the independence and responsibilities of overseas posts—and he always wins over his audience, Sorensen said. "He's very focused in his interactions, and he's also very thorough."
Craig Bahner, who serves today as the chief marketing officer of Wendy's and was once a P&G marketing director under Casper, is a beneficiary of his mentor's detailed advice. When Bahner was asked to be the general manager for fabric care in Northeast Asia, Casper carefully outlined how to succeed and even offered him a list of books to read. Additionally, Bahner said that emotional intelligence is a key reason Casper has excelled. As a leader, "his inspiring vision isn't a fairy tale," but rather, he knows how to build a team and implement a vision, Bahner said.
All-star
In 2002, Casper left P&G to become the president of New Jersey-based Church & Dwight, the manufacturer of Arm & Hammer products. In 2005, he moved to Arizona to become the Dial CEO and president, leading the corporation's integration into the Germany-based Henkel Group as Henkel Consumer Goods and overseeing such initiatives as the acquisition of Right Guard deodorants and the launch of Dial body washes and Renuzit air fresheners.
Casper became intertwined with the Phoenix region's civic and business organizations and was named by the Phoenix Business Journal in 2008 and 2009 as one of the region's most-admired CEOs. Ready for a change, Casper stepped down from Dial in October 2010, remaining in the area in part because his children—Colton, 19, Carly, 16, and Brody, 15—were still in school.
And then the Phoenix Suns came knocking. Under Casper, Henkel had become a corporate sponsor for the Suns, and franchise leaders knew him not as industry outsider but as someone with rich experience in managing brands. For instance, Casper noted that the NBA is great at selling tickets, but the purchase is transactional—and marketing isn't about selling. Emphasizing the many ways the franchise connects with fans, Casper channeled the perspective of a child in the stands: "'I like the gorilla [the Suns' mascot] because he dunks off a trampoline—and oh, there's a game, too.'"
Casper started with the Suns in October 2011—right in the middle of a lockout— as NBA owners and players negotiated an agreement that would let the season begin. He was immersed in the unknown, postponing games and reassuring employees. Then, suddenly, the season was back on, and the organization had to schedule a season in a compressed timeframe, hold training camp, sell tickets, market the team, and more. "The first six weeks were incredibly intense—and exhausting," Casper said. "I don't think I took 12 or 14 hours off in that entire time span."
Although the Suns missed the playoffs this season, Casper measures success by more than ticket revenue and wins: The franchise prides itself on high-character players and a reputation as a good corporate citizen. Earlier this spring, Casper was preparing for the Suns' annual charity event, at which $1 million would be distributed to 175 charitable organizations.
Wins and losses aside, the Suns' identity is a bankable product—much like the well-seasoned veteran leading the way.