LETTERS TO THE EDITOR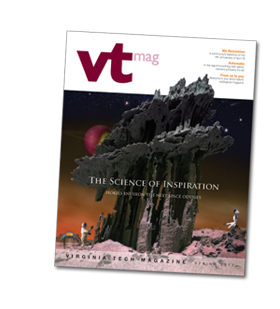 Reactions to a new look
I am both pleased and impressed with what the Virginia Tech Magazine team has achieved. We also receive alumni magazines from the University of Pittsburgh, Syracuse University, and Earlham College. You have produced an outstanding issue that measures up more than favorably with those other publications. Keep up the good work. I look forward to the future of sharing what Virginia Tech is all about.
Mary Anna Minogue Feitler '65
Auburn, Ind.
It's always a pleasure to hear from Virginia Tech. I enjoy the articles and especially look forward to the Class Notes.
Nonetheless, please strongly consider changing the Class Notes back to the way they used to be—separate sections for deaths, notes, marriage, and births. It is really disconcerting to see a familiar name and then quickly look to see if [the person] had a baby, did something noteworthy, or passed on, etc., by checking to see what code happens to be above the group of names.
Harry Edward Wise Jr. (animal science '84)
Dillwyn, Va.
I really like the new format and read the magazine cover to cover. The breadth of articles—and of research at Tech—is impressive. Virginia Tech was an excellent school when I was there in the 1950s, but the growth and development since then have made Tech a great school. While I was especially interested in the article on space exploration, the whole magazine was good reading.
Richard Leary (geological sciences '59)
Springfield, Ill.
The new magazine format is a fine improvement—it flows better and is more readable. I found myself reading the entire magazine instead of just picking and choosing as before.
However, it does continue to irritate me to read the disclaimer [seen at lower left of page three], where Virginia Tech vows not to do the things it never did in the first place, except for race, which was adjusted (corrected) decades ago.
C.T. Lucy Jr. (electrical engineering '47)
Midlothian, Va.
On April 16
I received the spring 2012 issue from my son, Stephen Cacciola (mechanical engineering '05, M.S. '07). I was so impressed by the information presented and the layout of the magazine. It is a class publication. You should be proud of your team.
I read with teary eyes the information on the memorial of the tragedy in 2007. The loss of these young people and their brilliant mentors will always bring a certain sadness to my heart. I still ache for their families and can't imagine the horror the victims faced. My son was in lockdown in the next building over.
It was encouraging to read about the Center for Peace Studies and Violence Prevention. The work being done there is so vital to heighten awareness about the causes of and potential solutions to the violence that seems to be so prevalent in our world today. I am encouraged that the center will be a catalyst for peaceful resolutions so that my grandchildren never have to be witness to or victims of this type of tragedy in their lifetime.
Thank you for a very insightful article and the entire publication.
Linda Cacciola
Wakefield, R.I.
Another lost class ring
I read with interest your notice of John Wright's recovery of his lost class ring. I suffered the loss of my 1972 class ring in approximately the mid-1980s. I believe this occurred when movers were packing my household goods when I was reassigned from Washington, D.C., to Little Creek, Va., while serving in the Navy. The inscription inside my ring stated my name and "Aspen, Colorado.
Should you come by information on my ring, I would be very appreciative.
Kevin T. Gross (metallurgical engineering '72)
Bremerton, Wash.
A parking garage's power
[Spending] $1.2 million for a little over one-tenth of the power annually for a parking garage? What a waste of taxpayer money. What's the annual cost of power for the parking garage, and when's the break-even point on this "investment"?
Andrew Esposito (communication '94)
Phoenix, Ariz.
Correction
On page 55 of the spring edition, a photo of the Boudhanath stupa in Katmandu, Nepal, was incorrectly labeled as a location in India. Thanks to Reena Thapa, of Blacksburg, for bringing the matter to our attention.