LIVING PYLONS


Championing the Environment 24/7
by Stuart Price '86
Both in my work as an environmental communicator and at home, surrounded by the beauties of nature that I have strived to protect throughout my career, a complex set of questions inspires me. Should we feel obligated to serve as environmental stewards of the world around us, or are existing systems capable of protecting us over the long term? Does the value of service reflected in the Virginia Tech Pylons encourage us to reach out and promote environmental stewardship?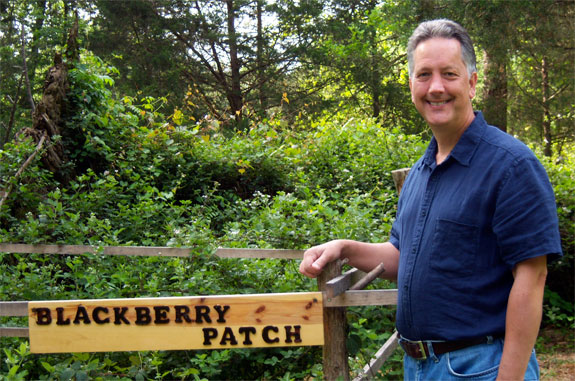 Stuart Price '86 and his wife, Melissa, live on a 16-acre spread—Price Gardens—in rural Amelia County, just southwest of Richmond. This July, Stuart expects to harvest 1,000 blackberries from this patch.
At work
Living in the beautiful surroundings of Blacksburg taught me great respect for the local lands. Engaging in classes on environmental history, environmental law, and pollution as an Enlish major fostered my professional pursuits as an environmental communicator.
One of my proudest memories is of Anthony Colaianne, associate professor and associate chair of the English department, recommending me for my first writing assignment just down the road at the Radford Army Ammunition Plant (RAAP). He encouraged me to become RAAP's first environmental training representative, and I was able to write the plant's first hazardous-waste training programs for closed-incineration and open-burning operations.
After being hired full-time at RAAP, my added duties included instructing classes, writing plant-wide environmental training lessons, and editing pollution-abatement management plans. My role was to instruct workers about conducting their daily jobs with environmental respect, minimizing hazardous-waste disposal, air emissions, and discharges into the New River. One of my biggest accomplishments was writing an environmental-management training program for all of RAAP's 5,000 employees—including the general manager.
I was especially excited because these were new programs. Knowing that my role was to help build environmental standards at a major military installation let me begin every morning with vigor and self-certainty. I felt I was serving a purpose and making a difference.
After my days at the RAAP, I shifted to radioactive-waste management at two major federal sites out West and other sites in the Northeast. My job entailed maintaining close relations with lawmakers, associations, and lobbyists in Washington, D.C.
Today, one key challenge for Washington policymakers is to encourage innovative, environmentally sound energy-management technologies. To help meet this need, the Department of Energy founded the Solar Decathlon in 2002 to promote renewable-energy solutions for tomorrow, and I wrote about the event for the Solar Today publication and the American Solar Energy Society. Virginia Tech students have played a leading role in making this event a success and introducing renewable-energy solutions for the world to review. The students demonstrated their role as global leaders when, at the 2010 Solar Decathlon in Madrid, Spain, they constructed a championship house powered entirely by the sun.
At home
While environmental management dominates my work life, environmental appreciation informs my home life. My wife and I live in a rural, wetland area near Richmond. Our property, Price Gardens, includes six fielded acres, 10 wooded acres, and several hiking trails along two creeks.
Before we moved here, Angus beef cattle grazed the land. Now, the National Wildlife Federation (based in Reston, Va.) has recognized our property as a certified wildlife habitat. Our land hosts everything from wild turkeys to coyotes, from eagles to hummingbirds to herons, from frogs to mussels.
Our forest includes a strong, mature collection of oak, sycamore, cedar, birch, maple, holly, and ash trees. In fact, the most significant tree is a willow oak that stands 145 feet tall; Virginia Tech's Jeff Kirwan, professor emeritus in the College of Natural Resources and Environment, encouraged me to nominate the tree for the "Remarkable Trees of Virginia" book he co-authored.
Forestry harvest is a considerable business in Amelia County, and many of our neighbors have chosen to harvest and market their trees. However, our management priorities rank wildlife maintenance and outdoor recreation—including my daily walk in the woods, which I cherish—above timber sales.
Does the Virginia Tech service pylon encourage us to reach out and promote environmental stewardship?
I think so. My career has focused on stewardship—recognizing energy and environmental challenges and doing what I can to reach out and explain how our leaders and scientists are tackling far-reaching problems. My role has proven to be challenging and rewarding.
Over the course of 25 years in environmental communications, I've learned many lessons. I recognize the value of and need for regulations. I also recognize that good public relations encourages companies by allowing them to share their positive actions—even those done merely to comply with regulations. I've discovered the vital role that local officials and environmental organizations—and yes, even lobbyists—play in facilitating change.
Perhaps the greatest lesson of all is this: Make sure that you love your work. It really makes a difference.
As an environmental communicator, Stuart V. Price (English '86) has worked with federal agencies, federal contractors, and engineering corporations in Washington, D.C., New Mexico, and New York City, as well as Radford and Lynchburg, Va.