FEATURE
On a Mission
Veterans find a niche at Virginia Tech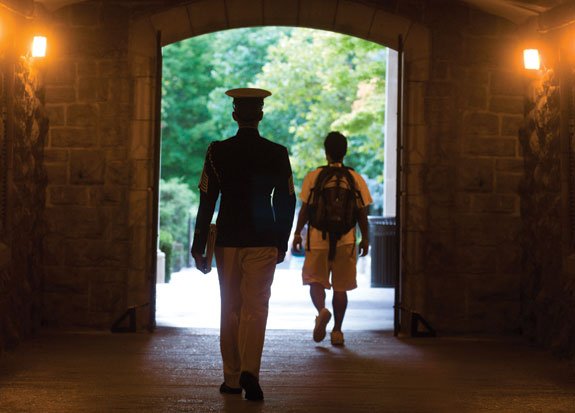 Cadets aren't the only military-minded students on campus. Increasingly, veterans and military personnel are transitioning to college life. Photo by John McCormick.
For some students, large lecture classes may offer a comforting sense of anonymity. For some, however, including Grayson Chretien, the setting can produce anxiety. Chretien, a 29-year-old senior majoring in aerospace engineering, was deployed to Iraq twice as a heavy-equipment operator in the U.S. Marine Corps. "I didn't realize it right away coming back from overseas, but I don't do well in crowded areas. I was failing because I was so uncomfortable in large classes," Chretien said.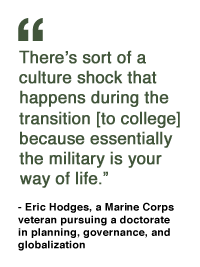 Military service personnel and veterans like Chretien are returning in full force to pursue educational opportunities made possible largely by the Post-9/11 GI Bill. According to a report from Virginia Tech's Veteran and Military Student Support Services—multiple efforts that focus on the higher education needs of veterans and their families at Tech and in Southwest Virginia—there are more than 130,000 veterans in the region alone. Of that population, nearly 200 are students at Virginia Tech, and approximately 600 Tech students—veterans, reservists, Virginia Army National Guard members, and dependents—reported receiving U.S. Department of Veteran Affairs education benefits in fall 2011.
The transition from military service to civilian college life can produce a host of challenges. Eric Hodges, a 33-year-old pursuing a doctorate in planning, governance, and globalization, served in the Marine Corps as an infantry squad leader based in Guantanamo Bay and as a detachment commander at the American Embassies in Beijing, China, and Oslo, Norway. "There's sort of a culture shock that happens during the transition because essentially the military is your way of life … and that's very different from the civilian way of life. And on top of that, there's the adjustment of being at college, so [there are] several big adjustments that you're trying to go through at the same time," said Hodges.
Obvious differences exist between veterans and traditional college students. Though the characteristics of student veterans vary, they are generally older than the average college student and carry experience marked by military service. "When I was in classes, I noticed that I was different from the other students. To some extent, I looked different with short hair and a clean shave, but I also carried myself differently. I don't know if any of them noticed, but I definitely felt isolated. In my mind, I stood out," said Chretien.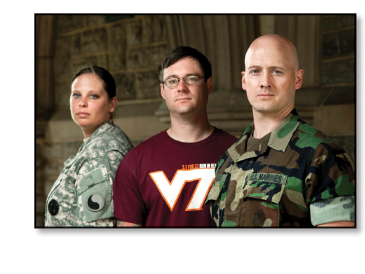 Even in his small cohort of graduate students, Hodges attracted attention. "Being in a lot of the same classes in graduate school, you get to know people, and eventually the military topic comes up. Maybe it was my shaved head that gave me away as being a veteran," he said. In his classes, Hodges came to be known as the "guy who could kill you with his pinky finger." "It was funny at first, but after awhile it gets a little old being stereotyped into that role," Hodges said.
Jadee Ragland, a senior majoring in human development, also found herself having little in common with most students. "I am 24 and married. … My husband and I both work two jobs and are full-time students," Ragland said. She served six years in the Virginia Army National Guard and was deployed to Camp Bondsteel in Kosovo in support of Operation Enduring Freedom. Additionally, "there aren't many female veteran students [on campus], so it is hard to make any connections," Ragland said.
Camaraderie runs deep in military culture, and overcoming the absence of such bonds at a large university is one of the biggest hurdles for student veterans. Veterans @ VT, a registered chapter of Student Veterans of America, was founded to provide veterans support during the transition. Barbara Weimerskirch, assistant director for Learning Assistance Programs with the Center of Academic Enrichment and Excellence, serves as a co-advisor for the group. "Having that sense of camaraderie is important for veterans, so the group has been very helpful in providing that," Weimerskirch said.
"[Veterans @ VT] has made a ton of difference for me," said Chretien. "The group is here to assist with the transition, but the biggest thing is that we've created a social network. … It lets veterans know that they have people to turn to." While Chretien is pleased with the progress the veterans group has achieved to date, he hopes to see stronger collaboration among the university, Veterans Affairs, and student veterans. Navigating through the various entities can delay veterans receiving necessary resources, he said.
Veterans @ VT is currently working on a proposal for an on-campus veterans center that would serve as a comprehensive liaison to all of the university's resources for veterans. Along with social challenges, student veterans may also face questions pertaining to education and health benefits, transfer credits, and services for dependents. "With thousands of troops coming home with educational benefits that can be used by the service members or their spouses or children, there needs to be … a place where veterans could get all the information they need," said Ragland. Veterans could also use the center as a gathering place. Added Chretien, "Having a veterans center is critical. It would make Virginia Tech more veteran-friendly and would help inspire a lot of other veterans to come here."
In January 2012, Gov. Bob McDonnell announced legislative and administrative initiatives to further his campaign to make Virginia the most veteran-friendly state in the nation. Institutions like Virginia Tech are also working to address such issues. Karen Eley Sanders, associate vice president for academic support services, and others in the university community formed Veteran and Military Student Support Services. Additionally, an executive steering committee and eight working groups were created. Comprised of student and faculty and staff veterans and members from academic affairs, the working groups are examining veteran support and outreach issues in the areas of academic credit transfer; research and data analysis; education and advocacy; coordination of internal and external resources; women veterans, spouses, and dependents; veteran mentors; website maintenance; and legislative issues.
"The good news is [that] Virginia Tech is ahead of many institutions as it relates to entry support services for veterans. We have identified a point person in many offices, including financial aid, the registrar's office, and counseling services, who can address veteran issues," said Sanders. Additionally, www.veterans.vt.edu was launched to provide information on university and community resources to veterans. The Office of Veterans Services helps students obtain U.S. Department of Veterans Affairs educational benefits. "There's definitely still a lot more to do, but we've started the conversation and are making progress in addressing our student veterans' needs," said Sanders.
In the summer 2012 new student orientation program, a supplementary transition seminar will be offered to veterans. Chretien is proud of the initiative. "The transition seminar will offer veterans the information they'll need. We'll introduce pertinent people in the university [who] can help and also give veterans a chance to get answers to any questions they might have," he said.
There's a big-picture view that Chretien and others are working to ensure isn't forgotten. In the fall, an academic conference focused on research about veterans' issues will be held at The Inn at Virginia Tech. Said Hodges, "With the conference, we're trying to make Virginia Tech a leader in veteran issues. A lot of the research you hear about veterans now is [post-traumatic stress disorder]-related; we want to shift that focus to the broader picture, to the good things that veterans can bring to communities."
Rommelyn Conde (communication '07, M.A. '12) was a graduate assistant with University Relations. Juliet Crichton, an editor with University Relations' marketing and publications unit, contributed to this story.