ALUMNI SHORTS
Into The Wild: Alumnus offers survival tips
by Sarah Fitzgerald
It's not often that patients come into physician Jeff Livermon's (biological sciences '74) family practice in Winchester, Va., with a case of frostbite, altitude sickness, or snakebite. But if those unlikely events ever occur, a little bit of help from Livermon would be just what the doctor ordered.
Recently named a fellow of the Academy of Wilderness Medicine, Livermon has looked beyond the horizons of traditional medicine, taking on adventures as near as the Blue Ridge Mountains and as far as Mt. Kilimanjaro. He said being able to serve in hostile and challenging environments has instilled a sense of confidence and a chance for him to "pay it forward."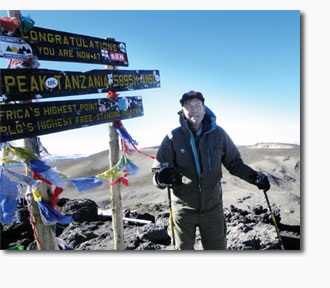 "It's about combining your profession with your passion," said Livermon.
For each and every step of the journey, Livermon recommends extensive preparation and planning in order to instill that same confidence.
"Step back and say, "Is this something I'm really ready for? Am I prepared, am I trained?" said Livermon. "Make sure you have enough time to complete the necessary training to be prepared."
Ready yourself for your next expedition with Livermon's tips for wilderness survival.
1. Know your limits
Don't push yourself and don't let your judgment be clouded. Listen to your body; know what it's saying to you. In your training, you'll discover your physical and mental limitations. When it comes to equipment, try to backpack with no more than 20 percent of your body weight. Divide up supplies among the group so that everyone is carrying the same amount. Try out the equipment, and start looking at what you really need and what you don't need.
2. Plan for Plan B
Try to anticipate what conditions you might run into along the way, and plan for alternative measures that you'll take if anything goes wrong. On a recent overnight hike with Boy Scouts, a storm came through on the mountain, and temperatures dropped suddenly. Half of the group ended up with frozen clothes and hadn't packed any dry clothing. They learned the hard way. You can never plan for all of the possible scenarios that can confront you, but understanding and thinking in advance will better prepare you for obstacles.
3. Customize your first-aid kit
Tailor your first-aid kit according to your needs and the conditions you'll be subjected to—the terrain you'll be traversing and the time of year you are traveling. You can really be fooled and be confronted with situations where your kit does not provide what it needs or you have too much of what you don't need. You'll definitely want to remember bandages of various sizes, antibiotic ointment, antiseptic swabs, insect repellent, Benadryl, moleskin for blisters, Tylenol or Aleve, a basic utility knife with a pair of scissors, and tweezers. Beyond the basics, never underestimate the power of duct tape and trash bags. Poke your head and arms through a 30-gallon trash bag, and bingo—you have a makeshift rain poncho. Divide the first-aid kit among the group to evenly spread the weight of the supplies.
4. Prepare your body and mind
When training for Mt. Kilimanjaro, I had a guide service send me a number of suggested exercises. I scheduled time with a trainer and had him evaluate my abilities and lay out a course of training to complete in the allotted time. After the initial consultation, I ran with the training on my own and consulted with him from time to time. Train for endurance, not for strength. When preparing yourself physically, you will gain mental confidence to your ability as you progress and gain greater strength and agility.
5. Map it out
Make a plan for your trip, and don't deviate from it. Be sure to let family and friends know where you're going and your expected location at approximate times, so that if you don't show up or are delayed, they will know your route and can send search and rescue. It's also important that your group is all on the same page about where you're going. Many wilderness hot spots are black holes for cell phone signal, so you won't always be able to call for help when a problem arises. If you must deviate from the plan for an emergency, there are methods you can use if you don't have cell service to let people know where you're going, such as flagging trees in your path.
6. Keep your cool
If you're prepared—with all of the necessary gear, and you know the gear, and you know yourself—there's no need to panic. Be sure to keep a positive mental attitude in the face of adversity. Your training helps you to gain confidence and through it you feel more comfortable with the journey at hand. Partner with others who have experience and skills they can contribute.
7. Hit the books
Get to know your trip inside and out—the trek, the terrain, the climate. Be sure to research where you are headed so you will know what to expect. Call up a ranger in the area. Ask him what the conditions are and about the last time people went through the trails. Check out guidebooks, and take note of important information. If you're going to an area where the extremes are great, you'll likely need some type of experienced guide service to lead you. Google's an amazing tool for gaining knowledge about the trip ahead of you. There are plenty of resources available—you just need to be aware of them.
Sarah Fitzgerald, a junior majoring in communication and English, was an intern with Virginia Tech Magazine.
---
James F. Boone '37
James F. Boone (business administration '37) was the Virginia Tech treasurer from 1952 to 1982. Approaching his 97th birthday in late July, Boone has plenty of stories to tell—and he did just that, speaking to his granddaughter, Tiffany Boone Pruden, a graphic designer with the university's marketing and publications unit.
"That's where I learned about rats. I was a dadgum rat." – On arriving in Blackburg in the fall of 1933 and entering a room full of seniors, playing poker and drinking.
"They'd bat you two balls. Hopefully you caught the first one so that you could get the second one." – On tryouts for the baseball team.
"I got up enough nerve to ask, 'What was the problem with my playing?' The guy said, 'You threw sideways. You didn't throw overhand.'" – On not making the team.
After graduating, Boone moved back to his hometown, Ivor, Va., and took a bank job. Martha, who he would marry in 1944, worked across the street in a hardware store. In the early 1940s, some prominent residents decided to elect Boone, in his late 20's, to be mayor.
"Well, that's a crock. I don't know that anybody's going to write me in." – Responding to the idea ... and then he won, 18 to 17.
"I had to suck it up. I was the big man. I couldn't ask someone else to do it." – On being a brand-new mayor who had to dabble in law enforcement and retrieve a pistol that disappeared from a domestic incident.
"His shirt was open, down to his belly. Sticking out of that opening was the handle of you-know-what. 'What did you do with that gun?' He says, 'Oh, I don't know.' 'What is that that's sticking out of your belt?'"
"Lord, he looks like a Christmas tree." – On viewing the spring edition's story on cadet uniforms.
"Everybody was looking at [the cadets]—and still do. The civilians never do get a chance to parade around. They just raise hell. They did it then, too." – On the "eye-catching" nature of the cadets, then and now.
"Once I got this [wedding band], it was more important to wear this little skinny thing." – On the class ring he bought for $30, and still has.
"We paid the big sum of $60 a month to live on the lower floor." – On the Woolwine House on the Duck Pond, which Boone secured for the family's lodging when he was hired as the treasurer.
"There weren't any electric typewriters. Everything was sort of pencil-like." – On his early years in the Burruss Hall treasurer's office.
"I walked across that Drillfield with thousands of dollars—in a paper bag so it wouldn't be noticeable." – On student registration in War Memorial Hall.
"We collected it, but we had to put it in the dang bank." – On his children being teased that their dad, the treasurer, must have a lot of money.
"There were no seats. You sat on that durn cement. We didn't have hundreds of thousands of people then." – On his long-time love for Hokie football.
"Those three kids we had rode the sidewalk from the road up to Burruss Hall on their tricycles." – On his favorite campus memory of Janice, Diana, and Jim.
"He called his wife 'Mike' in the movie. I told [Martha], 'You're going to be my 'Mike.' – On why he always called his wife "Mike," after they saw a film about legendary Notre Dame football coach Knute Rockne.
"That's probably what I should've called her instead of Mike." – On Martha's "Ipana" smile, referring to a female model in the era's Ipana toothpaste advertisements.
"Sometimes guys would say, 'That's a good-looking gal.' And I'd say, I know that!' Every man I ever knew liked that woman." – On Martha, who worked for 17 years in the Donaldson Brown building.
"If Martha was out, he's whistling at her, and make her so mad. He has a little devil in him. He's German, you know." – On an administrator we won't name.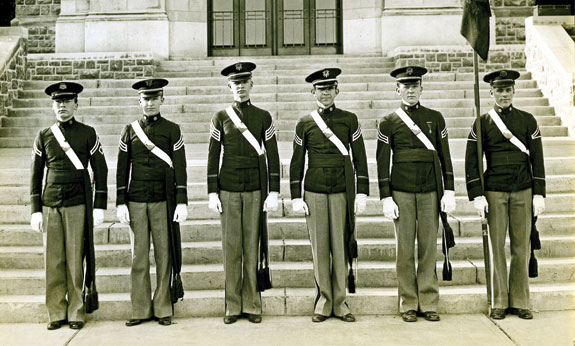 James F. Boone '37, shown second from the left, in a 1937-38 photo.