FEATURE
Hokie Spirit
License plate programs bolster pride
In eight states nationwide, alumni don't have to settle on a bumper sticker to proclaim their Hokie Spirit.
Virginia Tech license plates are available in Delaware, Maryland, North Carolina, Pennsylvania, Tennessee, Texas, Virginia, and West Virginia, where local Alumni Association chapters often use the specialty plates to raise money for scholarships for current students from their areas.
The Texas plates are the newest of the bunch; the program launched in March. Skip Lemanski (geophysics '79) was quick to sign up. "I was anxious to really show some Hokie pride. I knew I wanted something to reflect my training and profession," Lemanski said. "The challenge was having only six characters available on the plate. Enter my wife, Barbara Vanderhoof Lemanski (marketing '79), the creative one. She ... [morphed] 'geophysics' into 'GEOFZ6,' [to go] along with a Hokie maroon car."
The Texas-based Virginia Tech alumni chapters earn 10 percent from each plate sale, and the chapters share the revenue equally and offer scholarship support to Virginia Tech students from their areas. "This is a great sustainable fundraiser for us," said Christine Bryan (computer science '87), the San Antonio chapter's programs and events chair who organized the program. "One of the projects that this money goes to is a Texas Hokie Scholarship for Texas students who go to Virginia Tech."
Alumnus Skip Lemanski's Hokie ride
The Texas chapters provided the state with a deposit, which will be refunded when 500 plate applications are received. Bryan and others worked to design the plates, with one challenge unique to Texas: "We went through six iterations of the plate to make sure it was identifiable as a Virginia Tech plate because the University of Texas has an orange similar to ours, and Texas A&M has the maroon," Bryan said.
In states where the plates are available, the Virginia Tech Alumni Association assists the chapters by publicizing the license plates statewide. "Our alumni proudly display their pride for Virginia Tech with their license plates and other window decals and magnets," said Vice President for Alumni Relations Tom Tillar (biological sciences '69, M.A. student personnel services '73, Ph.D. student personnel services '78). "These are great opportunities to display Hokie pride and help our students."
Not surprisingly, Hokie plates in the Commonwealth of Virginia have been around the longest. In 1990, sales of the relatively new plates were slow—until new legislation out of Richmond allowed colleges to receive revenue from the plates. Larry Hincker (M.B.A. '94), associate vice president for University Relations at Virginia Tech, hired Matthew Winston Jr. (marketing management '90) as a public relations specialist, and a portion of Winston's job was dedicated to marketing the program to alumni in the commonwealth.
"It was an awareness campaign," said Winston, now the president of the Alumni Association Board of Directors. "We used what would have then been traditional outlets for advertising. We put ads in the Collegiate Times, the alumni magazine, and the faculty and staff newspaper. The individual colleges also let us place ads in their individual alumni magazines."
Once word got out, sales began to pick up. "[The plates] really weren't hard to sell because we were promoting school spirit and promoting the opportunity to raise money for student scholarships, and that really tugged on the heart strings of Hokies," Winston said.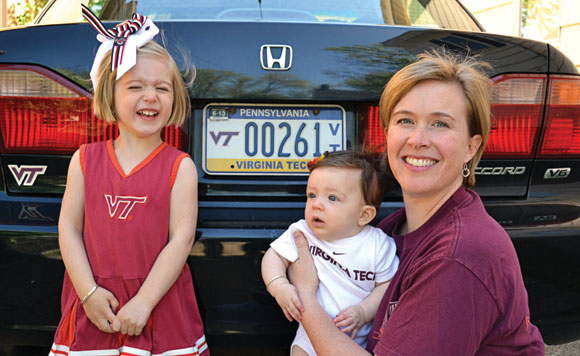 Stephanie Keppich '95 with 4-year-old Laura and 4-month-old Mila
The university receives $15 of the $25 fee for each Virginia plate. Plate by plate, those scholarship dollars add up. In fiscal year 2012 alone, the state deposited $269,880 in a general scholarship fund for Virginia Tech, according to the Virginia Department of Motor Vehicles (DMV). Since fiscal year 2000, $2.63 million in revenue has been disbursed to Tech.
In particular, license plate revenue benefits students through the University Honors program and the Presidential Campus Enrichment Grant, said Stephanie Clements, associate director for processing in the Financial Aid office. (The grant seeks to broaden multicultural experiences on campus by attracting students from diverse backgrounds.)
More than scholarship funding is at stake: bragging rights. As of June 30, 2012, the three varieties of Virginia Tech plates numbered 18,072, claiming the top three spots in a list of top 10 collegiate plates in Virginia—and totaling more than the next seven schools in the list combined, according to the DMV.
The process for launching a plate program differs by state, as does the design process and financing. Chapters have flexibility in how they use the plates to raise money. In Texas, Pennsylvania, and Delaware, the chapters held auctions. Pennsylvania auctioned off the first 100 plates, while Delaware held three auctions because of the premium placed on plates with low numbers, such as "VT001."
In Pennsylvania, the alumni chapters earmark $21 from each plate sale for a scholarship fund. For some time, however, the program was on hold. "The initial program had never taken off, because you needed to pay a huge up front fee and have 300 applications, which, though we have a lot of alumni in Pennsylvania, [proved] difficult," said Brendan Sherry (management science and information technology '00), who coordinates the program for Pennsylvania chapters, working with Pittsburgh alumni chapter treasurer Molly Jelovich (industrial and systems engineering '95), who sends proceeds to the university for scholarship disbursement. "In 2007, Pennsylvania changed that rule; you now had to pay a smaller upfront fee, plus a small fee for each plate individually, with no minimum number of applications," said Sherry.
In Delaware, the First State alumni chapter selected the university's shield as imagery for its plates, said Howard Sholl (political science '66, M.A. history '69), who processes applications from alumni. About 100 Hokie plates roam the roads of Delaware, and each sale raises $40 for the scholarship fund.
Emily Goodrich, a rising junior English major, was an intern with Virginia Tech Magazine.