FEATURE
Data-driven Visionary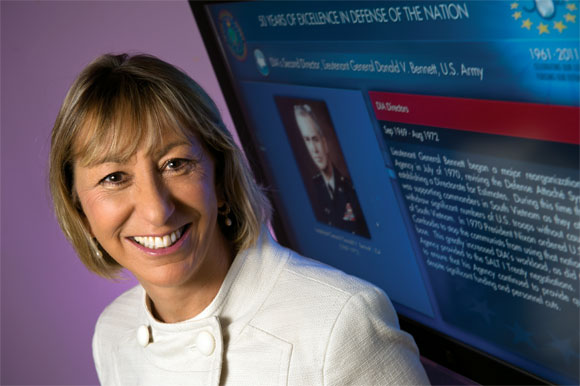 Blacksburg entrepreneur Mary Miller '72, '85, '96 considers a number of other regional entrepreneurs to be her heroes and says the region is poised for further expansion.
Tucked in a quiet office complex across the road from a field of grazing cattle, the offices of Interactive Design and Development (IDD) Inc. look out onto the rolling hills of Southwest Virginia. The inspiring backdrop, along with a location just a stone's throw from the brain power of Virginia Tech, satisfies Mary Guy Miller, the company's founder and president.
"We're in a very exciting time in Blacksburg," said Miller (elementary education '72, M.I.S. information systems '85, Ph.D. curriculum and instruction '96), who runs the full-service digital agency that focuses primarily on creating complex Web interfaces and marketing strategies to promote them.
Chris Shively (aerospace engineering '93, M.S. '95), director of development for IDD Inc., elaborated on Miller's sentiment. "Blacksburg has always been such a connected community in terms of technology. There's been a lot of opportunity in that sector," he said.
Alongside the technological edge, the community's quality of life drew praise from Miller and Shively. They know what an increasing number of entrepreneurs and investors are realizing: The New River and Roanoke valleys are ideally suited for both startups and established businesses considering relocation.
A former Extension specialist turned entrepreneur, Miller is well-positioned for her work—using ever-evolving technologies to share information with the people who need it most. "I wanted technology to be the great leveler," said Miller. "I wanted to close the gap between the haves and the have-nots."
IDD Inc.'s clients have included Dole Food Co., the Library of Congress, the American Federation of Teachers, the Defense Intelligence Agency, and a host of small businesses and startups. Stretching the company's reach to international proportions, IDD recently announced its work with a German hotel software company, Hetras.
Miller, who got her start with laser discs in the early '90s, has steered the company through a sea of advances and innovations in technology. The Internet wasn't yet a cultural mainstay when the company was founded in 1991. IDD has moved from laser discs to CD-ROMs to the Web, from analog to digital. Its products include Intelligen, a content and Web-experience management system; digital marketing and media services; and touch-screen kiosks. The projects that the team undertakes are often data-driven in nature.
Despite the industry's changes, the company's commitment to quality has remained constant. "My goal is always to have [clients] say they got more than they paid for. We want to provide a great value. We want to give you our best advice. We want to help you succeed in the long run. ... Our client's success is really our success."
In the workplace, Miller genuinely wants each member of her team to put his or her best foot forward. "For me, [my dream] is creating an environment for people to create and contribute. ... I say to people, 'When you come to work [for me], you're vested. Speak your mind from day one.'" Miller believes that providing a good working environment for employees is an essential ingredient in a successful small business.
Part of cultivating a community of startups and innovation is the role of mentors. Miller, who has herself benefited from such guidance, takes mentoring seriously. "I've always had great mentors—and that's why I have a hard time saying no to people who call me up for guidance." Miller quoted from a plaque she once saw on a client's wall: "We have all been warmed by fires we did not build, and we've all drunk from wells we did not dig."
Aside from her role at IDD Inc., Miller is also active in the community, including serving as former president of the Roanoke Blacksburg Technology Council (RBTC). "Sometimes, it's time to dig a well. My work with RBTC is part of that." For her contributions to the industry, the university, and the community, Miller was chosen to receive the 2013 College of Engineering Distinguished Alumna Award, and she spoke at the College of Engineering's spring 2013 commencement.
Jay Foster (electrical engineering '87, M.B.A. '97), president of Roanoke, Va.-based IT firm SoftSolutions Inc., first met Miller through the RBTC 12 years ago. "Mary is one of these people who is willing to share and help other people grow their business. Mary is one of the best examples of why [the region is] such a great place to be," he said.
"We are a technology community encircling a university community, and it's just the best of both worlds," Miller said. "I love this place. I know it's going to grow."