RESEARCH
CONTENTS
Making waste water good enough to drink
Computer parts may live again
Independent workers make happiest retirees

Making waste water good enough to drink
Astronauts working in space stations will have to rely on recycled urine and waste water for drinking and other needs. The recycled water must be pure as well as appealing to the senses. A Virginia Tech specialist in environmental chemistry is working on how to accomplish this.
Andrea Dietrich of the civil engineering department spent last summer at the Johnson Space Center working with NASA to evaluate the chemical composition and odor of recycled water. She was one of two visiting scientists in space life sciences selected after a nationwide search.
Taking water into space is not practical. It costs about $5,000 a pound to take an object into space, so a gallon of water would cost $43,500 to transport.
Dietrich says it will be fairly easy to remove the large molecules like salts and detergents from the astronauts' urine and the space station's wash water. The challenge to producing good drinking water comes with trying to eliminate the small, water-soluble organic molecules that have only a few atoms.
You can e-mail Dietrich at andread@vt.edu.
Back to Contents

Computer parts may live again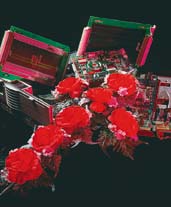 Thanks to research by Virginia Tech wood scientists and chemists, outdated printed computer circuit boards (PCBs) and other computer components can soon be recycled rather than dumped in a landfill.
The researchers have developed a PCB called a "Green Card" that contains no solvents, reduces energy requirements, and uses resins derived from natural renewable resources. These boards are engineered to be disassembled, reused and/or recycled.
When IBM began looking for more environmentally sensitive substitutes for computer materials, they asked Virginia Tech researchers to develop a good substitute for the plastic board currently used. Chemists and wood scientists produced a resin that contains lignin, a complex polymer that acts as a natural glue by tying together cellulose fibers in trees. Lignin is produced in pulp mills as a byproduct of paper production.
Thermal and electrical performance of the epoxy resin PCBs is equal to or better than current boards. The new boards cost less to produce, reduce dependence on fossil fuels, and reduce waste from papermills.
Virginia Tech researchers include Wolfgang Glasser, associate dean in the College of Forestry and Wildlife Resources; Jim McGrath, director of the Center on High Performance Polymeric Adhesives and Composites; and chemistry professor Thomas Ward; and their staffs.
You can e-mail Glasser, wglasser@vt.edu; McGrath, jmcgrath@chemserver.chem.vt.edu; or Ward, tward@chemserver.chem.vt.edu.
Back to Contents

Independent workers make happiest retirees
Virginia Tech sociology professor Toni Calasanti says "baloney" to the stereotype of retirees as unhappy and infirm, hanging out at the mall for lack of anything better to do.
Calasanti has found "everybody is happy to be retired," though not all are satisfied with the quality of their lives -- their health, wealth, and other factors. Her study of more than 700 U.S. retirees shows that most are active and happy, particularly those who were fairly autonomous in their previous jobs. "These people tend to view themselves as being very capable, and they find satisfying things to do after retirement, often using skills they learned on the job," she says.
People who have worked at jobs requiring no thought or creativity, such as production-line work, look to social relationships for satisfaction in retirement. They may find it difficult to find ways to be productive and may depend on family and friends to bolster their self-esteem.
Calasanti also found that retired women continue to perform the bulk of domestic labor in most households. For women, part of the freedom of retirement is the chance to do only one job (household tasks) and to do it on their own schedule.
Calasanti's e-mail address is toni@vt.edu.
Home | News | Features | Research | Philanthropy | President's Message | Athletics | Alumni | Classnotes | Editor's Page