ATHLETICS
CONTENTS
Hokies hoping to work more magic on football field
Druckenmiller drafted by 49ers
Henrickson named women's cage coach
Alumni in professional sports


by Jack Williams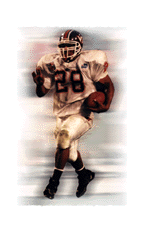 Virginia Tech, home of some of college football's most surprising teams of the 1990s, hopes to work more magic in 1997 with a new quarterback and other new warriors in the lineup.
Coach Frank Beamer's Hokies have won 20 of their last 22 games, sweeping one Big East Conference championship outright and tying for another, and have played in the Alliance Bowl two years in a row. Tech beat Texas, 28-10, in the Nokia Sugar Bowl in 1995 and lost to Nebraska, 41-21, in last season's FedEx Orange Bowl.
Many key players have graduated -- seven offensive starters, including quarterback Jim Druckenmiller and All-America center Billy Conaty, and six starters on defense, headed by All-America end Cornell Brown.
"We are very young on defense, but have good athletes," says Beamer, Big East Coach of the Year the past two seasons. "Offensively, it's important to be solid down the middle."
Al Clark, a redshirt junior from Washington, D.C., won the quarterback job in the spring. As Druckenmiller's chief backup last year, he didn't see much play. He combines good passing skills with outstanding running and is exceptionally strong. He recently broke Druckenmiller's squat record in the Super Iron Hokie weight room competition.
The No. 2 job at quarterback likely will go to redshirt freshman Dave Meyer of Ramsey, N.J. Todd Washington, a starter last year at guard, moves to center. Backing him up will be Keith Short, moved from defensive tackle.
There will be three all-star candidates in the Tech backfield: tailback Ken Oxendine, Tech's Most Valuable Player in the Orange Bowl last season; fullback Marcus Parker; and flanker Shawn Scales.
Backing up Oxendine will be Shyrone Stith, who filled in early last year when Oxendine was injured and wound up with 474 yards and five touchdowns, and Lamont Peques, a transfer from Clemson.
Michael Stuewe is back to lead the way at split end. Also slated for a lot of playing time is redshirt freshman Corey Bird.
Derek Smith at tackle and Gennaro DiNapoli at guard are solid all-star candidates. Coaches have high hopes that guard Dwight Vick and tackle William Flowers, backups last season, will move to the starting unit Flowers missed spring practice with an injured knee.
The returning defensive starters are end John Engelberger, tackle Kerwin Hairston, cornerback Loren Johnson, rover Pierson Prioleau and linebacker Steve Tate (six starts).
Engelberger was a walk-on whose hard work has earned him a scholarship. He had 64 tackles, including six quarterback sacks, in 1996.
The probable starter at the other end will be Danny Wheel, who had considerable playing time in 1996, recording 51 tackles.
Other end candidates are holdover Chris Cyrus, who was hurt much of last season; redshirt sophomore Jason Buckland; redshirt freshman Robert Adams; and two transfers, Corey Moore and Ryan Smith. Smith's whose father Lenny played on the same Tech football teams with Coach Beamer in the 1960s.
Opposite Hairston at tackle likely will be either redshirt sophomore Nat Williams or Carl Bradley.
Another possible starter at linebacker is Korey Irby, a redshirt senior who was injured in the spring. A linebacker post could go to Jamel Smith, who was a backup and outstanding special teams player in 1996.
The best bet at free safety is Keion Carpenter, whose 100-yard return of an intercepted pass sewed up Tech's victory over Miami of Florida.
Beamer believes Tech has the two best kickers in school history, placekicker Shayne Graham, who made All-Big East as a freshman last season and punter/placekicker Jimmy Kibble. Graham was 10-for-16 in field goal attempts last season while Kibble punted 32 times for a 37.3 average.
Jack Williams is director of sports information.
Quarterback Jim Druckenmiller, who guided Virginia Tech to a new pinnacle of football success the past two seasons, was picked by the San Francisco 49ers in the first round of the National Football League draft April 20. Druckenmiller was the 26th player selected.
Most experts expect Druckenmiller is headed for pro stardom. He will play this season behind 35-year-old Steve Young. Druckenmiller should get a shot at the No. 1 job in two or three seasons.
Druckenmiller led Tech to two consecutive 10-2 seasons. The 1995 team beat Texas in the Sugar Bowl with Druckenmiller leading the way. The 1996 Hokies lost to Nebraska in the Orange Bowl.
by Jack Williams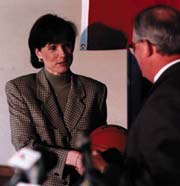 Bonnie Henrickson, who hit the jackpot with championship teams as a top assistant at Virginia Tech and Iowa, is the Hokies' new head coach of women's basketball.
Dave Braine, director of athletics, said Henrickson has been given a four-year contract at $85,000 a year with incentive payments for postseason play and a guaranteed 5-percent raise each year. Henrickson will succeed her former boss, Carol Alfano, whose contract was not renewed after she posted an overall record of 278-262 in 19 years at the Hokie helm.
Henrickson, 34, was an assistant at Tech from 1988 through 1995 and was associate head coach her last two years. She helped recruit two of the university's biggest stars, Christi Osborne and Jenny Root, who helped Tech post three straight 20-plus win seasons.
During Henrickson's time on the bench the Hokies won the Metro Conference Tournament championship in 1993-94, posting a 24-6 record, and then captured the league's regular season title the next year with an overall record of 22-9. The Hokies advanced to the NCAA Tournament both seasons.
Henrickson then joined the staff of Angie Lee at Iowa, and the Hawkeyes worked magic the next two seasons. Iowa posted a 27-4 record in 1995-96, won the Big Ten regular season championship and advanced to the NCAA's Sweet 16. Last season, the Hawkeyes were 18-12, upset Illinois for the Big Ten Tournament title and again went to the NCAA Tournament.
Braine says Henrickson faces immediate pressure. "Tech had an outstanding recruiting year and returns some highly-talented players," he says. "A lot is expected. I have confidence Bonnie will meet the challenge."
A native of Willmar, Minn., Henrickson received an undergraduate degree in physical education from Saint Cloud State University, where she was a star player and helped her team to three straight quarterfinal appearances in the NCAA Division II National Tournament. She also holds an M.S. in physical education from Western Illinois.
John Burke, New England Patriots
Tyronne Drakeford, San Francisco 49ers
Antonio Freeman, Green Bay Packers
Mike Johnson, Green Bay Packers
Vaughn Hebron, Denver Broncos
Jim Pyne, Tampa Bay Buccaneers
Bruce Smith, Buffalo Bills
Bryan Still, San Diego Chargers
Antonio Banks, Minnesota Vikings
Cornell Brown, Baltimore Ravens
Bill Conaty, Buffalo Bills
Jim Druckenmiller, San Francisco 49ers
Torrian Gray, Minnesota Vikings
Jay Hagood, N.Y. Jets
Waverly Jackson, Carolina Panthers
Bryan Jennings, Houston Oilers
Myron Newsome, Carolina Panthers
T.J. Washington, Dallas Cowboys
Ken Brown, Denver Broncos
Don Strock, quarterbacks coach, Baltimore Ravens
Home | University News | Features | Research | Philanthropy | President's Message | Athletics | Alumni | Classnotes | Editor's Page