A MESSAGE FROM THE PRESIDENT
Virginia's system of public higher education is held in high esteem across the nation. Five of Virginia's public universities rank among U.S. News best colleges and Money magazine's best buys. Three public universities are among the National Science Foundation's top 100 research universities. Include your alma mater in all of above.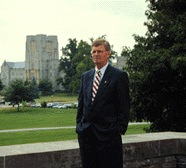 The University of Virginia is the top ranked public school in the nation. James Madison and Mary Washington consistently rank among the best regional universities. William and Mary, along with UVA, is essentially a public Ivy. Our urban institutions--Old Dominion, George Mason, and Virginia Commonwealth--brilliantly responded to local needs and now extend their influence across the commonwealth. Here in Blacksburg, Virginia Tech has become the state's leading research university, while remaining committed to undergraduate instruction. We have expanded our historic land-grant, outreach mission to include economic development activities. And recently, we achieved national distinction in our pioneering efforts in information and instructional technology.
In many eastern states, the premier institutions are private. Consider Massachusetts with MIT and Harvard. But in Virginia, it is the public institutions that are held in high regard. Indeed, surging out-of-state applications for Virginia public colleges reflect the desire of families in the Mid-Atlantic region and beyond to achieve high educational value for the dollar.
Virginia ranks in the bottom 20 percent of the states in terms of per student funding, so perhaps money may not be the key factor in the pursuit of educational distinction. (Our relatively high tuition is a function of low state funding, which, of course, holds down taxes.) Based on this comparatively low funding for higher education, our universities produce excellent value.
Public policy has been a contributing factor in the pursuit of this excellence. A board of visitors appointed by the governor guides each university. Each university, in turn, has been permitted to thrive within an entrepreneurial environment that encouraged presidents such as T. Marshall Hahn at Virginia Tech, Ron Carrier at James Madison, and George Johnson at George Mason to chart a course that extends their institution's capabilities to best serve the citizens of the Commonwealth.
The higher education coordinating body, the State Council of Higher Education for Virginia, has performed remarkably well over the years, offering guidance and fulfilling a coordinating, but not controlling role. Individual universities are hardly untethered; the state maintains strong controls on all aspects of university operations. But in large part, colleges and universities have been free to respond to student, community, and business needs. Individual institutions have been able to set goals, such as Virginia Tech has with its strong commitment to information and instructional technology. Tech made the decision to chart a course for economic development, and its success is seen in the Corporate Research Center, the Smart Highway, and other projects across Virginia. Both former Gov. George Allen and Gov. Jim Gilmore recognize Tech's contribution to the creation of jobs for our citizens.
Virginia has some top quality nationally ranked colleges with minimal state investment; that's quite an achievement. The exact formula for this winning combination may not be quantified but it would certainly include an enlightened state leadership over many decades, the institution's ability to independently seek educational excellence, and a unique collection of diverse colleges with strong leadership.
For certain, every university president favors increased funding in order to reduce tuition. The retention of key faculty is now of paramount concern, and we will work with the legislature and governor to achieve the necessary level of funding. While not perfect, our system is the envy of the nation. As alumni, I hope that you share in this pride. You should! You helped make Virginia Tech among the best educational values this nation has to offer--we intend to keep it that way.

Home | News | Features | Research | Philanthropy | President's Message | Athletics | Alumni | Classnotes | Editor's Page