Scientist serves EPA to integrate health, environment, law

The U.S. Environmental Protection Agency (EPA) recently asked Ronald J. Kendall (fisheries and wildlife '80 Ph.D.) to serve a second year as chair of its Scientific Advisory Panel (SAP). Kendall is director of The Institute of Environmental and Human Health (TIEHH) and head of the graduate department of environmental toxicology at Texas Tech University.
The SAP provides the scientific analysis and interpretation behind EPA's regulatory decisions. The panel's role is particularly important as the EPA implements the Food Quality Protection Act and the Federal Insecticide, Fungicide, and Rodenticide Act. Increased concerns for children exposed to pesticides and chemicals, for example, have necessitated new environmental policies and new ways of evaluating the effects of chemicals on the human endocrine system. "This is an extremely important, entirely new area of science, with enormous importance for health and quality of life," Kendall explained.
Kendall enjoys the ability to practice cutting-edge science. "I'm constantly receiving state-of-the-art scientific questions to address, and I have the opportunity to work with the best scientists in not only the nation, but around the world," he said. "It has been very scientifically fulfilling."
After more than a decade of consulting for SAP, Kendall also recently became a permanent member. Permanent members serve four-year terms, and only seven are chosen from several hundred consultants.
Customer service pays off for New Jersey alumnus
Michael Michalowicz (finance '93) received the Young Entrepreneur Award for the state of New Jersey from the National Small Business Association in recognition of his firm's tremendous growth and profitability. Michalowicz and his partner have built their network-integration firm, Olmec Systems (www.olmec.com), from a two-person operation with two clients in 1996 to a 20-person outfit that pulled in over $2 million in revenue this year. The key to their remarkable success? According to Michalowicz, the answer is simple: customer service. "We have a genuine focus on taking care of every aspect of the process for the customerfrom making sure everything that needs to be done is done right the first time to being quick and responsive when problems do arise," Michalowicz said. With over 150 active clients today, the company plans to broaden its service scope and move toward national expansion.
But building his business isn't the only thing on his mind. Stop by Michalowicz's office at the right time and you might find him strumming the blues on the guitar he keeps next to his desk. Or you might see him at a West Virginia game cheering on the Hokies from the stands of the rivals. But you won't find him playing lacrosse. After playing throughout high school and college, he swore off the sport when he left Tech, and he's only slipped once since graduation.
Alumnus fights hunger here and abroad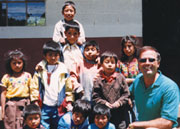 As a board member of World SHARE for seven years, and chair for four, alumnus Ron Powers (economics '69 ) has volunteered countless hours to fight hunger in the U.S. and abroad. Seeing firsthand what it takes to feed the world's hungry has shown him the finite nature of earth's resources. Many would be paralyzed by such a prospect, but Powers, motivated by "a real sense of trying to help," has chosen instead to take action through SHARE.
SHARE (Self Help and Resource Exchanges) is a nonprofit organization that provides food discounts in return for two hours of community service a month. "Community service can mean anything from helping an elderly person to coming to the SHARE warehouse to bag food," explained Powers. "If someone buys a bag of food for $14, they're getting a $30 value because SHARE buys food in bulk." A belief in fostering self-reliance lies at the heart of the SHARE philosophy.
SHARE-USA began in 1983 and operates today through affiliates in 23 states, as well as in Mexico and Guatemala. World SHARE oversees that entire network. International programs include an overseas coffee program to support the Mexican economy, a SHARE pharmacy, and health-monitoring and nutritional programs in Mexico and Guatemala. "We tried different approaches continuously to impact their lives in positive ways, and I think we have," Powers said of the two countries.
World SHARE currently serves over 250,000 families each month, has generated approximately nine million hours of volunteer service, and is entirely supported by the efforts of volunteers like Powers.
World-famous mammal expert dies
Charles Handley Jr. (pre-med '44), a renowned scientist, author, and teacher, died at the age of 75 on June 9.
Handley Jr. developed a love of nature from his father, Charles Overton Handley Sr., Virginia Tech's first professor and director of wildlife conservation. Handley Jr. earned an M.S. and Ph.D. in zoology from the University of Michigan and worked for the Smithsonian Institution for 53 years.
As curator of mammals at the National Museum of Natural History, Handley Jr. was generally regarded as the world's foremost expert on Latin American bats. At the time of his death, he was working on a new book, Handbook of Amazon Bats, which will be published in the future. He also wrote more than 200 scientific publications and two books, including Wild Mammals of Virginia and Mammals of the Smithsonian Venezuela Project.
A pioneer at heart, Handley Jr. traveled the world discovering and analyzing new and existing species. His travels included numerous arctic expeditions, a decade of annual visits to inventory the mammals of Panama, nine expeditions to the islands of Bocas del Toro, and many more. He also took part in a seven-month Harvard University expedition to the Kalahari Desert in 1952 to study stone-age Bushmen. During his career, Handley Jr. won the Smithsonian's Outstanding Performance Award, the Virginia Museum of Natural History Foundation's Thomas Jefferson Medal for outstanding contributions to natural history, and a certificate of appreciation for conservation of endangered species from the Virginia Department of Game and Inland Fisheries.
In honor of his extensive contributions, several species were named for him, including a hummingbird, long-tongued bat, mouse possum, pygmy mouse, and wingless bat fly.
First-Class Reunions keeps competition on its toes
When Kristen Shiveley (communication studies '85) attended her 10-year high school reunion in Vienna, Va., she came away with an idea that sparked her entrepreneurial spirit. Why not start a high school reunion planning company and do a better job than the competition? She founded First-Class Reunions, Inc. in 1996 and set out to improve the industry.

"My mission was to be the best, and within the first two years we became the best and the largest high school reunion planning company in the D.C. Metropolitan area. We have doubled business every year since inception," Shiveley said.
Shiveley insists on providing flexibility and outstanding customer service. From the venue to the promotional pieces, every reunion reflects the individual character of the class. "The day we become a cookie-cutter organization is the day we close our doors," she said. Other perks include an award-winning memory book, creative ice-breakers, and candid digital photos taken during the reunion.
"What has really been rewarding, and what I'm most proud of, is coming into a market and not only meeting the needs of local graduates, but raising the bar with competitors," Shiveley said. "I wanted to come in and make a difference, and I think we've done that." In addition to founding First-Class Reunions, Shiveley is the youngest person ever to attain Certified Association Executive (CAE) designation for association management.
In 1999, Tech's communications department invited Shiveley to speak at commencement. Her speech focused on cultivating "the entrepreneurial push." More information about First-Class Reunions is available through its website at www.fcreunions.com.
Lost class ring makes miraculous return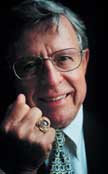 A few months ago, just before returning to campus for his 50-year class reunion, Joe Collie (chemical engineering '50) got an amazing phone call. His class ring, lost in the ocean nearly 20 years ago, had been found by Mike Fuller of Naples, Fla.
"To get a call that somebody found my ring in the oceanit shocked me," Collie said. Collie lost the ring while scuba diving in the Bahamas in water 80-feet deep; Fuller found it in shallower water approximately six miles away. Collie is amazed the ring didn't sink into the soft ocean bottom or disappear into one of the many coral reefs it must have bypassed to reach this location.
Another interesting circumstance is the fact that Fuller found the ring not long after it was lost in the early 80s. When his initial contact with Tech failed to locate an owner, Fuller held onto it for nearly two decades through several moves. Prompted recently to try again, he had better luck this time, but it was still a close call. Everyone incorrectly assumed that the graduation year inscribed on the ring was 1960. It wasn't until someone thought to check the year 1950 that a graduate with initials J.H.C. in Durham, N.C., could be found.
The ring certainly traveled a long way to get back to its owner. Given the many quirks surrounding its eventual return, Collie can only assume that "it was meant to be."
Alumnus wins shot at a million

The friends of Scott Goodman (engineering science and mechanics '95) have a long-standing joke bout his ability to remember the most unlikely details. "I can't remember to pick up milk on the way home, but I can remember a million details about states, governments, and things like that," he explains. He is so good at Trivial Pursuit that his wife won't play against him anymore, though she doesn't mind playing on the same team. And she definitely didn't mind when his trademark penchant for trivia earned him a spot on Who Wants to Be a Millionaire? last spring.
Goodman beat extraordinary odds to win his shot at a million by correctly (and quickly) answering two rounds of call-in questions like "put the following historical figures in order by birth" and "put the following coins in order by country from North to South." Once on the show, luck was with him again when he was asked a $32,000 question about An Officer and a Gentleman, a movie he saw just last year. He won on that question but missed the next (worth $64,000): "If an Englishman weighs 10 stone, how many pounds does he weigh?"
"For awhile I had trouble watching the show because I would see easier $64,000 questions," he admits. But time (and of course $32,000) has eased the disappointment.
A loyal Hokie, Goodman remembered his alma mater during his moments on national television: "They asked how my wife and I met, and I said, 'We met at college at Virginia Tech.' I plugged the Hokies, but due to time constraints, it got edited out."