Class of '53 inducted in the Old Guard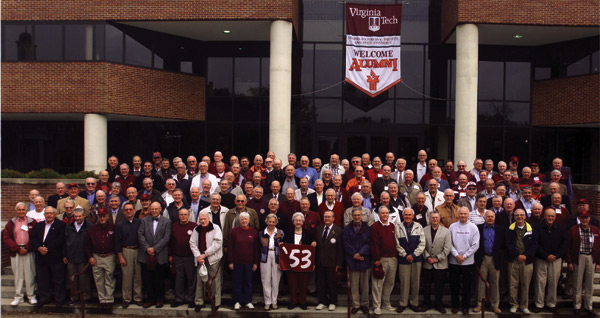 Members of the Class of '53 proudly wore their class year hats and buttons as they celebrated their 50th reunion Oct. 10-11. The class reunion committee included time for alumni to get reacquainted during their activity-filled weekend. Following a memorial service for deceased classmates, class members gathered on the Drillfield for a pass-in-review bythe Virginia Tech Corps of Cadets and a presentation of the '53 Class Scholarship. The scholarship was just one part of a $767,000 gift that the class presented to President Charles Steger at its 50th reunion banquet. Other components of the gift include a contribution to the Virginia Center for Civil War Studies, Hokie Stone biographical markers for most of the central campus buildings, and the gallery space in the new Virginia Tech Alumni and Conference Center, which is currently under construction. More than 300 members of the class and their guests attended the reunion, the largest gathering of the class since it graduated. Complete schedules and registration information; call the Alumni Association at 540/231-6285.
---
Alumni Association Board ballot
The awards and nominations committee of the Alumni Board of Directors has proposed the following nominees to serve from July 2004 through June 2007. Please vote for up to 11 nominees and return the ballot by March 1, 2004. Results will be announced at the Alumni Association's semi-annual board meeting in April 2004.
___ Peter S. Darby '90, Charlestown, Ma., architecture
___ Dwight A. Holland '86, Roanoke, Va., geophysics & industrial and systems engineering
___ Kevin W. Leclaire '95, McLean, Va., economics & industrial and systems engineering
___ Elizabeth L. Leonard '80, Lebanon, Va., agronomy
___ David E. Lowe '63, Newport, Va., business administration
___ Kevin W. Mottley '93, Richmond, Va., political science
___ Coleman G. Rector '86, Manassas, Va., building construction
___ Wayne H. Robinson '80, Greensboro, N.C., finance
___ J. Thomas Ryan '68, Fredericksburg, Va., biology
___ A. Melissa Smarr '00, Vienna, Va., consumer studies and family and child development
___ John C. Watkins '69, Midlothian, Va., horticulture
Write-in Nomination:
_________________________
Signature
_________________________
Return to: Virginia Tech Alumni Association Alumni Hall (0102) Blacksburg, VA 24061
---
Outstanding young alumni awards presented for 2003-04
The Alumni Association congratulates the following individuals chosen as Outstanding Young Alumni for 2003-04, which acknowledges their career achievements, community service, and university service. These alumni represent each of Virginia Tech's eight colleges:
James D. Whitacre '94, Edinburg, Va., agriculture and life sciences
William S. Murray '96, Richmond, Va., architecture and urban studies
James A. Rosenstock III '95, New York, N.Y., business
Angela W. Barrios '93, '96, Hanover, Md., engineering
Adam M. Leslie '98, '99, '00, Blacksburg, Va., liberal arts and human sciences
Kari J. Duncan '94, Vienna, Va., natural resources
Steven K. Lower '01, Hyattsville, Md., science
Jane A.C. Rooney '93, Charleston, W.Va., veterinary medicine
---
Upcoming alumni events
Civil War Weekend - March 12-14, 2004
Hillcrest Reunion Women of Virginia Tech, 1926 through 1974 - March 26-28, 2004
Old Guard Reunion - May 20-21, 2004
Summer Escape 15th Anniversary - June 24-27, 2004