The margin of excellence

by Albert Raboteau

A research building where faculty members from different departments collaborate on discoveries. A scholarship that helps a young man realize his goal of becoming a leader in the U.S. Marines. A proposed new hub for the region's arts community.
What do all of the above have in common? They illustrate the difference that private giving can make at a university like Virginia Tech.
The U.S. Air Force recently announced that Percival Zhang, assistant professor of biological systems engineering, will receive one of its Young Investigator Research Program grants.
President Charles W. Steger has said that private giving provides the critical "margin of excellence" that allows top-tier institutions to stand out in the increasingly competitive field of higher education. On Oct. 20, the university launched the public phase of The Campaign for Virginia Tech: Invent the Future. The $1 billion fundraising goal is four times greater than that set for the university's last campaign, Making a World of Difference, which concluded in 1998.
The 71,000 individuals who participated in Making a World of Difference allowed it to exceed its $250 million goal by a considerable margin--$337 million was raised. As a result of that campaign, 922 new endowments were created for scholarships, professorships, and programs. Although that is an impressive figure, the real story of what that campaign did--and what The Campaign for Virginia Tech: Invent the Future is already doing--goes beyond the numbers.
The campaign's success lies in the accomplishments of such people as Percival Zhang, assistant professor of biological systems engineering, who has made the most of his laboratory space in Latham Hall. The hall was named in honor of William and Elizabeth Latham, members of the National Campaign Steering Committee, whose longstanding support of the university includes a $5 million gift to support research in the College of Agriculture and Life Sciences (CALS).
The U.S. Air Force recently announced that Zhang, a CALS faculty member, will receive one of its Young Investigator Research Program grants. The grant will further Zhang's work to convert plant sugars to hydrogen, a step toward more efficient, cleaner-burning engines that run on plant matter instead of fossil fuels.
Zhang, who shared lab space before room in Latham Hall became available to him, notes that the new facility has "made a difference for me."
Craig Nessler, CALS associate dean for research, says that Latham Hall has become a gathering place where faculty members from different departments are discovering how their individual research interests can complement the work of colleagues.
"We have the ability to share equipment," Nessler adds. "We have the ability to share ideas, and we have the ability for our students to interact with a variety of faculty."
University officials, who want all research deans to be able to say the same thing, have set a $130 million fundraising target that will improve research infrastructure by providing new equipment and buildings and the means to make renovations to existing structures. At the same time, a $182 million goal has been set for increasing academic excellence at the university by boosting the number of faculty chairs and fellowships, named professorships, and graduate fellowships. Such positions help the university to both attract and retain the most talented researchers and teachers.
Andrew Archut (history '07) is another example of the impact of private giving on the university. The Virginia Tech Corps of Cadets Emerging Leaders Scholarship recipient, who graduated magna cum laude from the university and with honors from the U.S. Marine Corps' Officer Candidates School, plans to put his considerable talents to use as an intelligence officer specializing in Middle Eastern and Arabic affairs. An Ashburn, Va., native, Archut was recognized as Virginia Tech's Undergraduate Leader of the Year for 2007. He has been commissioned as a second lieutenant.
"I strive to lead by example because as a leader, everything I do or say--or fail to do or say--will set the tone for this regiment," Archut once noted as a cadet.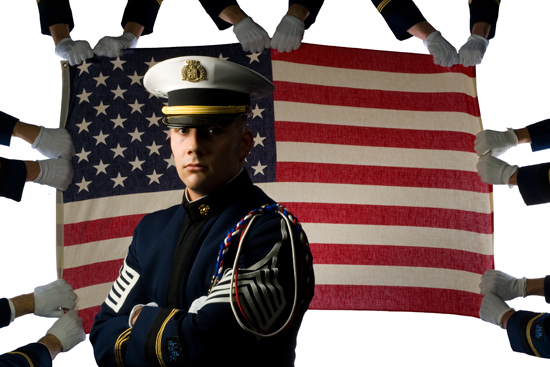 ANDREW ARCHUT (history '07) benefited from the Virginia Tech Corps
of Cadets Emerging Leaders Scholarship.
The corps of cadets, 80 percent of whose graduates become commissioned officers, is seeking to increase its membership by 25 percent to 1,000 cadets. Corps officials view scholarships as an important tool for reaching that goal.
And the corps is not alone in looking to increase the amount of assistance it can provide. Across all university programs, Virginia Tech officials are raising money for scholarships to enhance the undergraduate experience--one of the major priorities of The Campaign for Virginia Tech: Invent the Future.
The rationale is that scholarships not only allow talented students to attend regardless of their economic circumstances, they also draw the highest-caliber students, who have many schools from which to choose. Frequently, such students become leaders, like Archut, and improve the university by their presence.
Through the discoveries made by faculty and students and the future leaders it produces, the university's influence stretches far beyond campus. Arguably, however, nowhere is the university's footprint more visible than in southwestern Virginia, where Virginia Tech serves as an economic and cultural engine.
In embracing that role, the university has set an $81 million goal to enhance its impact on the community. Donors can help by continuing to support the athletic programs that draw national attention to Virginia Tech and help unite the Hokie Nation. Supporters of the campaign will also play a key role in the renovation of key campus landmarks, such as Solitude and Lane Hall.
Private support also will be vital in realizing the university's longstanding goal to increase the prominence of the arts on campus. Officials envision an $82.2 million Center for the Arts complex that would include a renovated Shultz Hall and two new buildings: a 1,300-seat performance hall and a visual arts gallery.
The campaign set a $30 million fundraising goal in hopes that donors will help make this vision a reality. University officials anticipate beginning construction of the center in 2009 and completing it by 2011. Once finished, the Center for the Arts is expected to help the university's recruiting efforts across the board. By providing a new civic amenity, it will make Blacksburg more attractive to people who are choosing where to relocate for work or school.
Additionally, Steger has noted, "We owe students more than a preparation for life at work. We owe students the opportunity and means to educate themselves beyond work and after work. To that end, a new home for the fine and performing arts will culturally enrich the lives of our students and the entire university community as well."
By supporting any of the goals of The Campaign for Virginia Tech: Invent the Future, alumni and friends of the university can help ensure an even brighter tomorrow for students, faculty, staff, alumni, and citizens of the commonwealth and the world alike.

Albert Raboteau is a writer for University Development.



---
Tom Byrd | Creating opportunities for students
by Amy Boyce M.A. '97

Tom Byrd '80

Like myriad high school students throughout the years, Tom Byrd (business '80) looked for a college that had a strong reputation and was affordable. Though he wasn't familiar with Virginia Tech, his brother-in-law told him about the reputation of the university's co-op program, which meant that Byrd could work part of the year to earn some of the money needed to pay for school and attend school the other part of year. That clinched Byrd's decision to accept admission to Tech.

And like so many Virginia Tech students before and after him, Byrd quickly realized that he had made a good choice. "Being from a small, one-stoplight town, I appreciated the small town feel of Blacksburg and the Tech community," he says. "At the same time, I was able to meet folks from all over the country. I have many fond memories of my student years--football games, 'traying' in the snow my freshman year, and winning the Metro conference basketball championship." Byrd also recalls working with accounting Professor Robert Brown during his senior year when he served as president of Beta Alpha Psi, a national accounting honorary society, which taught him about leadership and teamwork.

All Byrd's experiences at Virginia Tech, along with the excellent education he received and the practical training he gained from co-oping with the General Accounting Office in Washington, D.C., gave him an advantage when it came time to enter the real world. Today, Byrd acknowledges, "I have been blessed with many fine professional opportunities during my years with KPMG Peat Marwick and with Anthem Blue Cross and Blue Shield. I strongly believe that Tech has been an important contributor to my success and I wanted to give something back."

In deciding how he could best serve his alma mater and its students, Byrd remembered how he'd had to pay his way through college and noted how dramatically tuition has increased during the past 30 years. As a result, he decided the best way he could help would be to endow an accounting and information system scholarship with a preference for those students who are from the DelMarVa peninsula, where Byrd grew up. "I believe my accounting education has served me well, and I would like to see others have the same opportunity," he says.

But more than just supporting Virginia Tech through his own personal philanthropy, Byrd was also pleased that the company he works for, Anthem Blue Cross and Blue Shield, was able to make a difference to the university.

On April 16, when Byrd learned that there was a crisis unfolding on the Tech campus, he was devastated. Though there was nothing he or his company could do at the time, the idea of a scholarship to memorialize and honor the faculty and students who were killed or wounded quickly gained momentum. Within days, the Anthem Blue Cross and Blue Shield Foundation agreed to endow the Anthem Blue Cross and Blue Shield Hokie Spirit Scholarship to provide scholarship support for the College of Agriculture and Life Sciences. It was a proud moment for all of the Hokies who work at Anthem.

Byrd, who resides in Richmond, Va., with his wife and daughter--his son is a sophomore at the University of South Carolina--also serves on the Pamplin College of Business Campaign Steering Committee. He is excited about the future of the Pamplin College of Business and Virginia Tech. "I am convinced that the campaign will be successful. We will prevail. We are Virginia Tech."

Amy Boyce is publications editor
for development communications.