As Hokie fans know, one episode in Virginia Tech football history is the team's remarkable rebound from a disastrous 2-8-1 record in 1992 to a triumphant 8-3 season in 1993, including a 45-21 victory over Indiana in the Independence Bowl. It was the beginning of a new era of Hokies football, and one contributor to that success was running back "Touchdown Tommy" Edwards.
Edwards already was an established player when he arrived at Virginia Tech. As a senior at Radford High School, he'd received seven all-American awards and a commendation from the Virginia General Assembly. During the 1993 season, the redshirt freshman scored 10 touchdowns, garnering national headlines and cementing his nickname. When Edwards scored a touchdown in the Independence Bowl, he and his father, Ken Edwards (health and physical education '70)--also a former Virginia Tech running back--became the first father-son combination in NCAA history to score touchdowns in a bowl game.
Highs and lows
It was a heady time, and Edwards became known for his flamboyant off-the-field antics, including hard partying and a highly publicized fight at a fraternity house. Yet at the time, few realized that his behavior--labeled by many as "wild," he says--was actually due to an undiagnosed mental disorder. For years, Edwards had struggled silently with anxiety and depression, and his sudden thrust into the spotlight only intensified the problem. He turned to drinking and spiraled further out of control. When he finally did seek help, a therapist told him to "get over it," and his family doctor prescribed medication to help with depression--a simple misdiagnosis that had severe ramifications.
Edwards was eventually properly diagnosed as having bipolar disorder, a mental condition characterized by cyclical episodes of dangerously depressive lows and destructively manic highs. Medication given to treat clinical depression--as opposed to bipolar depression--has been found to exacerbate bipolar mania. As a result, Edwards' mental health continued to deteriorate, and before his senior year, Edwards nearly committed suicide.
Edwards ended up transferring to Boise State, where he led the team in scoring and rushing until a shoulder injury ended his season at the halfway mark. In Boise, Edwards again sought treatment for his mental health; again, he was misdiagnosed and prescribed medication that only worsened his condition.
From Boise, Edwards moved back to Virginia for a few years before making his way to California, where he became a competitive professional skateboarder and started his own company, Sasquatch Skateboards. He also made a name for himself as a musician/singer/songwriter, working with major recording artists. Edwards seemed to be doing better until, in the summer of 2003, a skateboarding accident resulted in a life-threatening head injury. In the months that followed, the injury's effect on Edwards' brain chemistry caused a severe manic episode that led to the loss of his business, his home, and most of his friends. For the next year, he swung with the Hollywood music-industry elite, living in his car between parties.
Life-altering events
After years of being haunted by demons, Edwards finally found relief from an unexpected source. A regular at a coffeehouse in San Diego, he was approached one day by another frequent customer, who struck up a conversation. Edwards soon found that the other man was a retired behavioral psychologist who also was bipolar. Not only did the psychologist finally deliver a proper diagnosis, he also kept up their friendship, which Edwards says served as a form of treatment.
Once he was aware of and educated about his condition, Edwards drastically altered his lifestyle. His focus shifted to his music and art, and he tried to eat healthfully and to exercise. It paid off--he felt good for the first time in years. And then came April 16, 2007.
Home visiting his parents in Christiansburg that day, Edwards watched in horror as the news began filtering in, stunned by two strange, close-to-home connections. Initial accounts reported the number of fatalities at 21, the same number as Edwards' high school football jersey; the final total--including the shooter--was 33, the same number that he and his father had shared at Virginia Tech.
These eerie coincidences looped in his head. "The tragedy shattered any sense of comfort I was clinging to here," he says, sending him into turmoil yet again. "It brought up a lot of unresolved emotional energy, all of the highs and the lows of my last semester--or, as I call it, my lost semester."
Speaking up
This time, however, instead of running away from his troubles, Touchdown Tommy returned to his roots. He moved back to Roanoke to start The Heart of Virginia Foundation, one of the goals of which is to raise awareness of mental health issues, both for those who need help and for those who don't understand the depth of the problem.
"In college, one of my biggest fears was being thought 'crazy'--that my rights would be revoked, that I would be institutionalized," Edwards confesses. "I felt like an actor trying to live this character. And I was too successful: people didn't know what was wrong with me." He also says that former friends and teammates who witnessed Edwards' often-erratic behavior and did not recognize it for what it was seem to have difficulty talking to him about it today. "I don't know if they feel guilty that they missed what was going on or if they just think I shouldn't talk about it or what."
That reticence is difficult for Edwards, but it also strengthens his resolve to be upfront about what he and so many others struggle with on a daily basis. "Destigmatization is achieved only through education," he says. "We all know someone who has suffered from mental illness. People get in touch with me all the time to tell me their stories. And I can't tell you how many have come forward just to say that this has given them a voice."
Art for the soul
In addition to providing that voice , the foundation also seeks to raise $2 million, which will go toward developing a center for integrated arts to develop programs that can be replicated in communities across the commonwealth.
Gallery showing
of artwork by
Tommy Edwards
Edwards believes that art therapy--defined by the American Art Therapy Association as the healing and life-enhancing effects that come from creating art--is an important proactive measure in ensuring the emotional well being for people of any age. "It's a creative outlet that is vital to my survival as a human being," he explains. "It allows me to communicate with and process the world going on around me--it's a tangible meditative process."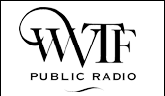 Studio Virginia
Jan. 8, 2009
LISTEN to Gene Marrano's interview with Tommy Edwards on Studio Virginia, an arts and culture news magazine for the WVTF listening area.
To support the foundation, Edwards sells his paintings and plays guitar at venues throughout Virginia. Not only do any profits he receives go to the foundation, but it is also fitting that Edwards' engagement in art therapy directly benefits his efforts to promote mental health. Along those lines, Edwards also is employed by Soundings as an expressive therapies facilitator, teaching art therapy to developmentally challenged and mentally ill adults in Southwest Virginia.
As if working this job and promoting the foundation were not ambitious aims in themselves, Edwards also hopes to promote discussion about alternative forms of treatment and integrated therapies for mental health disorders, in part because of his own negative experiences with misdiagnoses and improper medication.
"We overmedicate and look to pharmacology to fix everything," he says. "I applaud doctors, but there needs to be more dialogue among the American Medical Association, health insurance agencies, and pharmaceutical companies, particularly when it comes to the mentality that medication solves every issue."
Instead, Edwards advocates that doctors take a holistic approach in treating the problem, not just the symptoms. "In America today, we're all vulnerable to stress, and we're all subject to the whims of biology, genetics, and external stimuli," he points out. "We can no longer define 'normal,' and the more we understand that and learn to integrate everyone into our culture, we will learn that we're all useful--that we all have something to offer."
That's why, even if it does mean stepping back into the spotlight to share his own troubles, Edwards thinks that it is vital to promote public discourse about mental health. "By not engaging the community and fostering understanding, we're doing a disservice to the human spirit. We're sequestering the soul."
The HEART OF VIRGINIA
F o u n d a t i o n

• Mental-health educational and instructional services;

• Two motivational programs, "The Ugly Truth," a straight-talk program geared toward youth, and "Music for Mental Health," "a combination of testimony and music that conveys the struggles and triumphs of mental illness and the healing process";

• Programs that focus on the role that art, music, and spirituality play in promoting emotional well-being, including the weekly "Joyful Noise" music and arts program and individual instructional workshops; and

• Links (at http://theheartofva.org) to community resources for mental health issues.

To learn more about the foundation and its services, or to volunteer, visit the foundation's website, send an e-mail to nancy@theheartofva.org, or send a note to The Heart of Virginia, P.O. Box 20322, Roanoke, VA 24018.