Director named for Center for the Arts
Ruth Waalkes, former director of artistic initiatives at the Clarice Smith Performing Arts Center at the University of Maryland, assumed duties in September as the executive director of Virginia Tech's Center for the Arts.
Waalkes has overall responsibility for the programming and operation of the center, a yet-to-be-built complex of new and renovated facilities that will house a 1,300-seat performance hall; a visual arts gallery; and teaching and research spaces that will include a creative technologies lab, a collaborative performance lab, and a communications studio.

Theatre 101 opens in green, grand style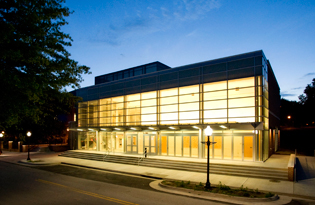 The arts at Virginia Tech have a new space. The environmentally friendly Theatre 101 building held its grand opening with a full slate of activities the last weekend of October.
An academic building with performance space, the 8,500-square-foot theatre will accommodate between 60 and 140 guests with audience seating that can be easily moved or removed, which will allow the entire space to be adapted to the artistic elements of a production.
The canopy-covered entry on College Avenue was designed to serve as a stage area for future Steppin' Out performances. Movable glass panels at the entrance lobby façade can be opened on warm evenings. Similar panels, located at the rear of the performance theatre, open onto an exterior amphitheatre.

Pamplin professor receives lifetime achievement award
Michael Badawy, professor of management in the Pamplin College of Business, received the International Association for Management of Technology's 2009 Lifetime Achievement Award.
The award, the association's highest honor, is granted to individuals for their "valuable and sustained contributions in support of education, research, and academic service in the field of management of technology." The association was established in 1987 as a nonprofit society dedicated to advancing technology management research and education.
Badawy, the first recipient of the award, was recognized for his "internationally acclaimed work, pioneering leadership, distinguished research, dedicated service, and institutional building in advancing the technology management discipline." His research interests cover many aspects of the interdisciplinary field of technology and innovation management. He teaches at the university's Northern Virginia Graduate Center, National Capital Region.

Nobel Prize winner has Tech connection
The first woman to win a Nobel Prize in economics is a researcher for a Virginia Tech-managed international program. Elinor Ostrom has won a share of the 2009 prize based on her work on how community institutions can prevent conflict. The 40th Nobel Prize goes to Ostrom, a researcher for the Sustainable Agriculture and Natural Resource Management Collaborative Research Support Program (SANREM CRSP), managed by Virginia Tech's Office of International Research, Education, and Development.
Ostrom shares the $1.4 million prize with Oliver Williamson, a professor in the graduate school at the University of California, Berkeley. In announcing the award on Oct. 12, the Royal Swedish Academy of Sciences cited Ostrom "for her analysis of economic governance, especially the commons."
Ostrom is the principal investigator for SANREM CRSP on how government policy reforms do not automatically translate into new property rights for forest users or show clear benefits to the environment.

Center named for hero of April 16 shootings
Liviu Librescu, who died while trying to save his students during the April 16, 2007, shootings in Norris Hall, has been memorialized in the renaming of the Engineering Science and Mechanics Student Engagement Center as the Liviu Librescu Student Engagement Center.
The center is housed in one of six new rooms created when Virginia Tech renovated and re-opened the second floor of the west wing of Norris Hall. Librescu was one of 32 professors and students who died that day. The new center name was proposed by faculty from the Department of Engineering Science and Mechanics in the College of Engineering and was formally approved by the Virginia Tech Board of Visitors on Nov. 9.
Librescu, who came to Virginia Tech in 1985, became one of the university's most respected educators and researchers in the field of aeronautical engineering. Pat Artis (engineering science and mechanics '72) and his wife, Nancy, provided a gift to furnish the center.

University recognized as sustainable campus leader
The College Sustainability Report Card for 2010 has recognized Virginia Tech as a sustainable campus leader. Transportation, one of the categories that contributes to the university's overall grade, received an "A" for the third year in a row.
The report card gives detailed information for hundreds of college campuses nationwide. It rates individual programs and areas, such as transportation, food and recycling, and student involvement. These ratings determine the institution's overall sustainability grade.
The programs available at Virginia Tech through the Alternative Transportation unit on campus, such as the carpool program; Bike, Bus, and Walk; fare-free boarding for Blacksburg Transit; discounted Smart Way Bus passes; and, most recently, U Car Share, raise the bar for sustainable transportation in Blacksburg.

Agriculture and Life Sciences develops new equine program
The College of Agriculture and Life Sciences has announced plans to create a new equine education program at the Middleburg Agricultural Research and Extension Center located in Middleburg, Va.
An undergraduate student learning experience in equine sciences will serve as the cornerstone for the teaching program at the center. In addition, Virginia Tech will relocate its world-class group of sport horse mares from Blacksburg to Middleburg, adding to the band of horses in residence at the center.
The semester-long experience will not only prepare students for positions in the equine industry, but will also provide them life skills as they work as part of a cohesive unit during their stay at the center.

Graduate School enrollment reaches new heights
Virginia Tech's Graduate School has its largest class, enrolling a total of 6,947 students on all campuses. This milestone continues a growth trend, a goal of the university's strategic plan, that has climbed steadily since 2005.
According to Karen P. DePauw, vice president and dean of graduate education, 4,114 master's students and 2,833 doctoral students are enrolled. This growth highlights the consistent and steady increase in doctoral students, who now comprise more than 40 percent of the Graduate School community. Overall, graduate students constitute 22.5 percent of the total Virginia Tech student population.
Virginia Tech remains a top 50 research university

Virginia Tech ranked 46th among 679 universities in 2008, according to the just-released National Science Foundation rankings, which is based on research expenditures for the fiscal year (FY) ending June 30, 2008. Rankings lag a year behind reported expenditures.
The university reported $373.3 million in expenditures for FY 2008, an increase of less than $7 million over FY 2007, when Virginia Tech ranked 42nd with $366.9 million. Due to budget shortfalls, state research funds were phased back significantly in FY 2008 after helping to launch several research initiatives, such as infectious disease and nanotechnology research.

Engineering ranked No. 1 for industry workforce recruiting
Aviation Week & Space Technology magazine has named the College of Engineering the No. 1 school in the country for industry workforce recruiting. The top ranking is a first for the college in the magazine's annual Workforce Study of Aviation and Defense.
In recent years, the college ranked either No. 2 (2007) or No. 3 (2008), behind Penn State, Purdue University, and the University of Illinois. This year, however, Virginia Tech outranks Penn State, Purdue, and California Polytechnic University, which tied for second place.
Although the study focuses on Virginia Tech's aerospace and ocean engineering department, the aviation and defense industries recruit from all College of Engineering programs, says Chris Hall, who heads the aerospace and ocean unit.

Architecture programs among nation's best
Virginia Tech's undergraduate landscape architecture program, part of the School of Architecture + Design in the College of Architecture and Urban Studies, ranks No. 1 in North America in the 11th annual America's Best Architecture and Design Schools study by DesignIntelligence on behalf of the Design Futures Council.
The university's graduate landscape architecture program ranks No. 2 in North America, behind Harvard University. The master of landscape architecture program is offered both in Blacksburg and in the National Capital Region.

VBI receives $27 million for infectious disease research
On Oct. 12, 2009, Ninth District Congressman Rick Boucher joined senior Virginia Tech officials to announce the award of approximately $27 million from the National Institutes of Health (NIH) to the Virginia Bioinformatics Institute at Virginia Tech.
The five-year, $27 million contract from the National Institute of Allergy and Infectious Diseases, part of the NIH, is the largest one-time federal award in the history of Virginia Tech. The funding will be used by the CyberInfrastructure Group to support infectious disease research across the globe, namely to integrate vital information on pathogens, provide key resources and tools to scientists, and help researchers to analyze genomic, proteomic, and other data arising from infectious disease research.

Collegiate Times reporter named College Reporter of the Year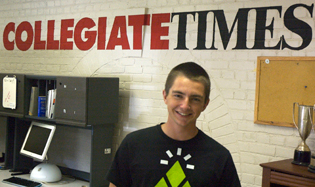 Collegiate Times writer Caleb Fleming, a junior majoring in economics, has been named the National College Reporter of the Year by the Associated Collegiate Press.
The top college reporter in the country award is the highest individual honor for a collegiate journalist. It includes $500, courtesy of the McClatchy-Tribune Information Services.
Fleming competed against students from Harvard and Yale universities in the four-year college category. The awards were announced Nov. 1 at the National College Media Convention in Austin, Texas. More than 2,200 college journalism students and advisors attended the 2009 convention.

Engineering extends partnership with Fujitsu
The College of Engineering and Fujitsu America extended their alliance agreement through the 2012 academic year.
In April 2006, the college announced that it would require its entering freshmen to purchase convertible tablet PCs. This type of PC has all of the functionality of a laptop and the additional capability to act as a notebook for pen-based input.
A month later, the college announced its decision to partner with Fujitsu and Microsoft to support its new PC requirement. At the time, Glenda Scales, associate dean of engineering, said the decision was based on price, weight, service, screen size, and years of experience with tablet PCs. Today, Scales remains in agreement with this original assessment after seeking competitive proposals from a number of vendors for a new three-year alliance.

Grad student wins Outstanding Commitment Award
Sarah Swenson, a Virginia Tech graduate student in urban and regional planning, has received a 2009 Outstanding Commitment Award from Clinton Global Initiative University in partnership with the Pat Tillman Foundation and the Walmart Foundation.
Swenson received one of 78 grants bestowed by the organizations to support innovative, high-impact commitments to action designed to strengthen communities and lives around the world.
Swenson plans to develop an ecological sanitation project at a secondary school in Nakuru, Kenya. The sanitation system would create employment, improve the community's health, lower rates of pollution, and create access to sanitation. It would also teach students about the benefits of recycling their waste into nutrients.

Meng named to National Institutes of Health study section
X. J. Meng, a professor in the Virginia-Maryland Regional College of Veterinary Medicine, has been appointed as a permanent member of the prestigious virology study section of the National Institutes of Health (NIH). In this role, Meng will review grant proposals made to the NIH virology study section and make recommendations for funding. The NIH is a component of the U.S. Department of Health and Human Services.

Mining engineering to lead ventilation study
Virginia Tech's Department of Mining and Minerals Engineering has received a $1.24 million, five-year contract from the National Institute for Occupational Safety and Health to study the effects of roof falls, bumps, or explosions on underground mine ventilation systems.
Kray Luxbacher, an assistant professor in the department, is serving as principal investigator for the study. She will be supported by Saad Ragab, a professor in the Department of Engineering Sciences and Mechanics; Robert Boggess, a research associate; and Harold McNair, professor emeritus in the Department of Chemistry, who brings expertise in gas chromatography and computational fluid mechanics to the interdisciplinary project.
The project, titled "Development of a Method for the Remote Characterization of Underground Mine Ventilation Controls by Multiple Tracer Gases," will use gas tracers as a means of remotely ascertaining information about ventilation control systems following a mine collapse or explosion.