FEATURE
Virginia Tech and the 21st-Century Land-Grant Model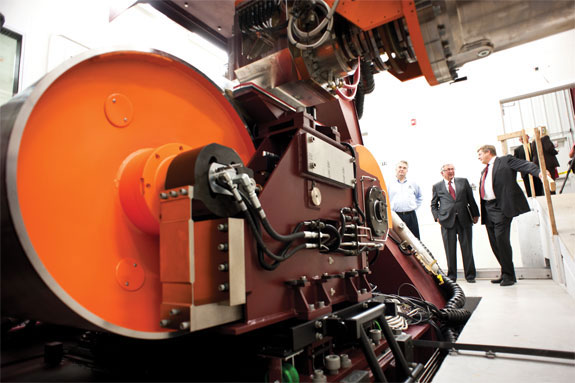 Rubber meets the road: Boosting economic prosperity is a key aspect of Virginia Tech's land-grant calling, as evident in the National Tire Research Center, which is meant to make Southside Virginia a one-stop destination for global tire testing and development. "The facility has no peer," said Frank Della Pia, executive director. "It's going to be a transformational leap in tire technology." Photo by Logan Wallace.
How the land-grant has evolved
by John Dooley, CEO, Virginia Tech Foundation
This year, as we celebrate the 150th year of the enactment of the landmark legislation that established the land-grant university system, Virginia Tech embraces its land-grant covenant to be "the university of and for the people." The university also recognizes a preordained responsibility to enhance and enrich the economic vitality and quality of life enjoyed by all Virginians and citizens around the world.
At Virginia Tech, "land-grant university" is much more than a historic descriptor. The university's proud legacy, distinguished by significant contributions to American agriculture, innovation, and military and civilian leadership, is also characterized by an active commitment to provide practical education that makes differences in the fundamental ways people work and live. Virginia Tech submits to a conviction that the greatest instrument of democracy is education and that quality education produces an engaged, enlightened, and productive citizenry.
Throughout its 140-year history as Virginia's senior land-grant university, Virginia Tech has subscribed to two primary tenets:
• Knowledge generated by faculty and researchers will be made accessible through various delivery systems for the benefit of society.
• The research and discovery agenda will reflect the priorities and needs of society with an emphasis on strong programs in applied sciences and engineering.
These tenets remain the mantra of the 21st-century land-grant university, and Virginia Tech continues to provide the intellectual leadership to confront big issues facing society, including energy, water resources, food security, education, and more. Considering the complexity of such issues, the value and relevance of the land-grant university is arguably even greater today than when President Abraham Lincoln signed the Morrill Act 150 years ago in the midst of the Civil War.
The land-grant today
by John Provo, Director, Office of Economic Development, Virginia Tech
The roots of the land-grant system are in economic competitiveness—created by placing knowledge in the hands of people who can apply it in the world. Since Virginia Tech's founding in 1872, this aspect of our mission has helped fuel job growth across the commonwealth.
Today's economic challenges and technological changes have led to the creation of "living laboratories" across Virginia—places where collaborations among faculty, students, and industry drive discovery and learning, and give the commonwealth an edge in a global economy.
In Blacksburg, the Virginia Tech Corporate Research Center is a seed bed for faculty entrepreneurship, a locus for partnerships between firms and faculty, and a training ground for students. The Virginia Tech Carilion School of Medicine and Research Institute is a unique public-private partnership linking Roanoke to global networks in medicine and life sciences. In central Virginia, we've partnered with Region 2000's Center for Advanced Engineering and Research, a regionally owned and operated center that connects our faculty to wireless technology and nuclear engineering firms. Southern Virginia's Institute for Advanced Learning and Research is developing horticulture crops and biopolymers in collaboration with industry players. Nearby, the National Tire Research Center and SOVA Motion Labs work with General Motors and other firms in the auto, tire, and racing industries.
In Hampton Roads, the National Institute for Aeronautics is a multi-university consortium adjacent to NASA Langley. In the Richmond-Petersburg area, the Commonwealth Center for Advanced Manufacturing is an independent, nonprofit research-and-development partnership bringing together firms like Rolls-Royce Aerospace and Canon with talent from several state universities. At the newly opened Virginia Tech Research Center – Arlington, faculty examine issues in energy, informatics, and cybersecurity.
All represent a sustained investment in the fundamental vision of the land-grant mission. As we put knowledge to work across Virginia, we are transferring valuable intellectual capital and investing in the future competitiveness of the commonwealth.
The land-grant's challenges
by Peter McPherson, President, Association of Public and Land-grant Universities
As we celebrate the 150th anniversary of the Morrill Act, it is timely to remember the three ideals that drove its creation: strengthening democracy by expanding access to higher education to ordinary people, defining the federal government's role in economic development, and improving agriculture production by increasing technical and scientific education.
The Morrill Act embodied all of the compelling ideas that shaped Abraham Lincoln's non-war agenda. Land-grant colleges adopted a model that reinforced cutting-edge teaching, discovery, and community engagement. That model was codified when the Morrill Act was expanded to include research with the passage of the Hatch Act and cooperative extension with the Smith-Lever Act.
Today, land-grant and the other public universities enroll 7 million students and have increased enrollment by 23 percent over the past decade. At the same time, public universities perform more than 60 percent of federally funded academic research.
The nation now faces a new set of challenges: We need to expand economic and social opportunity. Universities must respond with high-quality and affordable education for our diverse population. By the year 2018, more than 60 percent of the nation's jobs are expected to require at least some college education.
To help drive economic growth, federal and state governments need to invest in research and innovation. Federally funded research must be a national priority as Congress and the administration make critical decisions about federal spending. Moreover, governments must keep higher education accessible. A generation ago, states paid two-thirds of the tuition cost while students and families paid one-third. Today, the situation has flipped and students and families pay two-thirds of the cost.
Public universities are being challenged to provide both a quality education and cutting-edge research while also educating more students with fewer financial resources. As leaders work to meet these challenges over the next decade, public universities will become very different institutions.