FEATURE
Sheer Good Fortune
Literary stars shine brightly at Virginia Tech event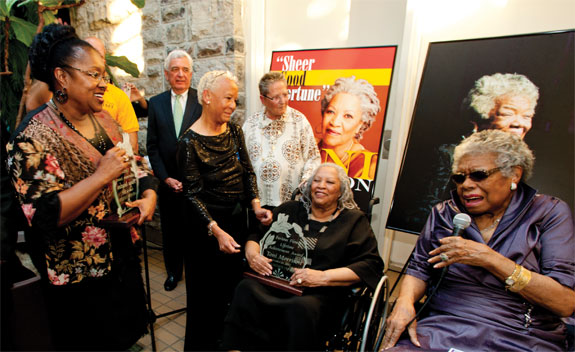 Star power: (From left) Joanne Gabbin of James Madison University, Robert Vaughan of the Virginia Foundation for the Humanities, and Virginia Tech's Nikki Giovanni and Virginia Fowler welcomed Toni Morrison and Maya Angelou to campus. Photo by Michael Kiernan.
For many who gathered in Burruss Auditorium on Oct. 16, it was the evening of a lifetime. Giants of literature, from Maya Angelou to Rita Dove, gathered on the stage to honor one of their own, Nobel and Pulitzer Prize-winning author Toni Morrison. The author of acclaimed works, including "Beloved" and "The Bluest Eye," Morrison also received the Presidential Medal of Freedom from President Barack Obama in May 2012.
The evening, dubbed "Sheer Good Fortune: Celebrating Toni Morrison," was orchestrated by renowned poet and University Distinguished Professor of English Nikki Giovanni. As the author of more than 30 books and recipient of an unprecedented eight NAACP Image Awards for literature, Giovanni is a literary star in her own right.
Planning such events is no new endeavor for Giovanni, who in 2010, along with James Madison University English Professor Joanne Gabbin, planned a tribute to poet Lucille Clifton, who passed away in February of that year. This time, Giovanni and others decided to honor Morrison in person, offering her an evening of dramatic performance, music, and readings of her work that the writer, now 81, could enjoy. Giovanni joined forces with Angelou and Gabbin, also the executive director of Furious Flowers Poetry Center.
"When Toni's son Slade passed (in 2010) I could only imagine how sad and, well, alone she must be feeling," Giovanni said. "Though she has another son and grandchildren, I think it must be just awful to bury a child. I wanted to find a way to throw as much love as we could around her. Nothing will replace that hole in your heart but love can at least kiss the edges. So I called Maya."
Word of the event, sponsored by the university's Center for the Arts, spread quickly; the free tickets were claimed in just 28 hours.
At the end of a series of readings featuring well-respected names that included Yusef Komunyakaa, Sonia Sanchez, and Jericho Brown, Giovanni led a choral reading of Morrison's work. The musical and dramatic performances and emotional readings garnered a number of standing ovations and kept audience members captivated from start to finish. Grammy-winning musician India.Arie graced the stage, performing a song entitled "Not Afraid of the Dark," inspired by Morrison's "The Bluest Eye."
More than a tribute to Morrison, the event also spoke to Virginia Tech's ongoing support of the arts. Ruth Waalkes, director of the Center for the Arts at Virginia Tech, called the event a unique opportunity to celebrate the literary arts in a group setting, noting that literature is usually more of an individual experience. "And it really was [Morrison's] words we were hearing that night," she said, "not a lecture."
With the Center for the Arts' official opening in fall 2013, such events could be but a taste of things to come. "I think it shows how art has this deeper connection and meaning in our lives, and I think everyone there [at the event] felt that," said Waalkes.
By the end of the evening, Morrison's eyes shone with gratitude. "I think this is—yes, I think it is—the first time I have been rendered speechless," said Morrison of the readings and performances. "Let me tell you, if nothing ever happens again in a crowd for me, it doesn't matter. This is as good as it gets."
Susan Bland, communications manager for the Center for the Arts, and Jean Elliott, communications manager for the College of Liberal Arts and Human Sciences, contributed to this story.