LIVING PYLONS
Simplicity, Transparency, and Attitude
by Philip Shucet '72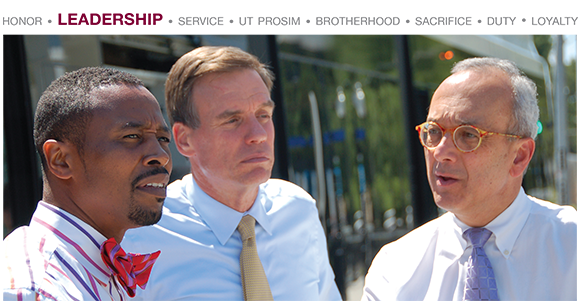 Philip Shucet '72 (right) visits with Anthony Burfoot (left), recently elected as the city treasurer in Norfolk, Va., and Virginia Sen. Mark Warner. Photo courtesy of Hampton Roads Transit.
I don't have a single special quality or skill. The only knowledge I have is what others have been kind enough to teach me. When I graduated from Virginia Tech and set out to find a job, my dad told me to "do good work." He never encouraged me to find a particular career—just to do good work. His words stuck with me. Along the way, two other people—one in the public sector and one in the private sector—had tremendous influences on me. One taught me the value of helping others achieve more than they themselves thought they could. And the other, the first CEO I worked for, showed me that leaders have to stand up and be accountable for everything that happens in an organization. He showed me that leaders have to be 110 percent "in." Ninety-nine percent won't do.
A relentless focus on three important qualities is required to make any private business or public agency sustainably successful: simplicity, transparency, and attitude. Whenever an organization or major project is in crisis, you can generally find that at least one, and frequently all three, of those essential qualities is missing.
For some reason—and for the life of me I don't know why—people like to overcomplicate darn near everything. And when things are more complex than they need to be, communication and understanding fall off fast. But, of course, no one admits it. When things start going wrong, no one wants to talk about them. Worse yet, folks get caught up in hiding the truth. As a result, simplicity and transparency can sometimes be the first two causes—and casualties—of a crisis. That's not good.
By "attitude," I mean knowing something as opposed to thinking you know it. There's a big difference. If you're running a business or working on a major project, you'd better be sure you know what's going on. If you don't really know, it's best to sit down and not say anything until you do. The great thing about not knowing something is that you can ask. If you say "I don't know," there's always someone around who will help you figure it out.
Admitting you don't know, searching for truth, and gathering context were all lessons I learned at Virginia Tech. The wisdom of one professor stands out in my mind. Ali Isani, professor emeritus of English, had a way of pulling you into the context of the time. When you read what he had assigned, he put your head into the space and time of the author. Whether it was the literature of the Southern U.S. or Japanese literature, Isani put you right there. You could say that he taught me the meaning of "context." I guess that goes along with keeping things simple. If you understand the context of a situation, you can usually break it down into simple components. That's a lesson I try to bring to any leadership situation, and a lesson I try to leave behind for others as well.
If you asked me what experience at Virginia Tech most prepared me to be a leader, my unwavering and immediate answer is the Corps of Cadets. I'm not sure I can put it into words. The corps puts a mark on your soul that never washes off. At least it did for me. The corps teaches the meaning of working together, of pulling for one another. And it teaches you the true of meaning of what it is to be a team. A lot of companies talk about teamwork. In the corps, you live it. Whenever I go back to campus, the first thing I do is kneel in front of the Rock [a memorial to Tech alumni lost in WWI] and kiss it, and a familiar tear touches my cheek every time. The corps meant—and still means—that much to me.
Leadership, to me, is not a special quality or skill, but a series of lessons from the teachers and experiences that life offers you—if you're willing to learn.