When Frank Beamer emerged from the tunnel, jogged onto Worsham Field, and donned his headset, the expression on his face said "business as usual."
Everything else about the coach's final home game on Nov. 21 versus the University of North Carolina said otherwise. Pre-game hugs on the sideline. A congratulatory video message from Metallica. Both 25-yard-lines—a nod to Beamer's collegiate number—embellished with his signature. A nearly miraculous finish, with a furious 14-point comeback to push the game to overtime. Players carrying their coach off the field.
Twenty days before, Beamer, a 1969 graduate of Virginia Tech, had announced that the season would be his last.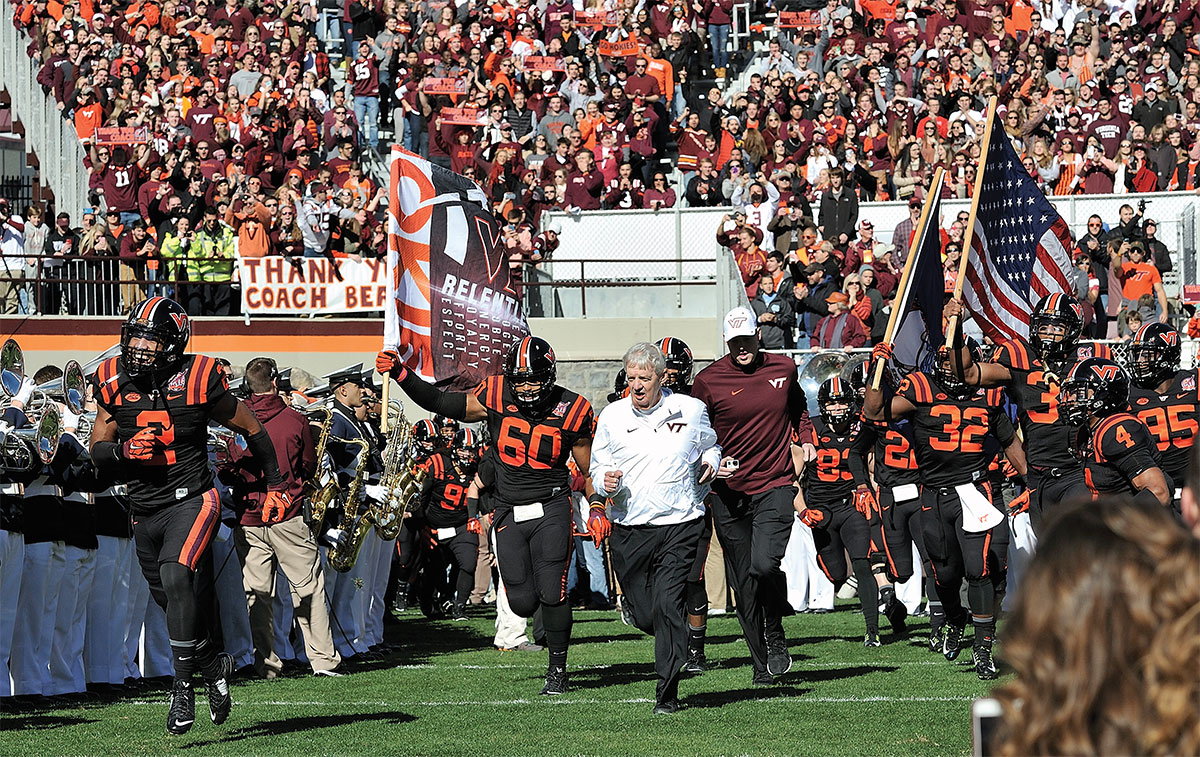 Beamer takes the field for his final home game. Photo by Keith Moore '82.
I will be forever grateful to everyone who made these past three decades the best years of my life," Beamer said. "I am so honored and humbled to have served as your head coach."
I will be forever grateful to everyone who made these past three decades the best years of my life," Beamer said. "I am so honored and humbled to have served as your head coach."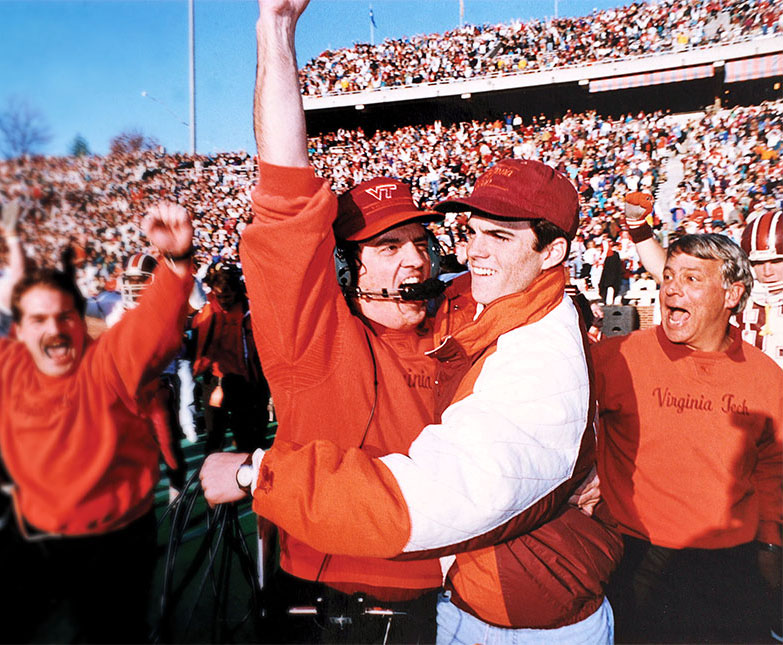 I know some fans have different opinions on the direction of the program, but he's at a peace with [retiring], and this is his decision. It's amazing how appreciative people have been for what he and the staff have done for Virginia Tech. ... Now that he has the decision out of the way, he's enjoying this, really trying to savor every minute of it. He deserves it, too, every bit of it, because success never changed him. He's the same person now as he was in 1992, when he almost got fired, and that's the thing I'm the proudest of as his son, the example he's set for all of us in how to treat people and how to live your life."
— Shane Beamer, son and associate head coach (ESPN.com)
Never one to shy away from dancing — see the Hokies' Harlem Shake — Beamer brought the house down with the "dab" dance following the Hokies' win versus the University of Virginia.
Beamer coached 25 sets of brothers in 29 years at Tech, with four families sending three or more sons to play for him, according to an ESPN story.
"It really has a lot to do with being approachable," said Felecia Edmunds, the mother of Terrell, Tremaine, and Trey Edmunds. "You have to feel you can go to a coach at any time, that you can ask them anything, and you have to feel they're being honest with you. Integrity has to be there. When parents let their babies go, they have to feel and know that someone is watching over them. ... Coach Beamer has always said to us: 'Any time you feel like calling, call.' When you feel comfortable with one child, then you feel comfortable to send the next ones in line."
Said Trey Edmunds, "All that Coach Beamer has done ... it goes way past numbers in a record book. He's instilled something that's going to be here forever. When people talk about Virginia Tech football, Coach Beamer's name will always be remembered. For us players, we all look up to Coach Beamer. We're playing for a legend. How many people can say they're playing for a legend?"

My mom and dad informed me just a couple of days ago that you had decided to retire from coaching. I know this was a decision you gave much thought to—a decision that was very difficult for you to make.
I guess all things have to come to an end. The difficult part is deciding when.
I just wanted to take a moment to say thank you for what you have done for me over the years. I know this: What I am doing today and what I am very happy doing would never have been possible if it had not been for you."
— From a 1974 letter that Frank Beamer, then an assistant coach at The Citadel, wrote to his former high school coach (The Roanoke Times)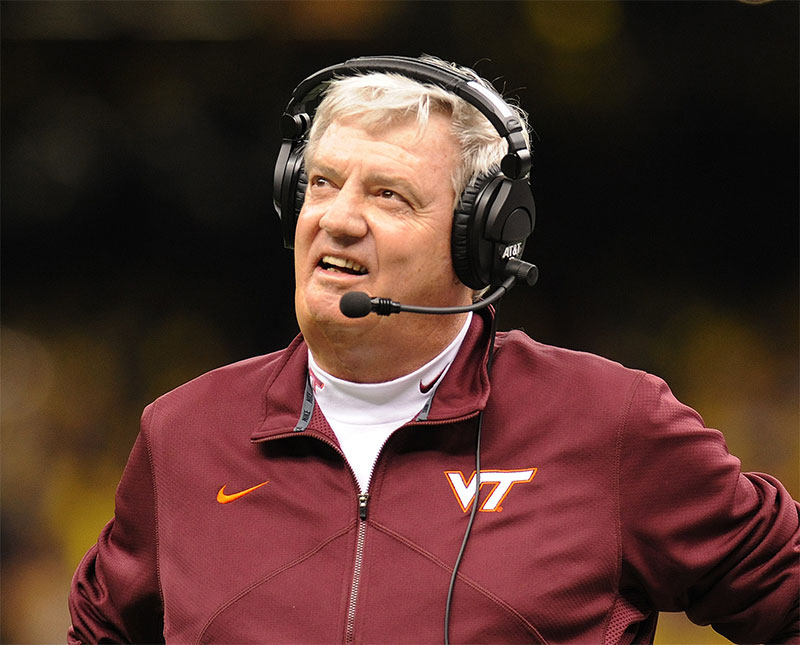 From every perspective—whether from players, peers, parents, or bosses—
Beamer is a beloved figure.
From every perspective—whether from players, peers, parents, or bosses—Beamer is a beloved figure.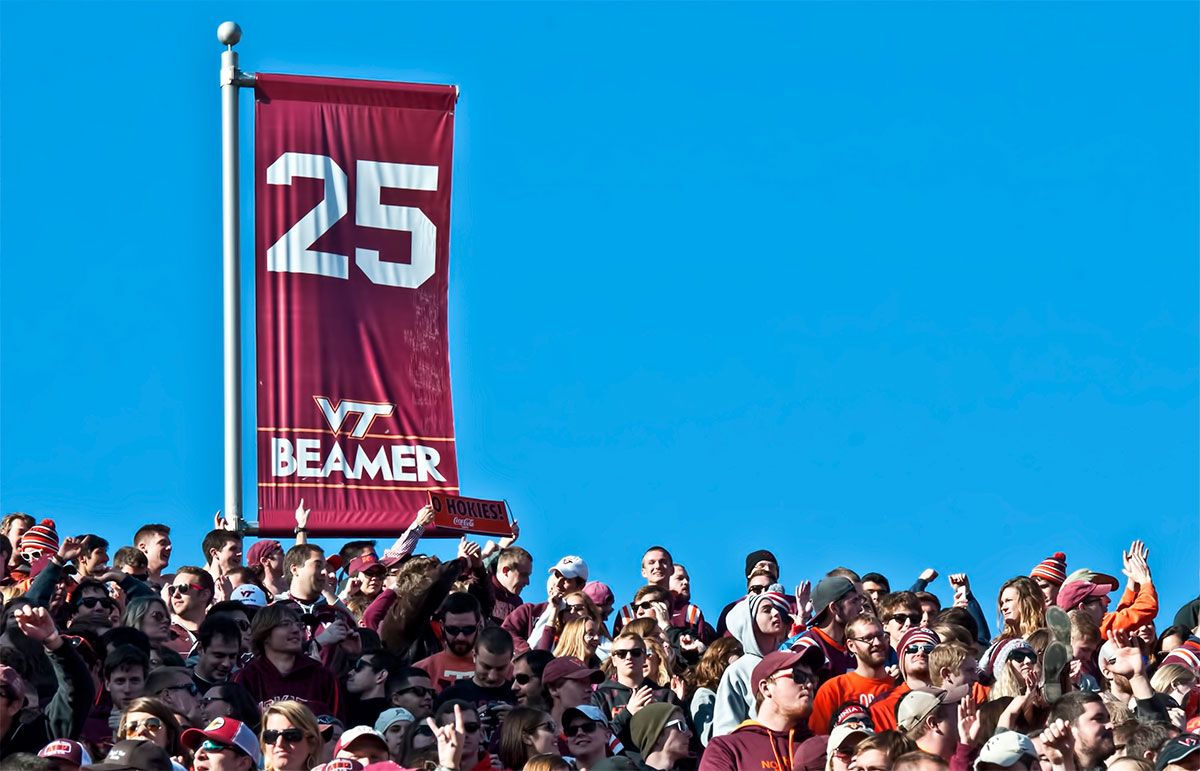 Frank Beamer has been one of the icons, in my mind, in this era of coaching. He's one of the great guys in our profession. I've always admired him as a coach, but also the professional character that he always carries himself with and the way he treats other people. I think their program has been one of the stellar programs through the years."
— Nick Saban, University of Alabama head football coach (AL.com)
"Everybody always [asked] me when I first got into the league, 'Why did you go to Virginia Tech over some of these other schools?' It's that personal connection, that personal touch that those coaches just created with me and a lot of the other players that they were able to recruit and get to come to Blacksburg."
— DeAngelo Hall, Washington Redskins defensive back (The Washington Post)
"When Frank first came here, people didn't have 'VTs' on their car. We couldn't even get anybody to carry paraphernalia in their stores. Nobody wore sweatshirts with Virginia Tech on them. ... I had a chance to watch Frank every day. I knew he was a good teacher, and he was a good coach."
— former Virginia Tech athletics director Dave Braine (The Roanoke Times)
"Coach always stayed in touch and encouraged me to be the best that I can be. The one thing he always stressed was to keep my family first. Before he asked me anything, he would ask me how my family was doing, how my kids were doing. He always wanted the best for my life, not just as a professional football player, because he knew that that would happen, but as an individual."
— Michael Vick, Pittsburgh Steelers quarterback (ESPNU)
"He put them on the map, made them relevant. When I was a kid in Virginia, no one wanted to go to Virginia Tech. They all wanted to go to UVA. He took a bunch of 'try hard' guys and Virginia kids and made them buy into changing the culture."
— University of Tennessee at Chattanooga assistant football coach Chris Malone, an offensive lineman at Tech from 1992-95 (Richmond Times-Dispatch)
"Beamer is just the type of guy to make coffee for the office secretaries, move his car so an elderly person could have a better parking spot, take a campus visitor to lunch, buy a gift card for a staff member who became engaged a day earlier, drive 80 miles round-trip to spend an hour with a friend dying of cancer, stand up five times during dinner to have his picture taken with fans, smiling and laughing each time as if he had known those strangers for a lifetime, or tip a waitress 50 percent of the bill because he overheard her say she was struggling to pay off her student loans. You know what makes the man special? I witnessed him do all of those things in one day—February 11, 2013, to be exact."
— Jeff Snook, who co-wrote Beamer's autobiography, "Let Me Be Frank," in a September 2014 article for theozone.net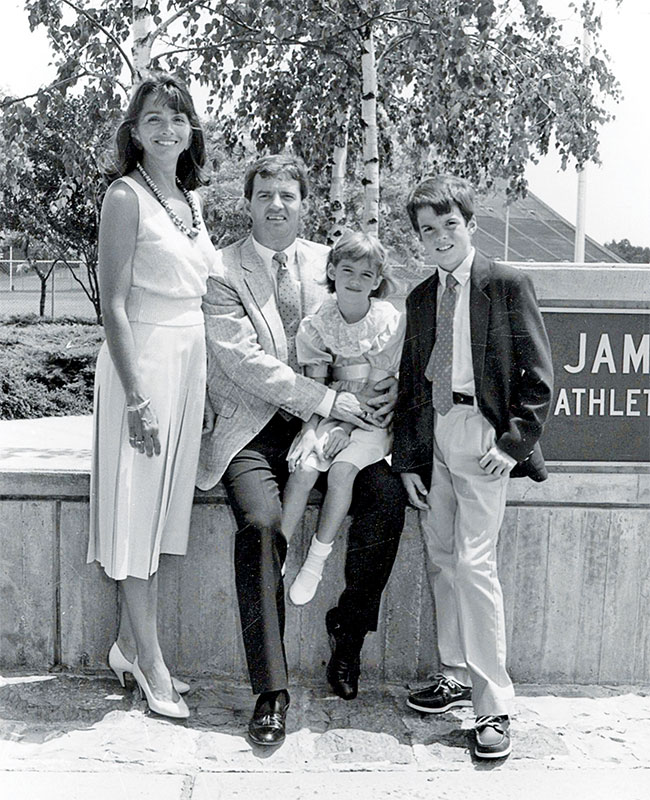 I know he wanted to win a national championship. I've told him, 'You've already won one.' I said, 'Your national championship is the type of man you were and that legacy of how you treated people and the way these kids loved you.'"
— Cheryl Beamer, wife of Frank Beamer (Inside Hokie Sports)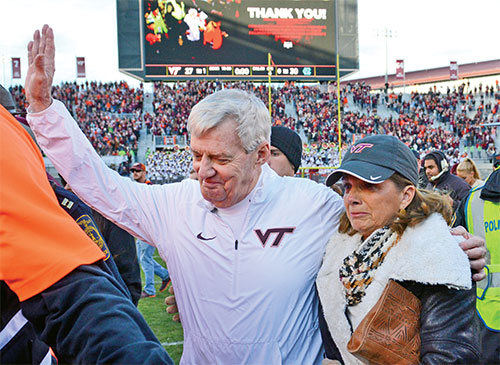 The Beamer Ball QUIZ
Click on the question to reveal the answer.
How many consecutive bowl games did the Hokies play in during Beamer's tenure?

23, the second-longest active streak in the NCAA, baby!

How many career coaching wins did Beamer tally?

280 total wins—obviously a College Football Hall of Fame-worthy stat.

How many Big East titles did Beamer win?

3, including back-to-back titles in 1995 and 1996. In the Oct. 14, 1995, game versus the University of Akron, the Hokies put up their highest point total ever, 77, which included a team-record 8 rushing touchdowns.

How many ACC titles did Beamer win?

4, highlighted by a 10-3 record to take the title in 2004—the Hokies' first season in the conference—followed by back-to-back titles in 2007 and 2008. The Hokies won five ACC Coastal Division crowns.

How many BCS bowl game appearances did Beamer make?

6, highlighted by a trip to the 1999 national championship game versus Florida State on Jan. 4, 2000. The Hokies entered the title game undefeated.

When was Beamer hired by Virginia Tech?

Dec. 23, 1986 ... which, in retrospect, was one fantastic gift.

Who was the Hokies' opponent for Beamer's first game as head coach?

Clemson on Sept. 12, 1987—and there's no reason to be embarrassed about losing, 22-10, to a top 10 team.

When was Beamer's first win as the Hokies' head coach?

Oct. 3, 1987, a 31-11 victory over Navy, a bright spot in an otherwise inauspicious first season.

When was Beamer's first win versus a ranked team?

On Oct. 7, 1989, the Hokies beat No. 9 West Virginia, 12-10, in Morgantown—presumably no couches were aflame that night. The win was the Hokies' first against a top 10 team since 1964.

When was Beamer's first win versus UVA?

Nov. 24, 1990, in Lane Stadium ... the Hokies manhandled a UVA squad that was 8-2, ranked No. 17, and heading to the Sugar Bowl. To add insult to injury (well, the Wahoos' starting quarterback, Shawn Moore, was out with a dislocated thumb), the full game is online →

What game has Beamer often pinpointed as a turning point for the football program?

A 63-21 drubbing of Pittsburgh on Sept. 11, 1993 ... and the Hokies have matched or bested that point total four times since.

When did Beamer's bowl streak begin?

The Dec. 31, 1993, Independence Bowl versus Indiana, which the Hokies won 45-20. Let the bowling begin!

What bowl game victory announced the Hokies' arrival on the national stage?

The Dec. 31, 1995, Sugar Bowl victory over Texas, 28-10.

When did Beamer finally get Miami's number?

On Sept. 23, 1995, the Hokies beat the No. 17 Hurricanes, 13-7, for the first time in 13 meetings.

When was Beamer's jersey retired?

Beamer's no. 25 was retired on Sept. 12, 2002.

Jimmy Robertson, editor of Inside Hokie Sports magazine, contributed to this story.