Common Book, Uncommon Learning

I've learned that courage and compassion are two sides of the same coin, and that every warrior, every humanitarian, every citizen is built to live with both. In fact, to win a war, to create peace, to save a life, or just to live a good life requires of us—of every one of us—that we be both good and strong."
— Eric Greitens, author of "The Heart and The Fist"
Of all the problems facing the world's estimated 60 million refugees, there is one that the 100 first-year students in the Introduction to Building Construction course were prepared to tackle: housing.
In late October, the students began sharing their ideas on housing solutions for displaced people, ahead of developing research papers on their chosen topics: Providing air-conditioning without electricity. Transporting building materials to remote locations. Erecting structurally sound shelters in earthquake-prone regions. Offering energy-efficient light for refugees at night. Purifying water.
Associate Professor Thomas Mills and Renee Ryan, an academic advisor, encouraged their students to distill their ideas into specific research questions. Strolling an aisle, Mills flipped to the epilogue of Virginia Tech's 2015-16 Common Book, "The Heart and The Fist," and quoted the author, Eric Greitens: "I focused on changing one life at a time." Mills suggested that the students reflect on how their housing ideas might change individual lives.
"Each statistic is a problem," Ryan added, noting that many refugees are children, some orphaned. "We're making this research personal. We think that every one of you is capable of changing the world."
Those new to Virginia Tech quickly come to understand the community's defining traits, such as pride, service, and tradition. One method for introduction is Greitens' 300-page memoir detailing his globe-trotting adventures as a humanitarian, Rhodes Scholar, U.S. Navy SEAL, and founder of The Mission Continues, a nonprofit organization that challenges veterans to serve in U.S. communities. Greitens' text—the university's ninth Common Book—was distributed free of charge to some 7,200 first-year and transfer students before fall 2015 classes began.
Since its 1998 inception, the Common Book Project, led by the Office of First-Year Experiences, has sought to enrich the first-year experience and create a sense of community among students. Faculty members from a surprising variety of academic disciplines partner with the office to integrate the book into their curricula.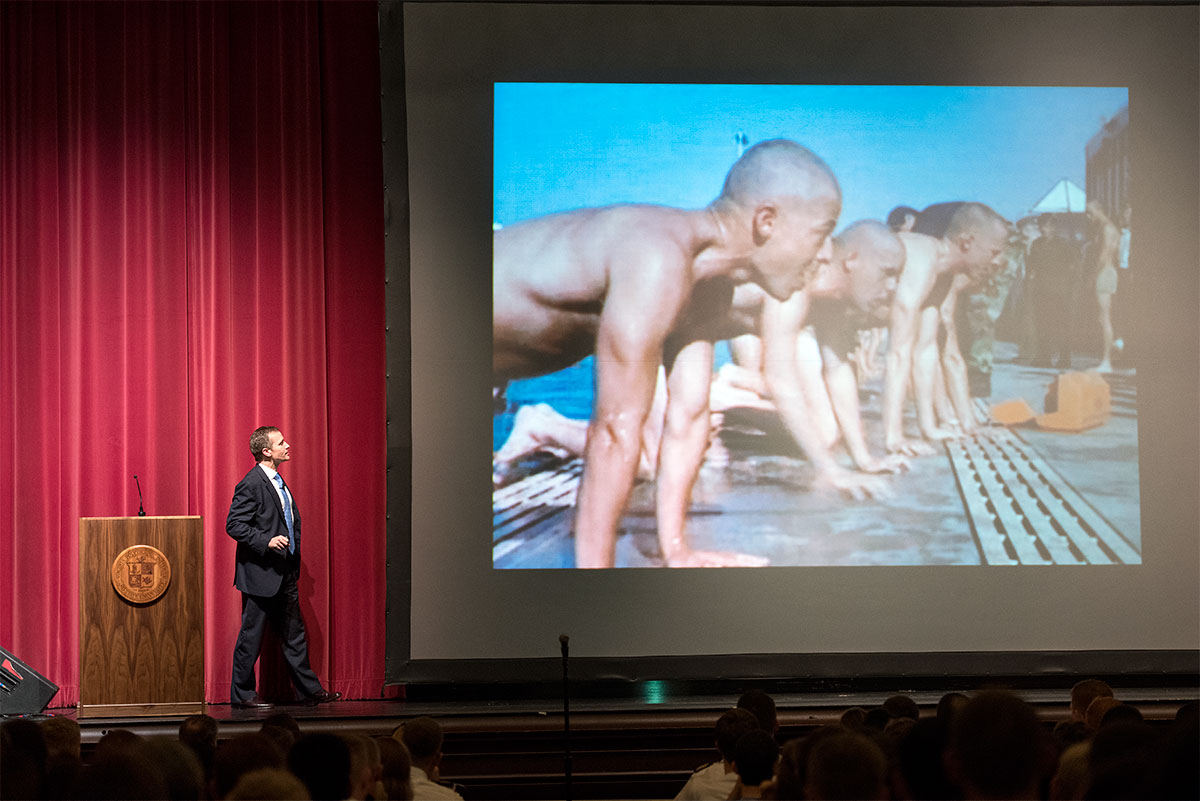 U.S. Navy SEAL Eric Greitens established a nonprofit organization to challenge returning veterans to lead lives of service, leadership, and purpose at home. He reminds veterans to recall their military training and service: "There's a real opportunity in all that hardship, if we have the right mindset," Greitens told a Burruss Hall audience.
An inspired visit
Place a former SEAL like Greitens on a stage, and you'll be sure to capture the attention of the Corps of Cadets, who represented a sizeable portion of members of the audience that nearly filled Burruss Hall auditorium's 3,003 seats in early November.
When Greitens greeted the crowd, the cadets belted out a response: "Good evening, sir!" In the fall semester, about a dozen first sergeants led weekly Common Book discussions with the first-year cadets under their command. Understandably, "The Heart and The Fist" holds special resonance for cadets—and not just because of the descriptions of Greitens' four deployments.
For the freshmen, immersed in learning all the intricate demands of corps life, the chapter on boxing, which Greitens took up as a Duke University undergraduate, was especially appealing. Greitens' boxing coach harped on the proper care for boxing gloves, such as washing the laces once a week.
"If you can't take care of your shoes, if your shirt can't be pressed and wrinkle-free, how can we expect you to do the big things?" said Hunter Garth, a first sergeant with Golf Company and a junior finance major.
Alece Alderson, the corps' residential learning coordinator, helped the first sergeants develop the discussions. Right away, the cadets asked for more challenging questions in their lesson plans: Should an overseas trip be adventurous or purposeful? In a crisis, should the U.S. send armed forces, funds, or humanitarians?
"It's so intriguing to see [cadets] want to learn," Alderson said. "And it's not because they have to. It's because they really want to."
Garth's initial reading of the book in July, meanwhile, was "literally perfect timing," he said. In the summer, as part of a cultural understanding and language program with U.S. Army ROTC, Garth traveled to Guyana, in South America. After he had spent 10 minutes in a Guyanese marketplace in a guarded fashion, nervous about pickpockets and other threats, he remembered one of Greitens' anecdotes from Kenya: Sunglasses up and weapons down, the SEAL left the confines of his compound to go into a market and engage Kenyans on a personal level. So Garth relaxed, took his hands out of his pockets, and started engaging the Guyanese people.
"We have to turn those differences into strengths instead of roadblocks," Garth said, echoing Greitens' notion of balancing compassion and force, "knowing that you're trying to leave a place better than you found it."
For Garth, who hopes to become an Army infantry officer and later transition into military intelligence, the book changed his boyhood perception of military life, from one of kicking down doors to one of serving others and developing relationships.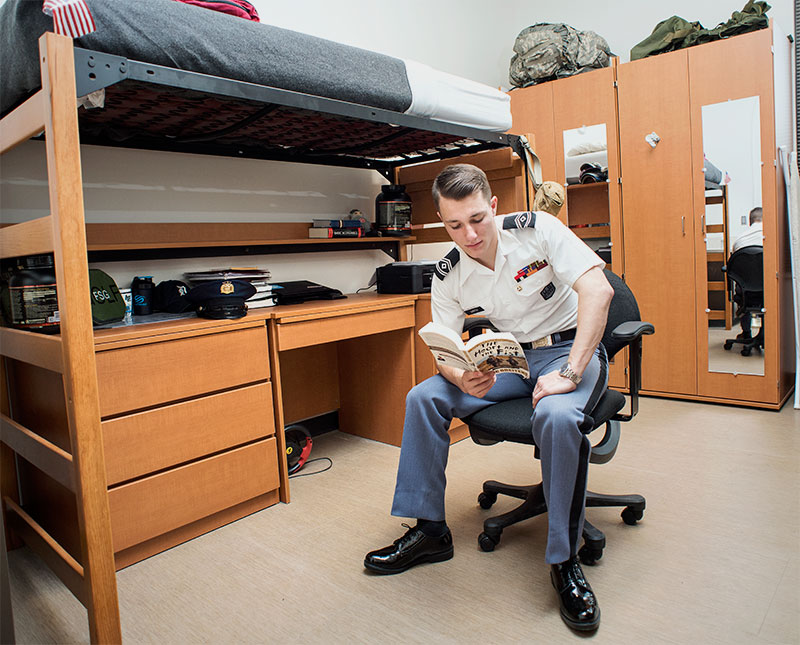 Junior finance major Hunter Garth and his fellow first sergeants led Common Book discussion groups with the first-year cadets under their command. Garth, who is especially proud of the cadets' development and growth, said the book added credibility to abstract concepts, such as leadership, that the corps emphasizes with cadets.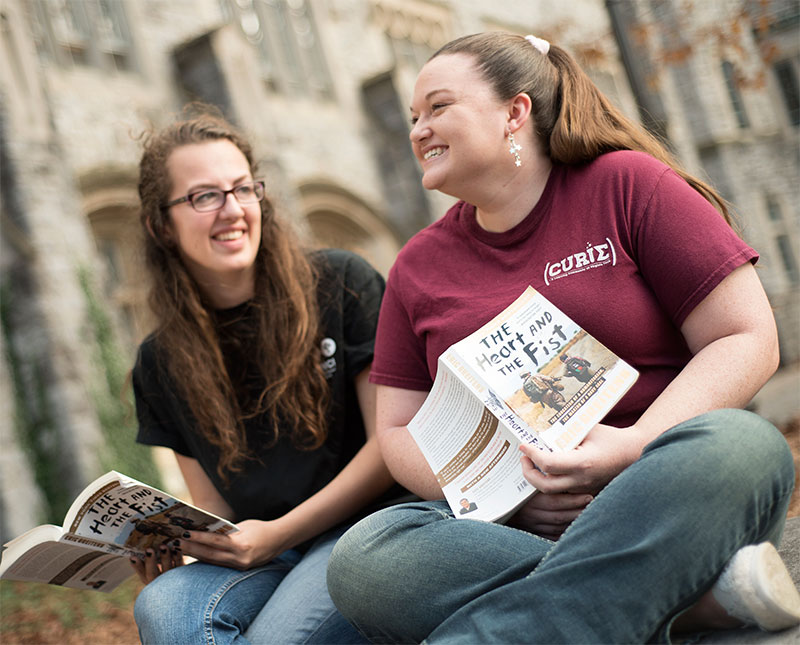 Megan Hogan (left) and Chelsea Robertson are teaching assistants in the Da Vinci and Curie living-learning communities. Drawn to the text's flexibility when she applied for her post, Hogan requested the opportunity to teach Common Book content.
Diverse applications
In the week of Veterans Day, two student veterans with a combined seven deployments between them led Common Book discussions in the College of Natural Resources and Environment's First-Year Experience course.
Professor Dean Stauffer sought to emphasize two primary lessons in the book: appreciating and understanding different cultures and adhering to honor and integrity. "In our college, much of what we do is taking knowledge of natural resources and applying strategies to help people, which may come across as imposing our will," Stauffer said. "It's a lot more beneficial to go into any situation and understand the culture and to work with people, rather than to force something on them."
Business-minded
When Pamplin College of Business Professor Stephen Skripak was an executive with Sara Lee Corp., he told his 140-person team that he couldn't be successful unless they were successful. Such a partnership is what Skripak gleaned from Greitens' description of SEAL training: the camaraderie to pick each other up and overcome challenges.
For his Pamplin course surveying business topics for first-year students, Skripak has underscored three themes from the book: leadership and teamwork, ethics and social responsibility, and cultural awareness. "The Heart and The Fist" added a "spark to the conversation" for students across campus, he said. "[The book] gives everybody an opportunity for some sort of connection, and then they can go as deep as they want with it."
Coming to Tech from a magnet school with a heavy course load, freshman Emily Shull was leery of yet another "summer reading" assignment when she received the book during orientation activities in July. But Greitens, opening the book with his college experiences and then writing about war without sounding "pedantic," won her over, Shull said. Drawn to the internationally minded lessons on cultural sensitivity, Shull, pursuing a business information technology major and international business minor, saw a way to enhance her "profitability as a businesswoman," she said. "I ended up adding a religion and culture major, partially because of the book."
Instructional design
Collaborating with the Office of First-Year Experiences, the university's Center for Instructional Development and Educational Research (CIDER) supports faculty members who integrate the Common Book into their courses, offering faculty development workshops, one-on-one course consulting, a resources website with sample assignments and activities, and grant funding for curriculum development.
"One of the most valuable aspects of the Common Book is being able to create a common experience for first-year students," said Tiffany Shoop, CIDER assistant director. "It's exciting to see how the book can be used in so many different ways [and] to see instructors connect the book to the experiences of first-year students, as well as to different aspects of their disciplines across campus."
Shull also applauded the ties between the book and the university's "stress upon service." Said Shull, "I think the book is reflective of Virginia Tech's value of Ut Prosim [That I May Serve]. It's quite comforting to be at a school that cares so much for humankind [and] picked a book like this that shows 'care' in a global way.'"
"Go to your Pylon!"
As a member of the Common Book Project Committee, Marlene Preston, the communication department's assistant head and director of undergraduate programs, appreciates the committee's selection of books that reflect the Pylons' values. "When students receive a free book that everyone is reading, they immediately understand that it reflects something important to Virginia Tech," Preston said. "First-year students are exploring, changing, and affirming their personal identities. Using the book as a springboard, they can consider their own values and goals and their new lives as Hokies, college students, pre-professionals, and local and global community members."
Since the program's beginnings, instructors of the two-semester Communications Skills course in the communication department have incorporated the book as students develop writing and speaking skills necessary for university-level discourse.
On a cloudy fall day, students in Brandi Quesenberry's class crossed the street to visit the Pylons at the end of a class period.
"Everybody go to your pylon," a student called out. Students had selected a pylon value about which they would write, and as they approached their chosen pylons, they fulfilled a portion of Quesenberry's assignment by doing what college students are prone to do anyway: They took selfies.
Joe Cheatham, a freshman business information technology major from Chesterfield, Virginia, was drawn to the Ut Prosim pylon. He appreciated how Greitens' hardships informed his service and helped the soldier understand how he could make an impact. "It's deep," Cheatham said of the book. "It talks about everything that Tech values."
The Brotherhood pylon called out to Jordan Hogge, a freshman public relations major from Williamsburg, Virginia. In the Virginia Tech Summer Academy, Hogge met her best friend, on whom she's relied for support. In turn, she has applied to be a peer mentor for the 2016 academy, wanting to help incoming students build friendships. "I now know [that] being here, it's so stressful. You only have each other," she said of her friends. "Those friendships are extremely important to me."
In another communication course, advanced instructor Dale Jenkins assigned small groups different sections of the book—Greitens' time studying at the University of Oxford, hunting terrorists in Iraq, confronting poverty in Bolivia, and more—and asked them to deliver a presentation and short quiz. "Make it come to life," he said.
One group of four discussed Greitens' SEAL training. "He says that people quit because they let fear get to them," said Alison LeMair, a multimedia journalism major. "He says that, like, 20 times."
LeMair cited a particular page, and the others flipped to the passage while she read aloud.
Amy Margolin, who is still undecided in her major, reminded her classmates of how Greitens described the perspective of a soldier who continuously—and jokingly—threatened to quit, but never did. As Greitens wrote, "I can quit later if I have to, but this, whatever this is that I have to do—hold this log over my head, or sit in the freezing surf, or run down the beach with the boat bouncing on my head—I can do this for at least ten more seconds, and that's really all I have to do."
Centered on service
Megan Hogan and Chelsea Robertson, undergraduate teaching assistants in the Da Vinci and Curie living-learning communities, respectively, are leading the teaching of Common Book themes in course sections of 80-100 students. Some students researched the global events in the book, and others presented "creative culture" projects to showcase the countries Greitens visited.
In addition, students plan to pursue local or regional service projects through such organizations as Habitat for Humanity. The book is "centered on Ut Prosim," said Robertson, a junior math major from Farmville, Virginia, who is now considering how she might fill her summer with a service project. "It's what we're about. We use [the book] as a way to inspire freshmen to get involved in service projects."
"This Common Book, in particular, makes it very easy to talk to people about service. It's a very easy book to draw from," said Hogan, a sophomore animal and poultry sciences major from Dallastown, Pennsylvania. "It makes you feel like you can do anything and go anywhere and have an impact on people."
Assistant Editor Mason Adams contributed to this story.
On an annual basis, the Common Book Project Committee either selects a new book or approves the existing book for an additional year.
1998-2004: "Einstein's Dreams," by Alan Lightman
2004-05: "Life of Pi," by Yann Martel
2005-07: "Branded: The Buying and Selling of Teenagers," by Alissa Quart
2007-09: "Mountains Beyond Mountains: The Quest of Dr. Paul Farmer, a Man who Would Cure the World," by Tracy Kidder
2009-10: "Ecological Intelligence: How Knowing the Hidden Impacts of What We Buy Can Change Everything," by Daniel Goleman
2010-11: "Animal, Vegetable, Miracle: A Year of Food Life," by Barbara Kingsolver
2011-13: "This I Believe II: The Personal Philosophies of Remarkable Men and Women," edited by Jay Allison and Dan Gediman
2013-15: "Little Princes: One Man's Promise to Bring Home the Lost Children of Nepal," by Conor Grennan
Shannon Mann, a senior biological sciences major, read "Little Princes" as an undergraduate teaching assistant for the Da Vinci living-learning community. So inspired was Mann that she traveled to Nepal for a month, working at an orphanage and teaching English in Kathmandu. "The people don't have the things we take for granted, like running water and electricity, but they appreciate everything they have," Mann said. "They are spiritual and religious, and they love their families and each other and everything they're given. It's a beautiful way of thinking. With so little, they can appreciate so much more. It's a nice way of thinking that I was able to bring back with me."
2015-16: "The Heart and The Fist," by Eric Greitens
After receiving 163 recommendations for 103 books, the committee selected "The Heart and The Fist," drawn by how well the book reflected Virginia Tech's values, particularly the motto, Ut Prosim (That I May Serve). As Greitens told the Virginia Tech community, "There's a tremendous joy to be found in service."
Features
Winter 2015-16
---
Common Book, Uncommon Learning