PHILANTHROPY
Campaign exceeds goal, but challenges remain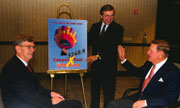 President Torgersen, Vice President Steger, and Campaign Co-chairman Clifton Garvin celebrate attaining the overall goal
Nobody was quite ready to break out the champagne and propose a victory toast. But there was quiet jubilation and more than a few smiles among members of the steering committee of the Campaign for Virginia Tech at the Hotel Roanoke and Conference Center on Oct. 10.
Their upbeat mood was generated by the good news from Charles Steger, vice president of development and university relations. Steger reported that the campaign, which set a number of demanding financial targets for the university and its supporters when it began more than five years ago, had met and exceeded the most ambitious of those targets. As of Sept. 30, gifts and pledges added up to $268.4 million, putting the largest fund-raising effort in university history at 107.3 percent of its $250-million goal.
The milestone was reached with nine months remaining before the campaign ends on June 30. It will be a busy nine months, according to Steger, who told committee members that considerable work lies ahead for several colleges and subsidiary areas that still are short of their individual campaign goals. He also reminded the committee that raising $250 million does not mean the growing needs of students, faculty, and programs will suddenly disappear. Steger underscored how important it was to continue to maintain the fund-raising focus on all aspects of the campaign, pointing out that two of the four categories comprising permanent endowment -- faculty support and endowment for program support -- were only at 88 percent and 83 percent of their respective goals.
The financial high marks far outnumber the low ones, however. Three of the campaign's four major objectives have been met, with room to spare. With each dollar raised, permanent endowment (101 percent of goal), facilities and equipment (107 percent of goal), and current operation (122 percent of goal) are all putting more distance between their targets and their current totals. Colleges and constituency areas also experienced the sweet smell of success. Five colleges have surpassed their goals ahead of schedule: the College of Agriculture and Life Sciences, the College of Forestry and Wildlife Resources, the College of Arts and Sciences, the College of Engineering, and the College of Veterinary Medicine. Two constituency areas -- Intercollegiate Athletics and the Virginia Tech Corps of Cadets -- have also climbed above the marks set for them in June of 1992.
"Everyone who has contributed their financial support, their time, their counsel, and their energy to help us come this far this soon should feel a deep sense of accomplishment," Steger said. "It just shows what can be achieved when people pull together in the same direction."
Everyone's participation needed
Looking ahead to the nine months left in the campaign, Steger said that every effort will be made to raise the level of alumni participation. The seven remaining regional events will carry the campaign message to Tech graduates in the Northeast and various parts of Virginia. The Annual Fund appeal, currently under way, is using direct mail and the phonathon program to encourage alumni to support the campaign in its final year. Steger also stressed that members of the university community will have the opportunity to exhibit their support during the faculty/staff portion of the campaign in January and February.
"If we are to reach all the goals we set, we need everyone's participation," he emphasized.
Home | News | Features | Research | Philanthropy | President's Message | Athletics | Alumni | Classnotes | Editor's Page