A New Class of Leaders
Pamplin leadership scholarship winners arrive on campus
by Richard Lovegrove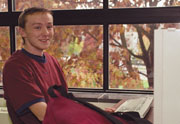 The Pamplin Leadership Award has already made a difference for Dana Viers.
Viers, who is a freshman this year, came to Virginia Tech from Haysi, a small, economically disadvantaged coal town in Dickenson County, which traditionally has either the highest or one of the highest unemployment rates in the state. His father and mother grew up at a time when education just didn't seem as important as it does now. His father finished the sixth grade and his mother made it through the eighth. She wanted to finish her education, but her family didn't have the money for clothes or books.
His mother was aware of the value of a good education, Viers says, and she pushed him and his siblings to do well in school. As a result, he was the salutatorian of his high school class and was on four academic teams in math and science. In fact, he was the captain of all of those teams, coordinating meetings and practice sessions. "I guess the teachers kind of looked to me as a leader in this area," he says. He was also a member of the Beta Club, Future Business Leaders of America, the Key Club, 4-H, and Upward Bound.
Viers discovered computers when he was 10, taught himself, and then started helping others set up their computers and solve problems. He found that he enjoys helping people. His goal, he says, is to return to the coalfields and help develop the information technology needed to build new industry and a learning base.
Viers' brother and two sisters each have completed associate degrees, and now he is the first from his family to attend a four-year college. His parents are doing all they can to help with expenses, but the $1,000 he is getting this year from the $3.5-million gift from Robert B. Pamplin Sr. and Robert B. Pamplin Jr. (matched by an equal amount from the Virginia Tech Foundation) makes a "huge" difference--enough that he selected Tech over other schools he was considering, he says.
Viers is one of 213 former Virginia high school seniors who won Pamplin Leadership Awards in the first year of the program. Of these, 182 said they would attend Tech and 178 of them started classes here this fall. One award is available for each of Virginia's more than 285 high schools.
"We thought the response was fantastic, especially since we were just trying to establish the program this year," says Jack Dudley, director of the University Honors Program. This year, the response will be even better. Katrin Baker, assistant director of the honors program, says she has already gotten "tons" of calls. "The word is getting out," she says.
"The Pamplin Scholars Program focuses on one of the cardinal goals of education: intellectual empowerment," says Robert Pamplin Jr. "It is my father's and my fervent hope that the exceptional young men and women in the program will apply the advantages of a Virginia Tech education toward the achievement of exceptional goals."
The Pamplin Scholars Program is actually designed to help students who already show leadership abilities and who know they want to come to Virginia Tech, Baker says. For some, such as Viers, the extra money means that they can afford to choose Tech. But most would have attended Tech even if they hadn't won the scholarship.
Sharnia Artis of Chesapeake is one of those students. She attended C-T Squared, a summer program for minority students interested in engineering, and fell in love with the campus. "I would have come to Tech anyway," she says.
Artis also possesses the leadership qualities that the Pamplin program hopes to encourage. In high school, she lettered in track, cross country, basketball, and volleyball; was president of the African American Club and the Tiger Run student organization; was a member of the Student Council and vice commandant of the Air Force ROTC; and was a board member of the student NAACP. She was also a semi-finalist in the Coca-Cola Leadership contest.
At Tech, she is already finance chairwoman for the Virginia Society of Black Engineers and a member of the student NAACP. She is also in training to become a big sister to a local girl while she works on her goal of becoming a chemical engineering professor. She admires Bevlee Watford '81, who is director of minority engineering programs and associate dean for academic affairs in the College of Engineering. "I'm having a great time," Artis says. "People are nice, and I have great professors."
Pamplin leadership students may apply to live in the new Residential Leadership Community, composed of 65 Pamplin leaders and 65 other students. Members of the leadership community started out the year by going on an overnight adventure-challenge retreat and attending a workshop together. "I like it a lot," says Alison Brammer, who is from Patrick County. "It's a lot of fun knowing the others living here are part of the same program. I liked the retreat. They just kind of threw us all together." Jessica Stephenson of Bath County is equally enthusiastic about the residence hall community. "I like the fact we're all together," she says. "It's a really cool bonding experience."
Students participating in the leadership community are taking a two-semester introductory course in leadership studies. In the fall semester, faculty members from the Center for Interdisciplinary Studies, the Office of Student Affairs, and other areas are offering workshops to help students explore leadership contexts and competencies. In the spring, student teams will design practical leadership projects, which could involve service-learning sites, alumni mentoring opportunities in corporate or nonprofit settings, or work within student organizations.
And many of the students hope to use the leadership emphasis to improve themselves. "This program is providing me with the knowledge to perfect my leadership skills, to improve the ones I have and the ones I'm lacking," says Shelley Brown of Lee County. "I think the program is a wonderful opportunity." Susan Monks of Richmond agrees with Brown "I'm an accounting major, and it's (leadership ability) definitely important," she says.
But it was David B. Cook of the Pamplins' home county of Dinwiddie who might have best expressed the Pamplins' own leadership philosophy. "They (leaders) won't be able to just take and take and build themselves up," he said in his scholarship application essay on leadership. "They'll have to give back to the community, whether financially or by donating materials. A real leader will be able to see the roots and know who he passed on the way to the top."
To win a Pamplin Leadership Award, a student has to meet strict criteria. Each applicant must:
Be a senior at a Virginia public high school who has been accepted and is planning to enroll at Tech.
Have at least a 3.75 GPA and be ranked in the top 10 percent of his or her class. (This year's winners averaged 3.935.)
Submit an application that demonstrates academic accomplishment, leadership experience, and service activities.
Submit an essay on leadership.
Have the application certified by the high-school guidance counselor or principal and provide a letter of recommendation addressing the applicant's leadership qualities and commitment to service.
Pamplin scholarship recipients are expected to attend a leadership colloquium each semester and visit their high schools in spring to present the next award to the new winners. All recipients each year can also compete at the end of their first year for the Pamplin Scholar Award, a three-year scholarship equal to tuition and fees. That award will be given initially to only one student, but plans call for more sometime in the future.
Back to Features Page

Home | News | Features | Research | Philanthropy | President's Message | Alumni | Classnotes | Editor's Page