More than a few good women
25th class of females enter corps
by Jill O. Elswick
It's your first day in the Virginia Tech Corps of Cadets.

You are among Tech's 25th class of women in the corps. Your parents are proud. They've come to help you move in. At check in, you receive a pair of camouflage pants, a white t-shirt, a name tag, and a copy of the Guidon--the little book about the Virginia Tech Corps of Cadets. "Memorize every word," your dad quietly advises.

New cadets (left to right) Suzanne Heer, Heather McGrath, Kimberly Bebee, Athena Cansino, and LaToya King drill in front of Lane Hall.
Dressed in your new uniforms, you and the other "nukes" await instruction in a room in Rasche Hall. BANG! Bang! Bang-bang! A horde of upperclass cadets kicks open the doors. They swarm around you. "Your name tags are WRONG!" yell the red faces. "You're NOT allowed to have clocks!" They take away your wristwatch.
Within minutes, you're all neatly organized into rows with your cadre. Your roommate is the only other female new cadet in your cadre. You wonder if you'll be accepted by the males, your "buds."
In the hallways, you learn to march, to turn corners, to chant. "Suck it up!" "Straighten up!" The auditory assault continues. After a few sets of motivational pushups, you're ready to gather outside the barracks for formation at the flag pole.
"Open the doors and open them wide, the corps of cadets is comin' inside!" Your parents watch as you march expressionlessly out of their daily lives and into Shultz Dining Hall for your first meal as a cadet.
In the serving line with your cadre, you notice out of the corner of your eye that some parents are watching through the windows. Are your parents among them? You look. "No gazing!" an officer yells, looking right at you.
Welcome.
In the afternoons, cadets practice marching, rifle drilling, and competitive sports such as flag football. Other physical feats include running through an exact replica of the U.S. Marine Corps obstacle course and rappelling down 20- and 40-foot walls. Cadets also hear lectures on the honor code and study skills, and they learn crucial traditions such as how to "drag" (bear to the right side of the hall or sidewalk while marching on the upper quad) and "sound off" (properly address fellow cadets while passing).
Kimberly Bebee (engineering '02) appreciates the confidence-building aspect of formally addressing upperclassmen cadets. As an example, Bebee pretends to address Cadet Major Gittes: "Cadet Major Gittes, new cadet Bebee-K, D'02, request permission to make a statement." The wording instills pride in identity and prevents shy or awkward approaches, says Bebee.
Mistakes are inevitable. When new cadets err, their cadre officers do not hesitate to yell at them. "They like to say they don't yell at you," says Heather McGrath (political science '02). "They speak with a stern and loud voice. It's putting pressure on you so you have to think fast. You learn to think clearly when you're under stress."
| | |
| --- | --- |
| | Officers also make new cadets do an extraordinary amount of "motivational pushups" sometimes for an hour at a time. The new cadets take it in stride: "No one likes to do pushups, necessarily, but when we're all down there doing it together, you can feel the adrenaline pumping. Then we're more ready to go do what they need us to do," says Athena Cansino (political science '02). Pushups also help to create camaraderie between new cadets--if one cadet is having trouble getting back up, all cadets have to stay in the down position until that cadet can get back up. |
| Rapelling is part of the new cadets' physical training. | |
The stripping of privileges is an integral part of the new cadet experience. "They took our alarm clocks, our watches," recalls LaToya King (political science/English '02). "They took our computer cords. We weren't allowed to listen to music. My cadet captain saw a carpet in my room, and she was like, 'You're not allowed to have carpet.'"
Without timepieces, new cadets estimate the time by their meal schedules. "Breakfast, we assumed, was somewhere around 8 a.m. Lunch was around noon. And dinner around 4:30 or 5," says Suzanne Heer (engineering '02). "But we had no way to know. We weren't allowed to gaze when we were at the table eating. It was three weeks before I noticed there was a clock in Shultz Dining Hall. You could look straight ahead or you could look at your plate."
New cadets have their watches and alarm clocks returned when classes begin after New Cadet Week. And when the initial six-week training period is over, they start receiving additional privileges, such as music and the freedom to become friends with upperclassmen. When their first year ends in April, they have earned privileges equal to those of all other cadets.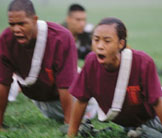 "Followership," says Col. F. Edward Schwabe Jr., deputy commandant of cadets, "is the whole theme of the freshman yearfollowership being the first crucial step to learning how to be a good leader."
Teaching leadership to cadets is the overriding goal of the corps. Tech offers a leadership minor exclusively to corps members.
Not all new cadets make it through New Cadet Week. Four males and three females dropped out in August during this stressful time. And the six-week training period that followed also claimed its share of losses: a total of 11 cadets; six were women. If a cadet drops out before the six-week period is over, he or she must leave the university and is not allowed to come back for classes until spring.
Of the total 270 first-year cadets admitted to Virginia Tech for the academic year 1998-99, 60 were women. The total number of cadets at Tech is approximately 725, of which women number about 150slightly more than 20 percent of the corps.
"This is more women, percentage wise, than any other corps in the country," says Col. Schwabe. This fact is all the more intriguing because, as Schwabe admits, "We have not made huge efforts to recruit women."
Service academies, such as West Point, average about 15 percent women in their corps. VMI and the Citadel, the last two senior military colleges to admit women cadets, have an even smaller percentage.
Perhaps one reason Tech boasts such a large percentage of women is that Tech's program has matured greatly since 1973, when women were first admitted to the corps of cadets. Women and men are now fully integrated in Tech's corps, each receiving the same leadership opportunities.
Many women in the corps cite Tech's dual offering of a military structure within a largely civilian student body as a deciding factor in choosing Tech. They like the flexibility of experiencing both environments on campus. Tech also attracts a large number of women (and men) from military families nationwide.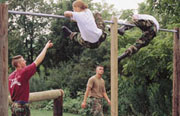 Approximately half of the 558 cadets who are in ROTC (Reserve Officer Training Corps) either came in with a ROTC scholarship or earned one after they arrived. About 125 cadets are in the corps only, says Col. Schwabe.
A third battalion has been activated this year, with a female commander, Jennifer Daniels (Physics '99). Two women occupy company commander positions this year, yielding a total of three women in the corps' 14 command positions.
The only woman to occupy the corps' highest position, that of regimental commander, was Janet Escobedo (international studies '88), who has since become a marine corps captain. Last spring, when she came back to Tech to address the corps, says Schwabe, "There was no doubt in my mind why she had been regimental commander. She spoke for 45 minutes, without a single note, and she was absolutely brilliant. The cadets just loved it."
A respect for the abilities of female cadets seems to exist in Tech's corps. Says Cansino: "My male buds have been very supportive. We don't look at each other like we're male or female. We're buds. We're all equal."
Bebee concurs: "My bud whom I'm closest to is male. I've never had any problems with the guys. If I have a problem and I need to talk to one of my buds, I can just go down there, knock on the door, say 'female,' and they'll let me in."
McGrath puts it this way: "If we were all acting as individual people, we'd be competing against each other. But when we have to work together, we sweat together, we cry together, we hate everything together that humble experience bonds you."
Nevertheless, there are limits to the togetherness of males and females in the corps. Separate bathroom facilities, for one thing, put everyone a little more at ease.
When going to and from the shower, males and females are required to wear a cadet bathrobe, part of the official uniform mandated by Maj. General Stanton Musser, commandant of cadets. And when knocking on the door of a cadet of the opposite sex, a cadet must loudly shout his or her gender and receive permission before opening the door.
Sometimes the system fails. Says Heer, "Once I went into my bud's room and he said, 'Not decent' and I thought he said 'decent.' He only had his shirt off. It's not like you saw anything you weren't supposed to see."
But the possibility always exists to see something you're not "supposed" to see. Likewise, it's inevitable that some of the cadets will want to date each other. Dating in the corps is not prohibited, because, as Schwabe frankly says, "Mother Nature will triumph all the time."
But there are rules. Freshman cadets are not allowed to date upperclassmen. No cadet is allowed to date within his or her chain of command. Nor are cadets in the same company allowed to date. If they wish to do so, one of them must transfer to another company. The cadets' failure to come forth voluntarily about their relationship can result in disciplinary action if the couple is discovered.
Tasha Craig (civil engineering '00) understands why dating happens in the corps. It's because, she says, "your schedules are so similar and you have the same beliefs." Kristy Kayto (human nutrition, foods, and exercise '01) agrees, "You look at that person, and they want the same things you do."
But taboos do exist, says Jennifer Gittes (political science and sociology '99). "It's actually looked down upon if a freshman dates another freshman in their company. That's because they become like your brothers and sisters, and you know too much about them."

"We called it 'bud-cest'," says Clara Abraham (biology and biochemistry '99).

New cadets start physical training at dawn each day of New Cadet Week.
Each of these upperclassman female cadets has dated a male in the corps at some point. Schwabe cautions, however, not to judge the female cadets' motives unfairly: "I've heard several women say there's a feeling out there on campus that the only reason the women are in the corps is to get the first pick of the guys. Or to immerse themselves in this big pot of testosterone. There are all sorts of hilarious things that you hear. And the women are very sensitive to that."
Perhaps that explains their aversion to "The Skirt."
"We have a skirt that's part of our uniform--a gray skirt that the women may wear to class," says Schwabe. But, with a hint of puzzlement, he says, "They wear the trousers--the gray trousers of the men."
Schwabe speculates that the trousers make the women look less feminine, thus de-emphasizing gender difference, which may be helpful in the close-knit yet professional environment of the coed barracks. He also wonders if the women who wear trousers aspire to a traditionally "successful," hence "male," imageas misleading as this image may be, considering the impressive representation and collective success of women in Tech's corps.
Several years ago, Musser ordered an informal poll among female cadets to find out if their objection to the skirt had anything to do with the skirt's design. The overwhelming response of the women: "Our skirt just doesn't look all that good," says Schwabe. So Musser asked the women to look at skirt designs from all the services and choose a better looking skirt. They chose the marine skirt.
"So now we've got the finest skirt there is," says Schwabe. But so far, few of the female cadets are having anything to do with the new, improved skirt. In fact, it's fair to say they hold a general attitude of outright scorn toward the skirt.
"There are, like, three girls who wear the skirt. Because it's so unflattering. It's an inch below the knee, and unless you're really tall and have very skinny legs....Mine's at home," says Gittes.
It's not that these women don't want to appear feminine, however. "We do have a mess dress that's a long skirt, and that looks really nice," says Craig. "We all wear that. It's figure flattering. It makes you look like a girl."
"Looking like a girl" is a self-imposed weekend-only privilege for many female cadets. "On weekends, we do get dressed up. We do like to let our hair down and wear makeup," says Craig. (Craig nevertheless cautions that a female cadet must dress conservatively for the sake of her reputation.)
Says Gittes, "I love getting dressed up in formal clothes because the guys see you, and their jaws hit the floor. It's just such a nice feeling. They compliment you."
| | |
| --- | --- |
| | Occasionally, the cadets are allowed to wear a "Hokie bag"--a Virginia Tech sweatshirt and jeans--to class. It's at those times, says Craig, that classmates don't recognize her. "Are you that cadet?" they ask. |
| One of Tech's highest ranking cadets, Clara Abraham '99, was crowned Homecoming Queen in October. | |
"That's the problem with dating," says Abraham. "It's hard to get a boyfriend. Try to pick up a guy when you're wearing this nice little uniform. Nobody wants to talk to cadets."
Abraham surely exaggerates her unpopularity. One of Tech's highest ranking senior cadets, she was crowned Homecoming Queen in October. Let it not be said that Tech's female cadets spend a lot of time wondering whether they can be feminine and successful military leaders, too.
Indeed, any of these women, when they receive military commissions after graduation from Tech, could be on the fast track to a high-ranking military career. Several of them have already experienced the responsibilities of high rank. As company commander, Abraham occupies the top position of Golf Company. Craig, as cadet first sergeant of Echo Company, is the highest ranking junior in her company.
But many of Tech's female cadets, including those of high rank, want a family and children eventually. They also are keenly aware that few high-ranking females have time for domestic life. Difficult choices undoubtedly lie ahead, but Tech's female cadets will face life with an extraordinary confidence as a result of their experiences in the corps.
They have worn a uniform that distanced them from their civilian peers. They have learned that sometimes you have to speak first if you want to be spoken to. They have pushed themselves to the limit physically and mentally. They are masters of time management. They know how to be in charge. They know Virginia Tech's history inside and out.
And they are secure in the knowledge that they will always be a part of the great, historical family of Virginia Tech's Corps of Cadets.
Back to Features Page
Home | News | Features | Research | Philanthropy | President's Message | Alumni | Classnotes | Editor's Page